---
TDmonthly's DVD Expert
Four for the New Year
New Year, new vids for kids. And Sacha ringing incessantly about doing something animated based on an old Kazakhstanian fairytale about shape-shifting cockroaches. "No! No! No!" I yell into the phone. I rip my Bluetooth earpiece off and slam it down on the table — not nearly as satisfying as an old-time phone... and I think I just busted it, too.

Give me nice wholesome children's videos, please. So, remote in hand, I'm going to look at four DVDs that range from an old classic to a new way to get a child moving. Oops, there goes the phone again. "No calls!"


The Wind in the Willows distributed by FremantleMedia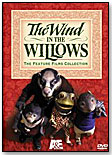 Age: 3 and Up
Gender: Boys and Girls

The first disc in this 2-disc set is the 1983 Cosgrove Films TV-movie based on one of the greatest children's books of all time. It's weirdly wonderful stop-motion (Gumby meets Wallace & Gromit). The pacing's slow and the characters don't move with the robustness of an Aardman film, but it has British charm up the wazoo. The set includes another story, based on the Willows characters, plus special features such as interviews, photo galleries, and trivia games, as well as an episode from the TV series. This collection makes a perfect rainy day pastime for the younger kids.


| | |
| --- | --- |
| Budget | |
| Creativity | |
| Bells & Whistles | |
| Usefulness | |
---
My Bedbugs Vol. 1 by GreeneStuff Inc.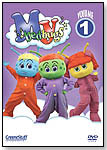 Age: 1 to 3
Gender: Boys and Girls

Not since Teletubbies has there been such a weirdly wonderful people-in-strange-outfits kind of a show. Think Pee-wee's Playhouse crossed with Lidsville, with a dash of Sesame Street thrown in.

"My Bedbugs" are two bedbug brothers and a sister, Gooby, Toofy and Woozy; their strange vacuum of a teacher, J. Edgar; their pillow, Snoozy; their fish, Ruffy; and their window, Windy. They go on adventures from their room, singing and dancing their way to learning (as only bedbugs can). In each story, the bugs learn something (like cleaning up their room), and there's never anything threatening.

Granted, it's not slick, and it's very simplistic, cause-and-effect writing. Also, the character voices are a mite rudimentary. Still, for the youngest set, it has its charms, and with songs thrown in, it's going to captivate for stretches of time. Oh, and don't forget the Bedbug poster inside each box.



| | |
| --- | --- |
| Budget | |
| Creativity | |
| Bells & Whistles | |
| Usefulness | |
---
Creative Movement for Children by YourCreativeChild.com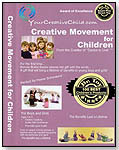 Age: 3 to 6
Gender: Boys and Girls

Everyone seems to be making a movement or dance vid these days and this one features Bonnie Boilini Baxter (veteran dance instructor and choreographer), the host-with-the-most-dancing feet.

So what makes this different from any of the other countless movement for kids DVDs? For good or bad, it's structured like a dance recital: Bonnie introduces each piece and then the kids do their "thang," or are taught their "thang." The children are the best part of the video. They look like they're having a great time, and they're pretty fun to watch — all of them are lively and have great body control for their ages. No Shirley Temples, but they're not your run-of-the-mill stick-in-the-muds that many of these movement videos seem to have.

Bonnie is a little wooden in her narration, but comes alive when she's with the kids. And she's definitively a dance teacher — not a babysitter. There are a lot of movement DVDs out there, but this is one of the better ones for kids to actually learn something.


| | |
| --- | --- |
| Budget | |
| Creativity | |
| Bells & Whistles | |
| Usefulness | |
---
The Happy Cricket by Clever Image/Start Animation Studios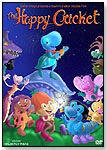 Age: 3 and Up
Gender: Boys and Girls

Computers have brought CGI (or 3D animation) like "Shrek" to the mainstream. What a lot of people don't realize is that CGI is used for 2D animation, too (South Park, for example). It's cheaper and faster, but sometimes looks less than human (no old animators doing it). "The Happy Cricket" is a combination of the old and the new — drawing and computers — but it's less than the sum of its parts.

Though pleasant, the writing is simplistic. The character designs are derivative, and the music isn't very strong. On the plus side, there's excellent art direction in places, and the editing keeps it flowing. For younger kids, it's going to be fun, but it ain't Disney. It ain't even Disney TV.


| | |
| --- | --- |
| Budget | |
| Creativity | |
| Bells & Whistles | |
| Usefulness | |


So, that's it for this month. As 2007 unfolds, I'll be looking deeper into the DVD market to try to toss some real gems into the open. Now, if the phone would just stop blinking: "Sacha! Get off my line!"
Writer's Bio:
Mark Zaslove is an entertainment industry veteran in developing content (writing, directing and producing television and feature films) for the major studios, including Disney, Universal and Warner Bros. A two-time Emmy Award winner for writing and recipient of the Humanitas Prize (for writing uplifting human values in television and movies), Mark is also Head of Content Development for Nice Entertainment.
Read more articles by this author
THIS BANNER IS AN AD:
---
---