---
River Dolphin Toys Makes the Connection
Duo Retains Creative Control While Changing the Face of Construction
"I like to speak to customers as much as possible; I answer the phone and hear what they have to say." — Mark McFarland, River Dolphin Toys

A flying dog, a fish that walks on elephant legs, a seal with a lizard tail. Children can make these fantastic creatures with Zoomorphs, an animal construction system invented by Mark McFarland and Wayne Ferrebee. The animals can be assembled as suggested on the box, or the pieces can be morphed into unique creations. McFarland shared with

TD

monthly Magazine how he and Ferrebee built River Dolphin Toys into a successful business from the ground up.

It was just after 9/11 when I moved to Brooklyn. I had worked in the toy industry since 1993 and was consulting and looking to start my own thing — something funky and whimsical. I wanted creative control, which I couldn't have in the corporate world.

Go Out on a Whim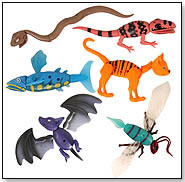 That's when I saw a really cool mobile made by Wayne hanging in a restaurant. I contacted him and asked if he wanted to go into the toy business together.

I had strict criteria for the toy: appeal to a broad age range and both sexes (both atypical of the toy industry), be part of a set to encourage repeat buying, entertain adults so they would enjoy playing it with their kids, and be educational.

Wayne suggested an animal-building toy.

Devote Time to Research and Detail

For research, we visited specialty and mass-market toy stores, bait and tackle stores, museums and aquariums. Wayne drew the animals, cut them into pieces so we could figure out how to morph them, and made clay models.

Then, we had focus groups of parents and kids play with other building systems and tell us what they liked and didn't like. We gave them our toy and asked the same things.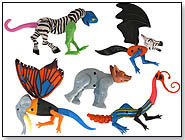 Wayne's attention to detail is phenomenal. He spent so much time on the curves, wings and textures, and it paid off. Zoomorphs are mesmerizing.

Look for Change to Bring Results

We approached Hasbro, Mattel, and Ertl (now RC2), all of whom showed interest …but not enough. Toys "R" Us wanted to buy us, but it would have been exclusive and we didn't want to lose the creative control, so we declined.

We then decided to bring Zoomorphs to the market ourselves.

Between our reps and the line's introduction at Toy Fair 2004, five stores had our toys when we first shipped in October 2004. At the end of 2004, it was 60 stores. Now it's 1,200, and we have 68 characters. Word of mouth has generated a lot of business.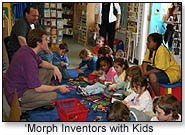 Know Yourself and Your Allies

Early on, Wayne and I had to find ways to blend our experience, education and talents. I'm from inner-city Chicago; he grew up in an affluent family. I knew about the toy business; he knew about animals.

We use independent reps — people I've known for years — and they're critical to our line. I treat them with the utmost respect, which they don't get from a lot of manufacturers.

Our biggest ally, our factory in Hong Kong, made concessions for us because I had worked with them previously.

Listen … and Stick With It

If you're going to do this, you'd better be in for the long haul. You take five steps forward and four-and-three-fourths back.

Stick with it. Listen to reps, kids, parents and retailers. I like to speak to customers as much as possible; I answer the phone and hear what they have to say.

Don't hold your brand so close to your heart that you won't take their input.

Writer's Bio:
Elizabeth Greenspan edits and writes for trade and technical publications. She has interviewed and collaborated with some of the top practitioners in their fields. She lives in Philadelphia and travels extensively for her work.
Read more articles by this author
THIS BANNER IS AN AD:
---
---