---
TDmonthly's Psychology Expert
Send Her Toys and She'll Tell You How They Play
Want an expert's opinion on toys kids will love? Beth Carroll, Psy.D., a professional psychologist who specializes in child intervention and development, tests products with children of varying ages and shares her recommendations with

TD

monthly Magazine. She rates them on a scale of 1 to 5 TDs (for

TD

monthly!), with 5 being the highest score.

This month, Dr. Carroll examines a book that aids with grieving, puts together a crystal radio, spins a web and more.


We Can Make It Happen! by KIDZPOETZ PUBLISHING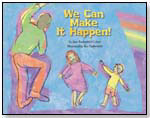 Age: 5 and Up
Gender: Boys and Girls
Price: $14.95





First Impressions
This touching children's book tells the tale of David Taubenfeld, an ordinary man who inspired others and continued to change the world even after he died. Mr. Taubenfeld spent his life volunteering his time to help people in need. After his death, the people he touched carried on his legacy by sharing the positive effect he had on them.

Developmental Stage
A great deal of socialization comes from children's experience with books and reading. "We Can Make It Happen" carries an important message and serves as a reminder of how we can influence the lives of other people. The book also addresses the sensitive topic of death, which children often need assistance in processing.

Recommendation
The theme in this children's book reminded me of the movie "Pay It Forward," in which a simple act of kindness gets passed on and on from one person to the next. I think this story will be especially helpful to children who have experienced a loss in their lives. However, all children can enjoy and learn from the heartfelt message of David Taubenfeld's life.

---
Spin Your Web by MARY KAYE MUSIC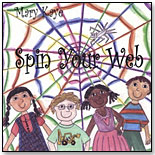 Age: 1 to 8
Gender: Boys and Girls
Price: $15.00





First Impressions
What does the world look like from the mind of a child? Listen to "Spin Your Web" and you will find out. This CD is full of songs that relate to children of all ages. Song topics include exploring shadows, what it would be like to be a porcupine, and a Halloween skeleton song.

Developmental Stage
Children love to listen to music. It stimulates their imagination and creativity, and motivates them to move around and expend energy. The songs on this CD cater to a wide audience and all developmental levels.

Recommendation
The quirky, playful lyrics on "Spin Your Web" are delightful and make easy sing-alongs. I think the song creator, Mary Kaye, has done a great job of capturing the silly, magical time of childhood on this CD.

---
Elizabeth Mitchell: You Are My Little Bird by SMITHSONIAN FOLKWAYS RECORDINGS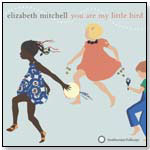 Gender: Boys and Girls
Price: $11.98





First Impressions
"You Are My Little Bird," a CD by Elizabeth Mitchell, combines a wonderful mixture of folk and country music with an Asian flair. The music includes a collection of American folk songs and other melodies from around the world. Elizabeth Mitchell's voice is light and airy and some tracks have children singing as well.

Developmental Stage
Children of all ages will be inspired and comforted by the music on this CD. Also, because the music has a calming quality, parents can play it to soothe infants and toddlers or to settle an active child.

Recommendation
My niece started listening to "You Are My Little Bird" as part of her bedtime ritual. She particularly likes "Zousan," a song about a little elephant. And this CD is not just for children. Though much of the current children's music is geared toward the young listener, "Little Bird" is something even adults will find themselves enjoying.

---
MiniLabs Crystal Radio by POOF-SLINKY INC.

Age: 8 and Up
Gender: Boys and Girls
Price: $12.99





First Impressions
MiniLabs Crystal Radio contains everything necessary for budding scientists to make their own radios. The kit comes with an earphone, a diode, and other equipment required to create a functioning radio, as well as a step-by-step guide book with illustrations.

Developmental Stage
Children gain a sense of self-confidence from putting things together that actually work. This radio-building activity targets hand-eye coordination, reading and following directions, and helps children develop an understanding of the science behind radio waves. This is a great educational activity for school-aged children.

Recommendation
MiniLabs Crystal Radio provides an opportunity for children to engage in a unique creative science activity. Younger children will require adult assistance to follow the steps in the manual. Also, some of the materials in the kit are delicate and need to be handled with care.
Writer's Bio:
Beth Carroll, Psy.D., is a licensed clinical psychologist who specializes in child intervention and development. She works with children in many capacities, including providing early intervention services to infants and toddlers and conducting play therapy and psycho-educational assessment with children and adolescents. She has also provided private childcare for families for more than 22 years. Her diverse experience working with children has enabled her to see firsthand how playing with toys can be one of the richest sources of learning and communication for kids.
Read more articles by this author
THIS BANNER IS AN AD:
---
---