---
Only Hearts Club Keeps Growing
"Real Girl" Doll Phenomenon Adds Products and Fans
"Consumer response has emphasized what we've seen in the marketplace — there's a backlash to what popular culture is marketing to girls." — Len Simonian, Only Hearts Club Dolls
Soft yet poseable, wholesome yet cool, Only Hearts Club dolls are an appealing alternative to the typical dolls marketed to girls ages 8 to 12 — they look and act like real girls. Toy inventor Rouben Terzian created the dolls after retiring, and in 2004, he teamed up with his son-in-law Len Simonian to produce and distribute them. Len, president of Only Hearts Club, talked to
TD
monthly Magazine about their growing company and expanding product line.

Click Here to Watch Video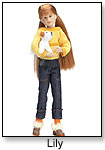 Only Hearts Club dolls are counter to what's out there. They have bodies and clothes like real girls and each one has an interest and a personality — one doll is a ballerina, another loves animals, etc. They do things like go horseback riding or have slumber parties — the things that real girls do.

A series of books accompanies the dolls. In each story, the girl faces a dilemma (e.g., jealousy, selfishness, lying). She has a choice and then makes the right decision. The image and message are positive — listen to your heart and do the right thing.

Focus groups, online surveys, unsolicited e-mails and letters have made it clear that girls love our product. Consumer response has emphasized what we've seen in the marketplace — there's a backlash to what popular culture is marketing to girls.

A UNIQUE COMBINATION OF QUALITIES

The dolls are also unique because they combine a poseable body, which adds a lot of play value, and a fine, sculpted face, glass eyes and great hair. Usually you have an all-vinyl or all-plush product. It took a long time to develop and was costly up front, but it made a difference.

Consumers don't necessarily understand the dolls when they see them on the shelves. But retailers are super successful when they explain the whole image — that the dolls look real and do the right thing. Once the consumer understands, the doll almost sells itself.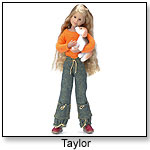 There's a lot of grassroots word of mouth, moms e-mailing each other about us.

RAPID GROWTH

We started exclusively in independent toy and gift stores. In 2006, the dolls were introduced in Target stores nationwide, since not everyone has or goes to a specialty store. It was a great brand-building opportunity.

Trade shows have been great; the response, phenomenal. We can't write orders fast enough.

The first year was problematic. The response was beyond what we expected and it was hard to keep up with demand. We shipped some stuff late.

No one likes to miss sales, but it was a challenge we faced and it was a good problem to have. We figured it out and caught up.

Growth has been significant each year, and we're expanding our product line. We have so many ideas and products that we're trying to focus and prioritize and take advantage of the best opportunities.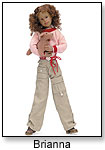 FIRST STEP: THE KIDS

It's no secret that product is king. You can have all your production and distribution plans in place, but at the end of the day, you need a product that will capture the imagination of kids.

Before you spend money and invest, you need something that's tested, that you know will work with kids. If kids don't respond to it, nothing else will make a difference.

Writer's Bio:
Elizabeth Greenspan edits and writes for trade and technical publications. She has interviewed and collaborated with some of the top practitioners in their fields. She lives in Philadelphia and travels extensively for her work.
Read more articles by this author
THIS BANNER IS AN AD:
---
---