---
Retailer Spotlight: All Things Fun!
Best-Laid Plans Work Out Anyway
"We learned just how hard it is to get a start-up business loan." — Ed Evans, All Things Fun

After spending a decade opening stores for others, Dina and Ed Evans decided it was time do something for themselves. The result was All Things Fun!, a store featuring "toys, games, comics and adventure" in West Berlin, N.J., founded in 2004.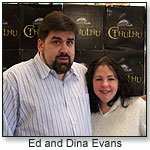 "We saw an opportunity and a great location opened up," Ed told

TD

monthly Magazine. "We focus on family-oriented games and popular culture."

Ed said he and Dina came from the trade publishing industry and had opened bookstores for Encore Books, Paperback Booksmith and Crown Books, among others. Ed had also opened a game publisher, Alien Menace Games, in 1999, which helped teach the couple about the game industry.

BUILDING A COMMUNITY

When they thought about opening a store, the couple knew that they had not seen a regional merchant attempt to do what they were proposing: use events to drive sales, build community and grow repeat business.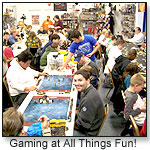 "In addition to being a retail merchant, we've become a community center for the area game, toy and comic enthusiasts and their families," Ed said. "So far, our mission has been well-received!"

ROUGH START SMOOTHES OVER

Funding the venture proved challenging for the couple. Just over $100,000 was required to get started.

"We learned just how hard it is to get a start-up business loan," Ed shared with

TD

monthly. "We had to rely on personal loans, and despite a sturdy business plan, we still found the business needed more capital in our first year."

It wasn't until the second year that the Evanses began to see a profit. They also found that business plans don't always equal reality.

"Things are completely different than the outline in our plan," Ed said. "But by having the plan, we were able to make small adjustments as we went."

THE TRAUMA OF CALLING THE SHOTS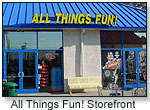 In addition, the couple had to deal with their own pessimism and doubt.

"We question and over-analyze every decision we make," Ed noted. "This isn't a franchise. You can't call the home office. You are on your own!"

WORKING HARD FOR FUN

Ed noted that hiring decisions have been vital. They have three to five employees, depending on the season. Each candidate is interviewed no matter what the position, since small businesses benefit from cross-training employees.

"A great deal of work goes on behind the scenes to create the merchandise mix and events that seem to just 'happen' so magically," Ed shared with

TD

monthly.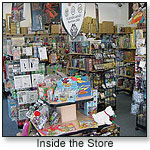 FINDING THE RIGHT TOYS

He admits that they didn't do enough research into the toy market when they started, and they were surprised at how difficult it was to source products accurately.

Their successes have included choosing modular fixtures so they can change the store's layout, creating a customer rewards program, and implementing a strong point-of-sale (POS) system from day one, removing a lot of the guesswork from inventory management.

They have also found that positive word of mouth is more valuable than most forms of advertising.

PAY ATTENTION

"Be flexible and listen to your customers," said Ed, summing up his business philosophy for

TD

monthly readers. "Don't purchase things that you like, but things your customers will like. Use data from your POS system to help make informed purchasing decisions."

To find out what Ed and Dina's customers like most, read My Best Sellers: All Things Fun.

Writer's Bio:
Brenda Ruggiero is a freelance writer from western Maryland.
Read more articles by this author
THIS BANNER IS AN AD:
---
---