---
Tweens Shun the Tub
Big Kid Products Go Down the Drain
"When your 13-year-old and the high school kids in the store get excited, you know you're going to have a winner." — Kate Tanner, Kidstop Toy and Book Store
With additional reporting by regional correspondents Virginia Davis, Dennis Furlan, Elizabeth Greenspan, Terri Hughes-Lazzell and Brenda Ruggiero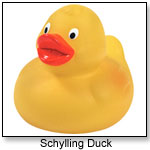 From one to 12 bath toys splash out their doors each week, 25 of 37 specialty retailers told

TD

monthly Magazine, but they're almost all "kiddy" toys. This modest (average: 6 percent of total sales) but reliable category has retailers scrambling to find new lines to supplement or replace perennial favorites that now glut the market, they said. And despite recent trends to the contrary, a new water construction toy by AquaStruct has at least one retailer hopeful that she'll clean up with tweens.

WHAT'S SELLING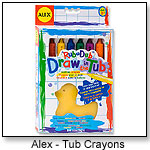 Alex Toys dominates the tub waves, claimed toy-store owners, despite some customers' concerns that bath crayons and paint sets may discolor grout. Alex also acquired other water faves such as Big Boing's TubTunes, in 2006, and Sandholm Stickers, in 2005.

"We have Alex, but we're looking for a new line," Kara Graff, owner of Full of the Dickens in Sandusky, Ohio, shared with

TD

monthly. "My first question now is: Is anyone else carrying this?"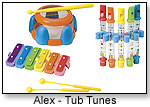 The non-Alex lines that made

TD

monthly's Top-10 Most-Wanted Bath Toys included Challenge & Fun, International Playthings, Toysmith, Schylling, Small World Toys and Damert. Other good sellers were bilibo and Sassy bath toys.
WHAT'S FADING

Health concerns have pulled the plug on some bath books, warned Green. "[Parents] don't like their kids coming into contact with the vinyl, even though the risk is minimal."

And tween-related luxury products, such as bubble baths and lotions, are stagnant, sighed two retailers.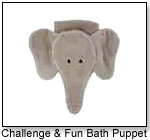 WHAT'S COMING

Fighting the tide, AquaStruct is trying to tempt tweens back into the tub with a new low-water-use shower construction system.

"My 13-year-old is waiting for AquaStructs," shared Kate Tanner, owner of Kidstop Toy & Book Store in Scottsdale, Ariz. Did she order it? "Absolutely! When your 13-year-old and the high school kids in the store get excited, you know you're going to have a winner."

In the meantime, grandparents and parents still buy the majority of bath products for their littlest loved ones. Here's what manufacturers and retailers say is making a splash:







.

AD
---






.

AD
---






Bath time can be so much fun when a friendly whale doubles as a water scoop. Tots can pour water into the whale tank and choose an exciting function by turning the red dial. They'll see the duck swim in circles and the starfish spin, switch the pink sea anemone from faucet to shower, and watch the bear's boat rock back and forth. It's easy to attach with suction cups.

.

AD
---






.

AD
---






.

AD
---






This 44-piece set includes an assortment of valves, tubes, hoses, caps, suction mounts and a sprayhead, as well as the AquaStruct WaveRider OceanSpray Surfboard Tub Mat and the AquaStruct TubeWave OceanSpray Shower Curtain. It is designed to help tweens create a low-flow shower adventure, and it intuitively teaches circuit logic, problem solving and resource allocation. It also saves water with AquaStruct's 2.5 gallons per minute earth-friendly AlphaValve. Launch date: August 2007.

.

AD
---






"Rub-a-dub-dub, three pigs in a tub!" Mama pig counts 12 tiny feet, six pink ears and three shiny faces in this adorable waterproof counting book. Three pink pigs store in this bath book's mesh tube for lots of fun in the tub. iBaby lets babies be babies. "This adorable waterproof counting book lets babies learn and exercise motor skills as they play with three charming toy pigs that store in the book's mesh tube," explained Jennifer Bittorf, marketing coordinator for innovativeKids. Launch date: April 2007.

.

AD
---






This wet-and-stick floating three-dimensional playhouse is fun to use in the tub. Children can make the characters take a ride in the car, sit in the yard or sneak inside the house — it inspires hours of dream play. Launch date: April 2007.

.

AD
---






Designed to teach children healthy hand-washing habits, SquidSoap works by applying a small ink mark on a person's hand when they press the pump to dispense the soap. The ink is designed to wash off after the hands are washed for about 15 to 20 seconds — the time recommended by most doctors. SquidSoap is fun for kids and makes hand washing more like a game. Also, the very stretchable squid toy is a blast to play with and will provide hours of entertainment.

.

AD
---






.

AD
---






.

AD
---






Baby Penguin and Clown Fish magnetically hug in place, as the Mothers spin, flip and race up and down and all over the place. They can be used for bath or pool play. When the babies are not attached, they float to the surface.

.

AD
---






Kids will enjoy this action-packed adventure in the kingdom of ALEX. This interactive toy will have them chasing dragons, protecting the castle and casting spells with the wizards. Stick pieces to tub wall or build a 3-D ship that floats. The 33-piece medieval magical world floats, too.

.

AD
---






Now kids can write on tub walls during bath time. Squeeze each bottle to make drawings and play games right in the tub. When you're done, just wipe off. Comes with a set of four writers (red, blue, yellow and gold). Push-pull cap never gets lost. It's safe, clean and fun.

.

AD
---






.

AD
---






.

AD
---






.

AD
---






.

AD
---
THIS BANNER IS AN AD:
---
---