---
TDmonthly's Psychologist Mom
She'll Put Your Toys on the Couch
Dr. Wright doesn't just look at toys; she analyzes them. She scrutinizes them for playability, appropriateness and educational value, in and out of the box. The latter quality is especially important to this psychologist/mother, who also homeschools her three children.

This month,

TD

monthly Magazine's Psychologist Mom Tangoes to go, improves her Volangulary, and more, rating each product with 1 to 5 TD stars (for

TD

monthly!); 5 is the top mark.

Mini Tangoes Puzzle Game by REX GAMES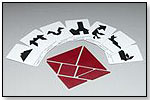 Age: 5 and Up
Gender: Boys and Girls
Category: Puzzles & Skill
MSRP: $4.50



TD

monthly rating:




The Dr.'s Impressions: Mini Tangoes includes seven very sturdy plastic puzzle pieces with seven puzzle cards. It is a typical Tangoes game, in that the goal is to use all seven pieces to duplicate the shape on the card.

Kids' Perspective: My boys like Tangoes games and had fun playing with this set.

Recommendation: This is a perfect little game for the kids while sitting at the restaurant waiting for dinner to come. Tangoes are excellent for spatial-skill development and logic building. This is a great little set, especially for the price.

---
beeboo Big Bubble KIT by EXTREME BUBBLES INC.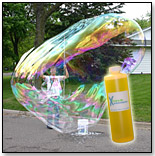 Age: 6 and Up
Gender: Boys and Girls
Category: Outdoor Fun
MSRP: $9.99



TD

monthly rating:




The Dr.'s Impressions: This bubble kit comes with a wood-and-rope bubble wand and a bottle of beeboo Big Bubble Mix, which has the impressive accomplishment of having formed the World's Largest Free Floating Soap Bubble in 2005, according to "The Guinness Book of World Records." The mix holds 16 fl. oz. and you add 14 cups of water to make the solution. The mix and wand make very large, colorful and sturdy bubbles.

Kids' Perspective: The kids had a blast making these bubbles. They laughed and played and giggled with delight. Because of the size of the bubbles and the wand, making bubbles takes some practice — especially for little hands — but they perfected their technique with practice.

Recommendation: This kit is fun. However, 6-year-olds are a little young to wield the wooden wand. The bubbles are beautiful and large and you need a spacious area in which to create them. We went to the park and the beeboo Big Bubble Kit was all the rage, attracting every young person within sight.

---
Volangulary: The International Vocabulary and Language Game by VOLANGULARY LLC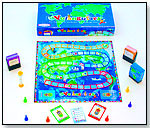 Age: 5 and Up
Gender: Boys and Girls
Category: Board Games
MSRP: $29.99



TD

monthly rating:




The Dr.'s Impressions: Volangulary is a vocabulary and language-skill board game. It can be played by one to six players or in teams. It is also a cross-level game, so that when adults play with second-graders, both levels of players are challenged and stimulated. The board has junior and senior editions, and the cards have four levels of difficulty.

Each card has a word on the face, along with the word used in a sentence. The definition is on the back of the card. After a roll of the dice, a player tries to define the word on the card drawn. If correct, the player moves forward on the board according to the dice.

Kids' Perspective: My kids enjoyed playing this game and really appreciated that they both had their own levels. The cross-level game play also made me more interested in playing. After a bit, the kids felt that playing was like schoolwork, but they liked playing, nonetheless.

Recommendation: Volangulary is a pretty awesome game. There is some substantial learning potential, and it holds the kids' interest long enough to really improve vocabulary, language skills and, ultimately, communication skills. I love that my second-grader can play with my fifth-grader while both of them learn and retain new words … and use them when talking to me!

---
Yoga Kit for Kids by IMAGINAZIUM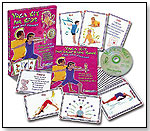 Age: 4 and Up
Gender: Boys and Girls
Category: Sporting Goods & Accessories
MSRP: $19.95



TD

monthly rating:




The Dr.'s Impressions: Yoga Kit for Kids contains 25 yoga cards with a picture of the yoga position on the front and a fun little rhyming poem on the back. It includes a comprehensive instruction booklet that describes each position, has a list of games to play with the cards, and discusses breathing and meditation. It also includes a CD of music.

Kids' Perspective: The boys liked the box and the idea of yoga. However, after a few moves, they were bored and felt that the game was too confining. They especially liked the cards and the rhymes on the back, and have been imitating several of them during regular play.

Recommendation: This kit would be wonderful in a school environment for a group physical education class. The cards are child-friendly and fun to read and see. The kit would be better and cheaper without the inclusion of the mediocre CD. However, the overall design and feel of the kit is accessible to both teachers and children. Yoga Kit for Kids would be a fun way to incorporate alternative exercise into the lives of our little ones.

Writer's Bio:
Dr. Tiffany Wright doesn't just look at toys; she analyzes them. In and out of the box, she scrutinizes them for playability, appropriateness and educational value. The latter quality is especially important to this stay-at-home psychologist/mother, who also homeschools her three youngest children. Her daughter attends UCLA. Dr. Wright earned her Ph.D. in personality psychology from University of California, Riverside. She is always on the lookout for toys and games that inspire creativity and impart knowledge while bringing fun and laughter to her home.
Read more articles by this author
THIS BANNER IS AN AD:
---
---