---
Take-Along Toys Are Magnets for Sales
Short But Profitable Season Sends Little Toys Zooming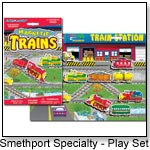 With additional reporting by regional correspondents Virginia Davis, Dennis Furlan, Terri Hughes-Lazzell and Brenda Ruggiero

Though nine of 13 specialty retailers told

TD

monthly Magazine that travel toys account for only 1 to 5 percent of their total sales, the approach of summertime urges preparedness for this small but very seasonal category. Magnetic tins, games and play scenes haven't lost their attraction, a survey of 36 toy-store owners revealed, and activity books are high on the list for keeping kids busy en route.

WHAT'S SELLING



TD

monthly's Top-10 Most-Wanted Travel Toys article has the scoop on which travel product garnered sales of 1000 units within a year at one store. But besides the top-10 mentions, retailers pinpointed a few more favorites for those long hours of travel.

Owner Debbie Wurzburger of Toy Chest in Pikesville, Md., sells two to three dozen units of ThinkFun travel games per month. "They have a lot of one-person games, and they usually have storage as well," she pointed out.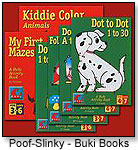 And collectible wind-up toys from California Creations sell at a rate of about 540 annually at Giggles Toys & More in Bozeman, Mont., Manager Kim Duff told

TD

monthly. They're great for airplane travel, she said, because "you can use them on the tray table."

For adult travelers, Manager Tristan Hewitt of Dragon's Toy Box in Seattle said his store has found success with John Hansen and Wood Expressions — so much so that "we stopped carrying most of the other travel games we started off with." He estimated that Dragon's Toy Box sells 10 to 20 Wood Expressions chess sets weekly.

WHAT'S FADING

While games and books that keep kids busy are all the rage, some travel classics won't make their way into many backseats this summer.

Games that challenge travelers to identify license plates or find objects on the side of the road seem to be going downhill, shared Hewitt and Amy Barrett, owner of Lasso the Moon Wonderful Toys in Helena, Mont.

Also losing steam are "the draw-with-water multi-color" activities, said Shirley Reilly, owner of Let's Play in Hillsboro, Ore. On a similar note, magic-ink books and invisible inks have slowed down, according to Missy Beutler, an associate at Tinkerz Toy Shop in Coeur D'Alene, Idaho, and Owner Betsy Justings of Betsy's on Ross in Auburn, Ala.

Take a look below to see other products for travel:







This line of themed felt boards has settings on the boards and more than 20 movable felt pieces for children to place. There are tiaras and thrones for "Pretty Princess," glass slippers and a broom for "Cinderella," and lots more. Unique features include beautifully crafted silkscreen pieces and background boards with an attached handle perfect for travel.

.

AD
---






Magnetic Travel Tangoes delivers all the fun of traditional Tangrams in a compact form. With magnetic puzzle pieces, an integrated play surface, wire-bound puzzle booklets and a snap closure, it's great for short trips, long journeys or even staying at home. It is also available in Object and People themes. Launch date: April 2007.

.

AD
---






.

AD
---






In this high-stakes spatial-development game, kids must cover their tracks on a journey through mud, sand, snow and cement. First, kids select one of 20 challenge cards. Then they must place all four pieces on the game tray to cover their tracks. As this single-player game gets more challenging, players will put their spatial-development skills to the test on this journey across different terrains. Launch date: February 2007.

.

AD
---






This circular wooden folding chess set measures 7" in diameter and features 9/16" squares. It includes a 3/16" king and other magnetic pieces.

.

AD
---






.

AD
---






.

AD
---






This 13" machine-washable travel doll comes with a carrier, a soft backpack car seat, and mix-and-match outfits. As her name suggests, she is "EZ" to dress — no buttons, snaps or ties — and her clothing sticks on easily. The doll is made for little hands (ages 18 months and up) and includes the Goldberger Lifetime Guarantee. She helps develop fine motor skills, promotes eye-hand coordination, gives children a sense of accomplishment, teaches cause and effect, nurtures the feeling of security, and inspires imagination and creativity. She was named one of the Top 100 Best Children's Products of 2006 by Dr. Toy.

.

AD
---






The Pocket Farkel Travel Set includes larger 16mm dice, a travel size score pad and a pencil, all contained in a 4" high resealable container.

.

AD
---






.

AD
---






.

AD
---






This high-quality 11" x 11" folding magnetic chess set features a walnut-inlaid board and a 1 3/4" king. The men are weighted and felted, and the set has interior storage. Launch date: July 2000.

.

AD
---
THIS BANNER IS AN AD:
---
---