---
TDmonthly's Developmental Expert
Toys That Do More Than Play
Christina Liu uses toys to help kids with or at risk for developmental delay reach their full potential. Her goal is to educate parents on how children develop and to sensitize them to the uniqueness and individuality of their child. Here she shares her opinions about some of the toys that came

TD

monthly Magazine's way, rating them on a scale of 1 to 5 TDs (for

TD

monthly!), with 5 being the highest score.

This month, her kids put it together big time, learn to chase words, hop through the Amazon and more.

Giant Interlocking Edublocks by EDUSHAPE LTD.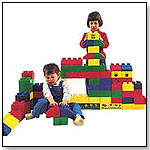 Age: 3 to 5
Gender: Boys and Girls
Category: Construction
MSRP: $69.95



TD

monthly rating:




First Impressions
Edublocks are large connecting blocks that are colorful, durable, washable and safe. They are made of a foam material that, unlike the hard plastic and wood used in most blocks, is flexible and soft. There are 26 blocks of different shapes, sizes and colors.

Skill Reinforcement
Building blocks require children to utilize their gross- and fine-motor skills, as well as spatial recognition and hand-eye coordination. Recognition of different colors, sizes and shapes can also be reinforced by playing with blocks. And with blocks this size, imaginary and dramatic play can occur as children pretend to drive cars or live in a castle.

Recommendations
Parents do not have to fear that the blocks will fall and hurt their children since the blocks are so soft. Additional sets are needed to build anything substantial.

---
Word Chase! by BEYOND LEARNING INC.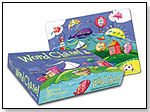 Age: 4 and Up
Gender: Boys and Girls
Category: Educational
MSRP: $19.95



TD

monthly rating:




First Impressions
Word Chase! is a simple game that includes 25 of the most commonly used words in the English language. The game board is adorable, appealing to young children. And the board and cards are eco-friendly: they're printed with soy-based ink on recycled paper.

Skill Reinforcement
This game encourages language skills and the development of vocabulary. Children are given five cards, each containing one word. On the board are spaces containing three to four words. As children move to a space, they can turn over any card that contains a word on that space and state the word. The player who first turns over all his cards and returns to his home spot, wins.

Recommendations
Children under 4 who are learning their letters can also play this game. It provides a fun way to help children learn and recognize words.


---
The Amazon Hop: A Madcap Jungle Adventure Game by MOMS ON EDGE LLC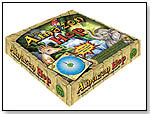 Age: 3 and Up
Gender: Boys and Girls
Category: Board Games
MSRP: $24.95



TD

monthly rating:




First Impressions
Amazon Hop is a cute game that teaches children about manners. The goal is to get to the Finish Pad by first jumping on the lily pads and stones. Children can move once they've answered a question card correctly (an adult determines if the answer is correct). If the child gets it right, they can spin the wheel and do a silly move (e.g., squawk like a parrot) as they move to the next space.

Skill Reinforcement
This game is a fun way to instill and reinforce good behaviors. Children answer questions such as "What are good behaviors when playing with your friends?" or "What is the safe way to cross the street?" Children also develop their gross-motor skills by hopping to the stones or pads.

Recommendations
I love games that not only teach children, but also develop their characters. The children loved making the funny sounds and doing the silly moves. It was interesting hearing their answers to the questions, and it was very important to correct any wrong answers — especially those concerning their safety.

---
The Bear Bear and Messer Combo Pack by SPAZZMANIA ENTERTAINMENT INC.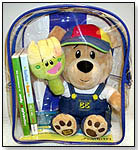 Age: 2 to 7
Gender: Boys and Girls
Category: Educational
MSRP: $29.98



TD

monthly rating:




First Impressions
The Combo Pack includes the adorable Bear Bear and Messer and two DVDs, "The Adventures of Andy Applebutter" and "The Bear Bear and Messer Show" — all in a clear vinyl backpack.

Skill Reinforcement
"The Bear Bear and Messer Show" is geared to children 2 to 5. It introduces different colors and how mixing them creates new colors. Cute songs help children recognize the words and colors. "The Adventures of Andy Applebutter" is geared to children 4 to 7 and teaches character development and manners as Andy and Cha Cha Cola are placed in a new situation.

Recommendations
The characters are cute and the story is relatable for children. To further stress the lessons introduced in the story, each DVD has an activity book that parents can download from the Spazzmania website.

Writer's Bio:
Christina Liu has worked for more than three years as an early intervention specialist, concentrating on children 0 to 3 years old. She uses toys to foster development, which makes the whole process a lot more fun. She has a B.A. in Child Development and Family Studies from California State University and is currently pursuing an M.A. in Human Development at Pacific Oaks College and Children's School.
Read more articles by this author
THIS BANNER IS AN AD:
---
---