Tools:








TDmonthly Toy Videos
See (and Hear) What's New in May
Want to know what a toy's really like before you order? TDmonthly Magazine's ToyTV lets you look at toys in and out of the box ... and we even try to tell you how they work! Now with sound. And a face. Does TDmonthly's ToyTV work for you? Let us know.
Edited by Alison Marek.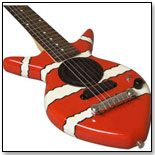 Juba Clownfish by GOLDFISH GUITARS LLC

This wonderful 22-1/2" scale Juba Clownfish guitar with a built-in speaker and volume control knob requires a 9-volt battery. It also can be plugged into an amplifier (not included). Perfect for children and adults alike, it has 20 frets, a rosewood fretboard and quality tuners. Goldfish kids' guitars are twice the quality of toy-store guitars at the same price. This guitar may also be enjoyed by teens and adults as a travel instrument. (

Watch Video)




To see archived videos sorted by category please

click here

.

You can also watch manufacturers frrom TOY FAIR and POMONA demonstrate their toys (2006, 2007), by category. Or watch demos from the GAMES EXPO.

And here are the new videos for this month!









This 7.5" x 5" journal features 100 pages of cherry-colored paper that has lines on one side and a frame to draw on the other side. The front and back covers are laminated to repel spills, and a mini magenta-colored Sharpie is attached to the coil.

.

AD
---






.

AD
---






.

AD
---






The Zero Blaster is the latest addition to the Zero Toys Vapor-Ring toy line. With a bright blue LED light and ray-gun sound effect, it blasts 2"- to 4"-diameter vapor rings up to 12'. It uses safe, non-toxic (water-based) fluid.

.

AD
---






LauraLi Corporation presents Design-a-Purse, a versatile patent pending pouch accented with a treasure of beautiful accessories. Design-a-Purse allows a girl to design her own purse and then assemble it herself. Interchangeable straps, trims and jewels make Design-a-Purse a fun activity and fashion for girls. Packaged as individual components suitable for craft stores, party stores, home parties and as play sets, Design-a-Purse will offer seasonally updated designs, making the product a collectible item every girl will seek out. Pick-a-Pouch, Pick-a-Strap, Pick-a-Trim, Pick-a-Jewel, its your creation, take it home. LauraLi Corporation offers a Point of Sale Display on request as part of any Design-a-Purse wholesale purchase. Suggested retail prices for components range from $1.50 to $10.50. Launch date: April 2007.

.

AD
---






.

AD
---






.

AD
---






Lord Commander Coleman Stryker is the greatest warcaster serving the noble nation in the world of "Warmachine." Here, the very earth shakes during fierce confrontations as six-ton constructs of tempered iron and steel slam into one another with the destructive force of a locomotive. Lead-spewing cannons chew through armor plating as easily as flesh, and a tempest of arcane magics sets the battlefield ablaze. The 6.1" commander comes with a Cygnar flag with 9" base, a Stryker sword, a removable cape and a pistol.

.

AD
---






She's not quite depressed, rather just eternally bored. She dresses differently than girls her age, but doesn't care. She lives on whipped cream and edible flowers on a fault line in San Francisco. Her story is a little dark, yet funny and intriguing. She's not the perfect fashion diva... but then again, who is? This is Ellowyne, the first doll in the Wilde Imagination line created by Robert Tonner. The price is for the basic doll. Dressed dolls run from $110 to $149. Outfits will also be available separately. (EDITOR'S NOTE: Video gives Ellowynne's age as 13, but she's actually 18.)

.

AD
---






This wonderful 22-1/2" scale Juba Clownfish guitar with a built-in speaker and volume control knob requires a 9-volt battery. It also can be plugged into an amplifier (sold separately). Perfect for children and adults alike, it has 20 frets, a rosewood fretboard and quality tuners. Goldfish kids' guitars are twice the quality of toy-store guitars at the same price. This guitar may also be enjoyed by teens and adults as a travel instrument.

.

AD
---
Catalog Request Form
THIS BANNER IS AN AD:
---
---