---
Make a Mess Nicely
Arts & Crafts for Boys & Girls
If Arts & Crafts are a big seller in your store, here's what's in store for the Holidays:
Patterns of the Universe by WORKMAN PUBLISHING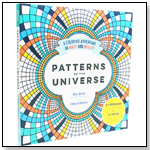 Contemplate the Patterns of the Universe as you color! Math is at the heart of many natural wonders and has an abstract beauty all its own—in the silhouette of a snowflake, the spiral seeds of a sunflower, and the symmetry of the Sri Yantra mandala. From the 4-D hypercube that casts a starlike shadow, to the infinite pattern of Penrose tiles that never perfectly repeats, these 57 exquisite designs reveal their secrets as you fill them with color. Art becomes an act of discovery—no math knowledge is required! In the bonus Creating section, as you join dots, flip coins, and follow other simple steps, 12 surprising images will emerge before your eyes. This is an adventure for all ages—and a treasure for artists in Numberland! 2/29/2016 (Price: $14.95)



Chox'd Chalkboard Bracelet Kit by FASHION ANGELS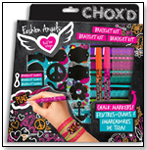 Customize this chalkboard tote with your own unique designs using the chalk markers. Then use the sponge eraser to erase and start again! Kit Includes; chalkboard keeper tote, 3 chalk markers, sponge eraser, and instructions.
1/31/2016 (Price: $11.99; Age: 8 and up) [Add to my Inquiry Basket][?]



Klutz Coloring Crush by KLUTZ

Coloring Crush includes everything you need to make dreamy, just-add-color works of art. And, for those who can't find the pointy end of a pencil, our introductory how-to guide includes a crash course in using colored pencils, blending and layering, color scheme inspirations and artist-approved techniques. 1/31/2016



Build with Stickers by SQUIRREL KING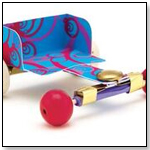 The Build with Stickers projects combine two things children love — stickers and building. Each kit includes novel stickering techniques — no glue involved — and all the materials to engineer, explore and turn their creations into playful, imagination inspiring toys. They get the educational bonus of engaging with engineering, physics and math through a fun-filled approach. Rising STEM stars can build a race car or learn about physics by crafting a sun lounge. 11/24/2015 [Add to my Inquiry Basket][?]



Crayola Cling Creator by CRAYOLA LLC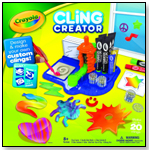 Colorful cling creations in minutes! the Crayola cling creator lets kids create their own repositionable icons that stick to, and peel from windows, mirrors and other flat, smooth surfaces. 10/26/2015 (Price: $24.99; Age: 8 and up)



Master of the Arts Painter's Kit by Horizon Group USA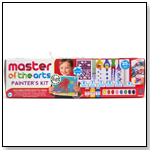 The Master of the Arts brand focuses on fine motor skills, color theory, sensory play and art education. This set includes everything a child needs to create his or her own fine arts painting in one easy to store and easy to carry box! This kit includes a watercolor paint strip, 3 paint brushes, 2 wacky brushes, 2 stencils, 2 sponge rollers, 3 tempera paints, a 25 ft. blank coloring roll and easy-to-follow instructions, as well as tips and tricks for color mixing on the package! 10/16/2015 [Add to my Inquiry Basket][?]



Stitch A Pixel Pillow by ALEX BRANDS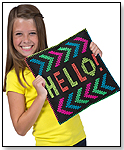 ALEX Toys Craft Stitch A Pixel Pillow is the perfect way to create a fun and colorful pillow! Easily cross stitch this pillow with neon yarn; pre-punched holes make it so easy. The perfect activity for the beginning seamstress or tailor. Includes 4 colors of acrylic yarn (10.5 yd.), polyester yarn (10.5 yd.), 2 polyester felt squares (14 in.), polypropylene pillow insert (5.64 oz.), plastic needle and easy instructions. Recommended for children 6 years of age and older. 9/30/2015 (Price: $19.99; Age: 6 and up) [Add to my Inquiry Basket][?]



Sew Softies™ Sea Creatures by THE ORB FACTORY LIMITED


Make a cute Crab, funky Fish and 8-armed Octopus. Dive right into your sewing lesson with this splashy sea creature collection. Sew Softies™ teaches children how to sew using kid friendly components, like oversized needles and pre cut fabric pieces with the holes already made. 9/30/2015 (Price: $14.99; Age: 7 and up) [Add to my Inquiry Basket][?]



Make Your Own Holiday Snow Globes by CREATIVITY FOR KIDS
Decorate 3 child-safe, plastic snow globes with 3 winter/ holiday themed resin figures and create your own winter wonderland! Use the included clay and tools to create additional fun, festive accessories and decorations; add your own tap water, top them off with glitter (also included) and give them a shake to watch your winter scenes come to life.
Snow globes measure approximately 2 7/8" w x 3 5/8" h x 2 3/4" d 8/11/2015 (Age: 6 and up) [Add to my Inquiry Basket][?]



4M Creative Straw Kits - Aircraft by TOYSMITH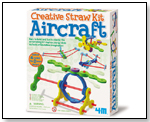 Easy to build and fun to create! This entertaining kit inspires young minds to feats of boundless imagination! Contains specially designed coloured foam parts, 2-pin connectors, standard tubes and detailed instructions for building 4 models. (2 bonus model ideas included.)
Awards: 2015 TDmonthly Top Toy Award 7/31/2015 [Add to my Inquiry Basket][?]



Mosaic Art by MINILAND EDUCATIONAL CORP


This toy lets you build on 2 dimensions on a sturdy mounting bracket which at the same time is the top of the box where the content is saved. It includes various formats of platelets and strips with different designs, plus screws and screwdriver to secure the assemblies. This valuable collection includes 12 different activity cards, represented in large sheets that complement the game. We emphasize the practical container box that will help you organize and store all your pieces neatly. No batteries required. Suitable for children 3-7 years old. Builds on STEM abilities. Includes 180 pieces and 12 activity cards. 4/28/2015 (Age: 3 to 7) [Add to my Inquiry Basket][?]



Sands Alive GLOW by PLAY VISIONS INC.

Plastic components will react in the dark with the UV LED Glasses and lights up beyond your belief! Comes with 4 pounds GLOW Sand, large play tray, UV LED Glasses, UV Pen Light, Brick and Pebble Rollers, 4 Stencils in assorted themes, 2 Volcano Molds, 6 PVC Neon Bugs, 6 PVC Dino Skeleton, 3 assorted Jungle Animal molds, and a light up flashing red LED module to make your volcano come to life! ITEM PROHIBITED ON AMAZON.

2/17/2015 [Add to my Inquiry Basket][?]



Sweet Ink Tattoo Kit by SUGAR LULU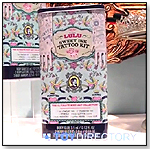 The Sweet Ink Tattoo Kit comes in a beautiful, decorative tin. Each kit includes one pack of transfer tattoos, 27 foil bracelets, 4 stencils, 2 body markers, 1 glue, a brush for glitter tattoos, and two colors of glitter.

2/14/2015



Art Nouveau Workshop by DJECO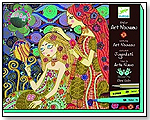 A complete pattern workshop for creative children to teach them how to make beautiful Art Nouveau motifs. Designed for older children, this kit will engage their artistic sensibilites while teaching them a classic art form. The kit comes complete with highest quality pigmented felt tipped brush pens in eight colors, multitudes of stickers and 4 colorful card "canvasses".
Because play is essential to a child's development, Djeco creates toy collections that are always entertaining, educational and imaginative. Staying faithful to their philosophy of incorporating art into play, the passionate and inventive Djeco creative team includes unique illustration and bold graphic design into all of their toys.
— Taka Andrews, owner of Miller's in Mamoroneck, N.Y., told TDmonthly in a January 2015 survey that DJECO art kits are their store's best-selling arts & crafts toys. 1/29/2015 (Price: $31.99) [Add to my Inquiry Basket][?]



Crystal Flowers by SENTOSPHERE USA


With this kit, create 8 sparkling, transparent flowers using liquid stain glass paint. Bend the frame rods into petal shapes and place them in the mold. Squeeze the paint color of your choice into the mold and wait 2 to 3 hours for the paint to dry. Assemble the petals and complete the flowers with pistils made from the "Patarev" supplied. A great kit for young girls who love decorating their room. 11/24/2014 (Price: $23.60; Age: 8 and up) [Add to my Inquiry Basket][?]



Creativity for Kids Blow Pen Stencil Kit by FABER-CASTELL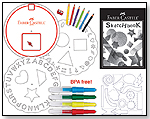 Get "blown" away creating stencil art with blow pens and colored pencils! Children can experiment with fun blow pens to create brightly colored artwork in their sketchbook using the stencil spinner, chipboard shapes and colored pencils. Blow pens are BPA-free and safe for children. Practice mixing colors, creating "negatives" with the chipboard shapes, or using the stencil spinner - choose from a variety of shapes and letters. When the fun is over, everything stores neatly inside the package. 11/14/2014 (Price: $14.99) [Add to my Inquiry Basket][?]



Creatibles DIY Eraser Kit by INTERNATIONAL ARRIVALS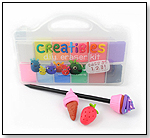 The easy make and bake eraser kit where you can shape your very own eraser. The Creatibles DIY Eraser Kit is easy as 1,2,3. You build it, bake it and erase with it. Make all sorts of amazing eraser creations with this Do It Yourself kit. Creatibles comes with 12 pliable clay colors that can be mixed for an endless amount of hues. Create any kind of cool shapes, characters or whatever you want your eraser to be. Follow the baking instructions and you'll have an amazing eraser all your own. And it comes in a nifty reusable case. It's fun to make and fun to erase. 11/13/2014 (Price: $11.95) [Add to my Inquiry Basket][?]



Beados Quick Dry Design Station by Moose Enterprise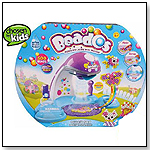 Kids can enjoy hours of creative enjoyment with this Moose Toys Beados Quick Dry Design Station. It is a fun all-in-one crafting set. With this bead making kit you can easily create, spray your unique designs. It also features a quick dry fan to swiftly dry in half the time, as well as plenty of pod storage. A design tray, scoop pen and 500 Beados are included with this kids' bead kit. This item requires assembly and it comes complete with everything you need to get started. You can make a variety of different shapes and objects in any color. Make a bright, colorful world out of beads with the Moose Toys Beados Quick Dry Design Station. 11/13/2014 (Price: $19.97; Age: 4 and up) [Add to my Inquiry Basket][?]



The Original DoodleArt - Mini Kit 2 by PLASMART INC.


Same great DoodleArt but with four 11" x 14" posters (Monster Trucks, 4x4, Progress, Race) and 12 dual-tip markers. 9/24/2014 (Price: $24.99; Age: 8 and up) [Add to my Inquiry Basket][?]



Craft-Tastic String Art Kit by ANN WILLIAMS GROUP LLC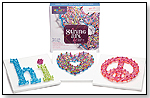 String art has never been more fun, easy or artful. Simply push pins into our sturdy foam canvases and string away, no hammer or nails needed. Use our patterns or design your own. String'em, love'em, hang'em right away! Kits contains all materials needed to make three 8.5" canvases. 9/22/2014 (Price: $19.99; Age: 10 and up) [Add to my Inquiry Basket][?]



Jean Tats by PEACEABLE KINGDOM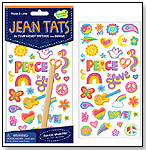 Jean Tats are a fun, easy way for kids to decorate their denim with temporary tattoos! Tattoos apply in seconds and come off in a normal cycle in the laundry! Includes 1 sheet of temporary tattoos and rub-on stick. 6/23/2014 (Price: $3.00; Age: 5 and up) [Add to my Inquiry Basket][?]



Holiday Paper Chains by eeBoo corp.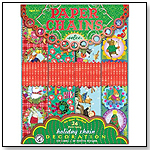 Decorate for the holidays. Makes every room a party! For ages 5 and up. 24 ft long and 120 links. No Glue needed! 40 festive designs. 5/29/2014 (Price: $10.99; Age: 5 and up) [Add to my Inquiry Basket][?]



Foxfire Thinking Putty by CRAZY AARON ENTERPRISES, INC.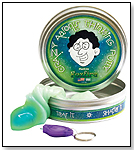 Foxfire is a shimmery glitter Thinking Putty that reveals its true colors with the included blacklight keychain (in the tin). In a flash, mint green becomes dark blue with an eerie glowing edge. In the dark it glows brightly for over 12 hours.
Best played with under regular room lighting so you can see both the daytime and nighttime colors simultaneously! Hold the blacklight keychain close to the putty to draw a dark line, and move it farther away for a blurry line. 5/29/2014 (Price: $14.95; Age: 8 and up)



Snazaroo Face Painting Activity Book by COLART AMERICAS, INC.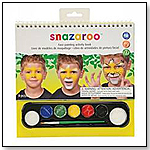 The new Snazaroo Face Painting Activity Book features 54 pages filled with 23 face painting designs and creative play ideas. Also included are 6 face paints and a sponge & brush. The three step designs are easy to follow, even for non-readers. Snazaroo face paints are easy to use and remove. Snazaroo is safe and easy to use! All Snazaroo products meet both US and EU toy and cosmetics regulations.
Launch date: MAY 2014
— Emily Bieritz, manager of The Toy Box in Amherst, Mass., told TDmonthly in a December 2014 interview that Snazaroo face paint is one of their best-selling Halloween toys. 5/28/2014 (Price: $19.99; Age: 4 and up) [Add to my Inquiry Basket][?]



Deluxe Bubble Wands Kit by ARTTERRO
Bend high-quality copper wire into fun shapes and adorn with beads and marbles to construct two beautiful, sturdy wands. Perfect for blowing giant bubbles and casting magic spells! With simple tips and lots of examples for inspiration, create 2 unique wands and 4 fabulous art pieces to brighten a garden or add whimsy to a potted plant. Two bonus projects in every kit! Turn the box into a mailbox, birdhouse or special treasure box. The inner tray is perfect for framing your art. Ages 8 and up. 5/8/2014 (Price: $29.00; Age: 8 and up) [Add to my Inquiry Basket][?]



Cardboard Box Airplane Stickers by PAPER BOX PILOTS

For a child there truly is nothing more fun than an empty cardboard box. Our sticker kits help the imagination soar as they build their own realistic airplanes. 4/29/2014 (Price: $6.99)



Disney's Frozen Sticker Puzzle Boxes by LEE PUBLICATIONS


Unscramble the stickers to create surprise pictures of everyone's favorite Frozen sisters, Anna and Elsa. Place the numbered stickers on a numbered grid to complete the pictures.
Book Includes a booklet of 8 colorful jumbled sticker puzzles, book of 8 numbered puzzle grids and 240 stickers.
— In a May 2014 survey Suzi McMullen, manager of Doodlehopper 4 Kids in Falls Church, Va., told TDmonthly that they sell 1 Frozen toy per hour, making it the store's best-selling license.
— In a August 2014 survey, two out of 10 retailers told TDmonthly that Frozen licensed products were their best-selling toys.

3/31/2014 (Price: $7.99; Age: 3 and up) [Add to my Inquiry Basket][?]



Smithsonian Museum Craft Kits by SKULLDUGGERY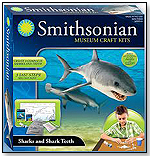 Skullduggery's new SMITHSONIAN CRAFT KITS combine learning, discovery and education all in one exciting journey. Each kit is loaded with activities such as 3D mold making, coloring and a BONUS educational activity book packed with facts and fun. Your child will have a hands on learning adventure they can share with everyone!

3/6/2014 [Add to my Inquiry Basket][?]



Rolli™ - The Stamps that ROLL! by Funnybone Muse by FUNNYBONE TOYS LLC


The first product product in the Funnybone Muse offerings is: Rolli™ – a line of rolling stamps. Imported from Japan-based PLUS Corporation, Funnybone Muse has been given the exclusive rights to 10 of their best-selling designs (each sold millions of units in Japan), rebranding them in the US as Rolli™.



3/4/2014 [Add to my Inquiry Basket][?]



On-The-Go Tin Art Set by SkyHigh International LLC.


it is an embossed tin storage case with handle, that comes with activity book, 8 crayons, 6 markers, 8 washable watercolors with paint brush and 2 sticker sheets!

2/5/2014 [Add to my Inquiry Basket][?]



PlayMais® Mosaic Little Friends by PLAYMAIS CANADA INC.


Create and design mosaics with the new PlayMais® MOSAIC. The new smaller PlayMais® MOSAICS open up a new kind of activity and will therefore expand the potential of PlayMais. PlayMais® stands for natural learning and sensible playing. With our new PlayMais® MOSAIC series, we especially encourage children's fine motor skills. Children are introduced to a variety of designs and colors with the help of included craft cards to stick PlayMais® on. This way, kids develop creativity, and motivation is boosted by quick success. PlayMais® MOSAICS is the perfect addition to our already existing PlayMais® variety. The new PlayMais® MOSAICS series is available in 6 themes for boys and girls. Each box consists of 2300 PlayMais® MOSAICS, 6 printed cards to stick them on, instructions, and accessories. Each box guarantees more than 8 hours of fun. PlayMais® MOSAIC LITTLE SEA, ZOO, FRIENDS and TRAFFIC are fun for kids 3 years and older; focusing especially on developing the fine motor skills. In order to create the mosaic, children have to combine color and shapes; perfect also for the hand-eye coordination. 1/23/2014 [Add to my Inquiry Basket][?]



Fun Loom Bracelet Making Kit by IDEAVILLAGE PRODUCTS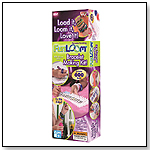 Create your own cool, colorful jewelry with the FunLoom Bracelet Making Kit! The kit includes an expandable loom board that lets you design and make stylish accessories such as bracelets, rings, hair bands, belts, necklaces and more. This creation station also comes with a hook, 600 colorful silicone bands, 30 closure clips and a step-by-step "How to Loom" guide.
— In a November 2013 survey, Diana Nelson, owner of Kazoo & Co. in Denver, Colo., told TDmonthly that Funlooms are a best-seller in their store

Where to buy:
SOUTH 11/29/2013 (Price: $14.99; Age: 8 and up)



THIS BANNER IS AN AD:
---
---