---
Homeschoolers Go for Fantasy
Dino-Themed Chair Gets Kids Dreaming
This month, our Homeschooling Roundtable participants met an imaginary creature named Freddy in Once Upon a Blue Moon, and took a break on the collectible, adoptable and customizable Big Freddy Chair.

Each product is rated with 1 to 5 TD (for

TD

monthly!) stars; 5 is the highest mark.

Roundtable participants were art teacher Lynn Costine, B.A., MAT, with Sarah (13 years), Anna (11), Emily (10) and Will (8); Susan Ledford, editor of the "Homeschool Resources Directory for SC," with Victoria (11), Joe (7) and Griffin (1); Julie Petoia, RN, with Cabot Lee (12), Talia (11), Malynne (9), Jacob and Gabriel (6), and Jeremiah (5); Alison Shanahan with Elizabeth (14), Emily (12) and Katie (7); and Teresa Wilson, editor of "HOMES Newsletter," with Timothy (14), Andrew (11), Elise (8) and Steven (6).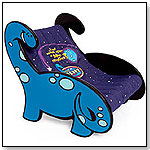 Freddy Big Chair from FREDDY & FRIENDS LLC
Category: Gifts
Gender: Boys and Girls
Age: 3 to 12
Price: $129.95

Watch Video



TD

monthly rating:





What It Is: A chair featuring the image of Freddy, an imaginary creature (see review of "Once Upon a Blue Moon").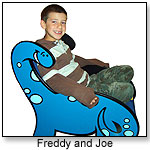 Each limited-edition Freddy Big Chair has an individually numbered brass plate and can be officially "adopted" at the website, making the chair collectible. The chair has two solid hardwood construction panels designed to support up to 350 lbs., and comes with a quilted sling seat. It has padded cross bars to maximize comfort and protective plastic runners to lessen floor scratches. An Allen wrench is included for quick, easy assembly. Accessories consisting mainly of additional colors of sling seats are available for purchase online.

What the Moms Thought: All the moms commented on the high-quality construction and ease of assembly. "[It's] well constructed and comfortable for Emily (12) and Kate (7)," said Shanahan. Ledford, who assembled the chair in just minutes with toddler Griffin hanging on to her, said, "I rarely encounter anything this easy and quick to assemble." Another favorite feature was that the seat cover may be removed and washed, or replaced (with purchase). "This chair is designed to last a very, very long time," noted Ledford, though none of the moms was interested in its collectibility.

What the Kids Thought: Ledford noted that Griffin (18 mos.), who was immediately attracted to the Freddy design, was unable to tip the chair no matter how he clambered on it. Joe (7) said, "It's warm and cozy." Some of the older kids adjusted the sling seat so that the cartoonish logo was hidden and the sling's starry-night design was emphasized. Elise Wilson (8) called it "the perfect gaming chair." Most children over age 10 didn't want to sit in the chair due to a "babyish" design, but Costine's 13-year-old daughter had no problem with it.

How to Improve It: Several moms noted that the retail price seems prohibitive. "Considering the cost, I would want this to look more like 'real' furniture which I could put in more formal areas of my house," said Shanahan.

Would You Want Another Toy Like This? "I like it," enthused Elise (8). Overheard at the Petoia household: "It's my turn to sit in the chair now."

---
Once Upon a Blue Moon from FREDDY & FRIENDS LLC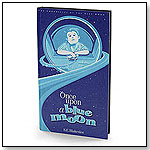 Author and Illustrator: S. E. Blakeslee
Category: Books
Price: $17.95



TD

monthly rating:





What It Is: Told completely in rhyme, "Once Upon a Blue Moon" explores the beginnings of an imaginary, age-old creature named Freddy. This book is first in the "Chronicles of the Blue Moon" series, and was inspired by the original Freddy Chairs (see companion review). The illustrations, using only shades of blue, are computer-generated and printed in flat colors using "pure spot colors" to achieve distinctly brilliant hues. This process is explained in the colophon.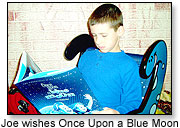 What the Moms Thought: The unusual illustration technique was noticed by Ledford and Wilson, although the monochromatic pictures were not well liked by Roundtable moms. Shanahan called the pictures "dull." Ledford said, "Most interesting was the explanation of the spot color process at the end of the book." Petoia described the storyline as "silly," though Ledford found it "endearing."

What the Kids Thought: The Ledford and Wilson children (who read the book independently of each other) said, "It's too BLUE!" and the Costine kids agreed. Elise (8) wondered why the pictures were so dark. Kate (7) told her mom the story was "nice," but never requested to hear it again. Joe (7) thought the rhyming was over-used, and sister Victoria (11) asked, "What kind of a magical creature turns into a chair?"

How to Improve It: "The children feel the illustration technique is over-used throughout the book and some of the pages should be lightened up," said Wilson. Ledford suggested using less — much less — rhyming in the story. Although Costine was no fan of the sing-song text either, she added, "My younger children do like the rhymes. … As a parent, I'm more likely to buy things like that, and maybe other people are, too."

Writer's Bio:
Susan Ledford is the writer, editor and publisher of the "Homeschool Resources Directory for S.C." She has been evaluating toys and games for
TDmonthly
's Roundtable reviews since 2005. She also is a homeschool veteran of seven years.
Read more articles by this author
THIS BANNER IS AN AD:
---
---