---
TDmonthly's Multimedia Expert
CDs? DVDs? She Plays Them All
TD

monthly Magazine's Multimedia Expert has devoted her career to watching and listening to imaginative creations in a variety of media. Here she shares her opinions on multimedia products for kids, rating each one with 1 to 5 TD (for

TD

monthly!) stars; 5 is the top mark.

Exercise Party by CASABLANCA KIDS INC.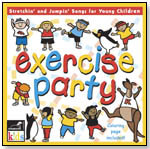 Age: 2 to 5
Gender: Boys and Girls
Category: Audio & Cassette & CD
MSRP: $5.95



TD

monthly rating:





First Impressions
This 53-minute CD is packed with songs and features a long list of musicians, all singing tunes designed to get kids to move, shake, wiggle and dance.

What Reviewer Thought
Perhaps because it's a compilation of many different artists, "Exercise Party" feels uneven in places, with less-than-explicit instructions on just how kids should move in some of the songs. However, there are many strong tracks here, lots of variety and a broad survey of musical styles.

What Kids Thought
The thematic link might not initially be apparent to all listeners, but the variety and upbeat vibe will sustain the attention of most preschoolers.

Recommendation
"Exercise Party" might work best in a group situation with an adult leading kids through the exercise moves described in many of the songs. At nearly an hour in length, and a cost of under $6, this CD is hard to beat in terms of bang for the buck.

---
Hunk-Ta-Bunk-Ta TWINKLE by HUNK-TA-BUNK-TA® MUSIC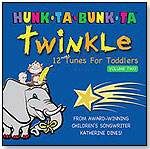 Age: 1 to 10
Gender: Boys and Girls
Category: Audio & Cassette & CD
MSRP: $15.99



TD

monthly rating:





First Impressions
Aimed specifically at the toddler set, "Hunk-Ta-Bunk-Ta Twinkle" features pleasantly goofy lyrics and easy-to-repeat riffs, but adults will be won over within minutes, too.

What Reviewer Thought
Singer/songwriter Katherine Dines has been making music for many years, and with "Twinkle," she continues to build on her stellar body of kid-oriented songs with unique lyrics and infectious rhythms. She mixes lots of musical styles, from country to jazz to R&B, but her most distinguishing trait is her use of made-up words (like "hunk-ta-bunk-ta"), many of which make singing along for toddlers super easy.

What Kids Thought
Several of the songs on this CD are destined to become classics. While my 2-year-old's favorite remains "Five Little Monkeys," she gradually allowed me to play other tracks. She especially liked the endearing "Keemo Kyemo" and continues to sing portions of "Mashed Potatoes."

Recommendation
Dines is a pro, and the 12 tracks included here are definite winners, well deserving of their recent iParenting Media Award.

---
Listen in Addition by JANDIE JAMS MUSIC LLC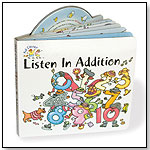 Age: 4 to 8
Gender: Boys and Girls
Category: Books
MSRP: $16.99



TD

monthly rating:





First Impressions
How interesting can songs about addition be? Singer/songwriter Julie Scott proves that they can be very compelling, with attention to variety and some creative storytelling to give life to the numbers zero through 12. The CD accompanies a board book that reinforces the musical lessons on math.

What Reviewer Thought
Scott seems to use a different musical style for every one of the 13 tracks here, as suggested by the song titles, which include "The Two Cha Cha Cha," "Waltzin' Maries" and "Boogie-oogie Number Five." These are catchy, entirely singable songs with addition woven seamlessly into the lyrics.

What Kids Thought
Kids won't realize they're learning addition as they sing along to these songs, and although math is the primary objective, listeners will also hear a broad range of musical genres, helping build a solid foundation and appreciation for the history of music.

Recommendation
Listen in Addition offers math instruction in the most painless way, making this CD a great value, especially for parents hoping to jumpstart basic addition skills.

---
The Terrible Twos: If You Ever See An Owl... by POQUITO RECORDS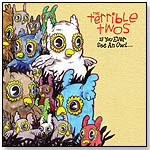 Age: 3 to 11
Gender: Boys and Girls
Category: Audio & Cassette & CD
MSRP: $13.98



TD

monthly rating:





First Impressions
The first release by Midwestern band The Terrible Twos (which by night is The New Amsterdams), "If You Ever See an Owl" features 15 loopy pop songs sung in an alt-rock style with a hint of country, and lyrics that will keep listeners of all ages tuned in.

What Reviewer Thought
Terrible Twos' lead singer Matt Pryor wanted to make interesting music for kids, and with this CD he and his band-mates succeed completely. "When I Get to Eleven" — with its toe-tapping chorus that makes counting to 11 fun — merits airtime on the radio, while "Math Stomp" rocks with a twanging guitar, as does the CD's title track. Intriguing lyrics and attention to a kid's perspective round out a great CD that blurs the boundary between music for kids and adults.

What Kids Thought
My 2-year-old liked picking out key words ("ladybug," "pizza" and "grumpy," for example) but the crazy lyrics and kid-oriented disdain for rules (and vegetables!) appeals even more to older kids, who will identify with many of the sentiments expressed. Plus, some of the sing-along math problems offer good reinforcement for kids working on basic addition and subtraction.

Recommendation
"If You Ever See an Owl" makes an excellent addition to any family's CD collection, offering smart lyrics that will appeal to kids for many years, a musical sensibility that adults will enjoy as well, and overall a sense of respect for the intelligence of listeners of all ages. This is a CD that will be played repeatedly.

Writer's Bio:
Holly Willis is the Associate Director of Multimedia in the Core program at the University of Southern California's Institute for Multimedia Literacy. She writes frequently about film and video.
Read more articles by this author
THIS BANNER IS AN AD:
---
---