---
Esco Imports Imports Great Fun
Company Offers Knowledge and Variety for Toy Buyers
"We don't pile a lot of merchandise on the retailers." — President Jack Steinfeld, Esco Imports

Jack Steinfeld, president of Esco Imports, knows a lot about the toy business: His family founded and has been successfully running toy importer and distributor Esco Imports since 1946. Since that time, the family has seen many changes in the toy industry and in business practices. The fact that Esco Imports has continued to prosper can be attributed not only to the Steinfeld family business acumen, but also to a true understanding of toys.

FIVE-AND-DIME FOCUS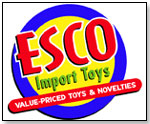 The company was founded in New York City by Dan Steinfeld, Jack's grandfather. Esco sold costume jewelry and other items before focusing on the toy industry, and at the time, mainly provided wholesale goods to small five-and-dime retailers.

Jack's father, Robert, "was the salesman for the Texas area. When the company moved from New York City, he moved the company to the territory he was familiar with," Jack told

TD

monthly Magazine.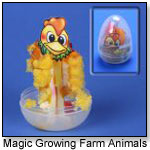 Like many retailers, Esco Imports faced new challenges with the rise of Wal-Mart.

"A lot of the small stores and independent regional chains went out of business," noted Jack. The prominence of Wal-Mart has meant that Esco Imports has worked even harder to remain competitive. "We have to continually find new markets," Jack explained.

WEB OPENS NEW MARKETS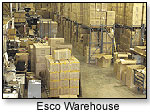 Online marketing has helped Esco Imports remain successful and find new venues for sales.

"Pediatricians, schools, doctors' offices — we reach different markets we never would have thought of" prior to the Web, he said.

But Esco didn't just put up a website and sit back, waiting for customers.

"We send post cards, contact [potential clients] and let them know about our products," said Jack.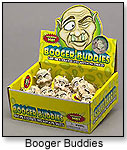 And it certainly helps that the company has many products and services to offer. Esco's warehouse holds thousands of toys. Working closely with agents in Asia, Esco can locate and bring in the toys that kids love — quickly.

SMALL ORDERS FOR SMALL RETAILERS

Staying sensitive to storeowners' needs, "We don't pile a lot of merchandise on the retailers," Jack stated. Storeowners can order small amounts at a time, online or over the phone. And toys ship in two to three business days so that retailers can start profiting immediately.

Esco Imports researches and chooses carefully so that the toys actually do sell well, continued Jack.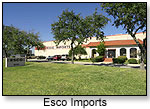 "Vinyl animals, farm and horse toys, and military toys are all very popular," Jack told

TD

monthly. "Pirate-themed toys are huge right now, because of the movies. We did very well riding on the coattails of the movie the last time it came out, and we predict the same thing will happen when the new movie comes out."

Here are some of the toys Esco says do well for retailers across the country:





Wholesale Price: (Log in to view)





Animals such as a rooster, goose, chick, duck and rabbit grow right before kids' eyes. Each 3.5" egg container houses a toy that grows when the included magic liquid is poured inside. Bright, colorful toys provide lots of fun while the sturdy egg-shaped container safely keeps the toy inside until it's time for play. This product is perfect for children who are just learning about animals. The eggs are packaged in a 15.5" x 10" display and come 24 pieces per box.

ToyDirectory Product ID#: 12558

(added 5/2/2007)

.

AD
---




Wholesale Price: (Log in to view)





More than 500,000 units of this toy have been sold, and Booger Buddies are still considered one of the most popular items at Esco Imports, the company told TDmonthly. Designed exclusively for Esco Imports, Booger Buddies consists of green slime jelly encased in a soft plastic face. When the figure's cheeks are squeezed, green slime oozes out of the nose area. When the face is released, the jelly retreats back into the toy. Unlike other slime toys, this one can easily be carried around on the included keychain without any worry about messy pockets or bookbags. It comes 24 pieces per box.

ToyDirectory Product ID#: 12559

(added 5/2/2007)

.

AD
---






This 16" ship features sails, six pirates, a cannon, a treasure chest, a row boat, three flags and more. It is sold by the piece and packaged in a 11" x 10" printed box.

ToyDirectory Product ID#: 12079

(added 3/26/2007)

.

AD
---






This 3.5" squeeze froggy oozes when squeezed. It is not messy and comes in a 12-count 11.5" x 8" display box.

ToyDirectory Product ID#: 12072

(added 3/26/2007)

.

AD
---

Writer's Bio:
A. Antonow is a freelance writer who lives in Canada. She has written for businesses and individual clients alike, developing copy, content, advertising and ghostwritten material.
Read more articles by this author
THIS BANNER IS AN AD:
---
---