---
Awesome Kids Adds Animation
New Videos Develop Children's Imaginative Powers
"We're going back to the wholesome [values], not the competitive nature of combat found in video games." — Joan De Souza, Awesome Kids

Animation targeted to children aged 5 to 8 is gradually becoming one of Awesome Kids' biggest successes, CEO Joan De Souza told

TD

monthly Magazine. It's certainly a focus at the company's new Chicago facility, where they're building a 50-seat children's theater to test-run works in progress.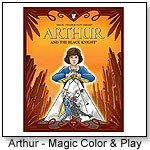 The company is known for its Toys in a Boxx playsets — a line that, since 1991, has grown to more than 40 themed sets. Awesome Kids' current animated line features the Magic Color and Play Series and several DVD titles, including "The Magic Book" and "Mount Olympus Magic: The Spirit Games."

PUTTING VALUE INTO VIDEOS

"We've looked at a lot of the animated films coming out, and we just think they're a little too harsh for the children. We're going back to the wholesome [values] — not the competitive nature of combat found in video games.

"Video games are making kids very myopic," she continued. "What's that doing for their imaginative powers?"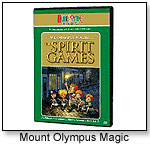 LESSONS TO LEARN

The six Awesome Kids characters, which show up on screen and in the playsets, help impart traditional educational values to children.

"We have a group of kids that are various ethnic group combinations — some that are of conflicting backgrounds," De Souza said. "The message is, you'd better learn to get along with all different types of characters and their personalities."

Kids can also learn from the CD in each Boxx, and through interaction with their caregivers. The CD includes a book with both a parents' and child's side of the page, De Souza said, and "we popped in some questions we know [children] can't answer, so parents can answer for the child when they ask."

WHAT RETAILERS ARE SAYING

Owner Marilyn Walker of PlayFair Toys in Boulder, Colo., said Toys in a Boxx are "steady sellers for us … [with] more parent and grandparent appeal, from a buying perspective."

She carries the Dinosaurs, Space and Cinderella Boxxes, and said they make nice birthday gifts or something for Grandma to keep at her house.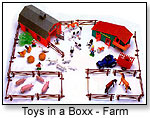 Lesley Webb, owner of Little Locks Children's Salon & Toy Boutique in La Jolla, Calif., told

TD

monthly she carries the line for the packaging. "They're convenient for parents and easy for storage," she pointed out, noting that her 7-year-old stepson owns some.

"We found that they're great for the bathtub as well. You can take a handful of them to a restaurant or in the car, [and] there are so many pieces in a set that if a couple get lost, it's not a big deal."

YEARS IN A BOX

Producing the components of each themed set is a big deal, however. From research to development to production, it takes roughly three to four years to produce one of the company's signature playsets, De Souza said. "We have a PhD in education on our staff, so we go to deep extents [with research]," she noted.

Time isn't the only investment, of course. Awesome Kids employs 500 to 600 people across the globe, between its home office and various factory locations, in order to teach kids "to really recognize their intellectual powers of imagination."

See below some of Awesome Kids' newest items:

Since Awesome Kids has not paid its past due balances with ToyDirectory.com, Inc., the company's contact information has been removed.
Creative Craft Box
by
AWESOME KIDS
Other products from AWESOME KIDS
Shop for It!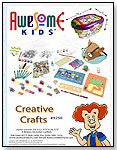 Craft Box is a newly added item that has almost every imaginable craft from painting to structuring to assembly. It's a great value at $22.95, including freight.

ToyDirectory Product ID#: 10070

(added 11/14/2006)

.

AD
---
The Magic Color and Play Series — Cinderella
by
AWESOME KIDS
Other products from AWESOME KIDS
Shop for It!






Enjoy the beautiful classic story of Cinderella in DVD format using the new Magic Coloring process. The story will unfold before your eyes while our narrator tells it and as the magic pictures fill with color before your eyes. Added music and many special effects help the story come alive. So sit back, relax and watch with Mervin and all the Awesome Kids(including you!). Included, on a separate CD, is a "Never Ending Coloring Book®" containing pictures your parents can help you print so that you can color them over and over again! Crayons are included, so you can color as you watch and listen. Included on the CD are instructions to make your own stage out of one of mom's old shoe boxes and some colored backgrounds for your stage sets. Last, but not least, you will find four 55-mm hand-painted figures of Cinderella in her work clothes and ball gown, the Fairy and, of course the Prince, to re-enact the story on the stage you have made. The Magic Color and Play Series is a great stocking stuffer.

ToyDirectory Product ID#: 9478

(added 9/25/2006)

.

AD
---

Writer's Bio:
Julie L. Jones has written articles for both newspapers and magazines. Before joining the staff of TDmonthly Magazine, she worked as a communications writer and provided editorial support for a market research company.
Read more articles by this author
THIS BANNER IS AN AD:
---
---