---
Out of the Box Makes Its Own Rules
Working Without Reps or Offices Brought Success
"Start small, and don't bring your ideas to friends and family." — Matt Mariani, Out of the Box Publishing
Word games, board games, dice games, card games. Party games, skill games, family games … Out of the Box Publishing makes every type of game imaginable.

President Mark Osterhaus always had a passion for games, and in 1998 he left his career running a graphics shop to start Out of the Box Publishing. Matt Mariani, director of marketing since 2003, told
TD
monthly Magazine how Mark turned his hobby into a successful business: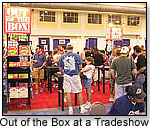 Families are our biggest market. All of our games are different, but we have one general rule — a low barrier to entry. If you've never played one of our games before and you're about to sit down and play, you don't have to memorize a lot of rules.

RETAILERS TALK

If we're successful in making games that people like to play, word of mouth will spread to the retail, consumer and press levels. We've found that retailers are willing to exchange information about products as long as they're not in competition with each other.

The biggest obstacle Out of the Box faced when starting out was the standard industry format for selling games — you hire reps and have them do the selling for you. We didn't think the reps brought enough value relative to their commissions.

Our challenge was to build a customer base without reps, and this took an enormous amount of phone time and mailings. About two people were doing what an entire rep group would have done. The funny thing is that there are still retailers who are so used to dealing with reps that they don't know how to reach us.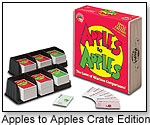 KEEP SPREADING THE WORD

We went to a lot of conventions in order to make initial contacts. It's face-to-face where we have our best chance. We rely on GAMA, Toy Fair, Educational Expo, NFSA — that's our core base.

We do print ads with one trade magazine that reaches everybody, just to remind retailers that we exist. [Editor's note: They work with ToyDirectory, too.]

Our website is used a lot by the retailers, although I can't say that it's generated significant numbers — they're still faxing.

WORKING, OFFICE-FREE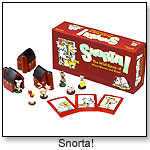 Out of the Box was set up so that everyone could work from home. The significant amount of programming and software needed for everyone to access all the information from their homes was a big expense.

A team of 14 sales, production, design and accounting people work for the company. We have daily conference calls, and we get together every two or three months for R & D.

CREATING, INVESTOR-FREE

Out of the Box is self-funded. If we took an average, sales have basically doubled every year.

We've added plants so we're using both China and the U.S. for printing.

Growth is difficult. It turns out that every year we sell more than we project, and every year we think about producing over our projections.

But we're taking a conservative approach. Company policy is that we'd rather be out of stock than be overstocked in December. If you're sold out, it really makes the retailers go, "Wow."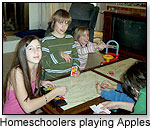 FIND A CRITIC

My advice to anyone who wants to get into the business is to not show your ideas to your friends and family. They tend to be polite. A lot of people come to us and say, "Everybody I showed this to loved it."

Instead, go where you don't know anybody and try to sell your idea. Get feedback from strangers. Then you'll know if it's worth pursuing.

Start small, and don't bring your ideas to friends and family.


Here's what's Out of the Box lately: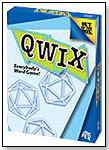 MSRP: $14.99

Age Range: 8 and upSKU or Item #: 2020Gender: Boys And Girls





In this game for two to eight players, participants roll the Qwix dice and flip over the timer. They race to list words containing the three letters identified on the dice. Only words listed by a single player score points. Game play takes 20 to 30 minutes. THIS GAME IS NOT AVAILABLE 11/14/08.

ToyDirectory Product ID#: 12174

(added 3/29/2007)

.

AD
---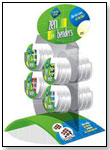 MSRP: $9.99

Age Range: 8 and upSKU or Item #: 8103Gender: Boys And Girls





With ZenBenders, success is just a flip and slide away. A single player selects a challenge card and flips and slides the special ZenBender dice to recreate the pattern. With four difficulty levels and 48 different patterns, there's a challenge for everyone. Each game takes less than two minutes. Dachshund, Dragon and Race Track varieties are also available.

ToyDirectory Product ID#: 12173

(added 3/29/2007)

.

AD
---






Kids won't stay on "Cloud 9" for too long if they're not careful with this quick and easy-to-learn game from Out of the Box. It's full of "ups and downs" where players risk going sky high or having the air let out to sink. It's the winner of numerous awards, including iParenting Media and GAMES magazine awards. It comes with 72 Balloon Cards, six Passenger Tokens, six Scoring Markers, four Wild Cards, four Cloud Dice, a game board and a Hot Air Balloon Basket.
— "Cloud 9 is one of our favorites. It's a cute game for kids 6 and up, but our 4-year-old likes it as well. Adults like it, too," said Bill Rayment, co-owner of Toy Crossing in Harbor Beach, Mich.

ToyDirectory Product ID#: 11452

(added 2/19/2007)

.

AD
---




Wholesale Price: (Log in to view)





Cineplexity brings movie fans together for delightful movie madness. Each round, players race to name a movie that includes elements from two Cineplexity Cards. The player who's the first to come up with a title wins a point. With more than 500 cards players will have hundreds of hours of fresh movie fun.

ToyDirectory Product ID#: 10901

(added 1/4/2007)

.

AD
---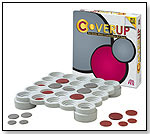 Wholesale Price: (Log in to view)

MSRP: $19.99

Age Range: 8 and upSKU or Item #: 4343Launch Date: August 2006Gender: Boys And Girls





CoverUp is a four-in-a-row game with depth — three depths to be exact. Players choose where they will place their disks, and at what depth. Place a disk below the surface and risk having that disk covered up. Move a disk and risk uncovering an opponent's disk. This deceptive two-player strategy game takes only seconds to learn and minutes to play. And once it's opened, it doesn't have to return to the box. Launch date: August 2006.

ToyDirectory Product ID#: 9786

(added 10/25/2006)

.

AD
---






In a race against time, players attempt to "one up" each other by pulling Kiwi Disks from a teetering wall and daring to stack them ever higher. The last player to successfully stack a disk before the timer marble drops out of sight wins Wallamoppi. The game includes 36 Kiwi Disks, a wooden storage box with a built-in marble timer, two timer marbles, a Kiwi Disk bag and quick-play rules. "Once this is set up on a table [for demonstration purposes] it draws immediate attention. [It's] like no other game out there!" Out of the Box Publishing Director of Marketing Matt Mariani told TDmonthly. It was named one of the 100 Best Children's Products of 2006 by Dr. Toy. Launch date: January 2006.

ToyDirectory Product ID#: 6831

(added 2/6/2006)

.

AD
---

Writer's Bio:
Elizabeth Greenspan edits and writes for trade and technical publications. She has interviewed and collaborated with some of the top practitioners in their fields. She lives in Philadelphia and travels extensively for her work.
Read more articles by this author
THIS BANNER IS AN AD:
---
---