---
TDmonthly's Multimedia Expert
CDs? DVDs? She Plays Them All
TD

monthly Magazine's Multimedia Expert has devoted her career to watching and listening to imaginative creations in a variety of media. Here she shares her opinions on multimedia products for kids, rating each one with 1 to 5

TD

(for

TD

monthly!) stars; 5 is the top mark.


Raise a Reader Language Learning System by MY LITTLE THINKERS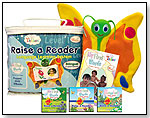 Age: 18 months and Up
Gender: Boys and Girls
Category: Educational
MSRP: $26.95



TD

monthly rating:





First Impressions
With three small board books, a DVD and a soft butterfly puppet, the Raise a Reader Language Learning System introduces kids to basic words in English and Spanish using live action and illustrated imagery to keep toddlers engaged.

What Reviewer Thought
Integration is the key here, as images, words and design flow easily from one format to the next. Bina the Butterfly puppet, for example, helps parents hold the books for kids, and then appears on the DVD, helping bring the words and ideas to life.

What Kids Thought
Learning new words from a second language becomes fun, especially when toddlers see other toddlers on the DVD. My 2-year-old was enthralled by the abundant footage of children, and delighted in practicing new words in both English and Spanish.

Recommendation
The puppet is a good idea conceptually but makes holding the small books pretty difficult. Save Bina instead for puppet fun and tickling, and use the DVD and books to introduce toddlers to bilingual words and ideas.

---
Calm the Wild Child by CAT ENTERTAINMENT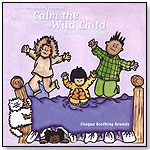 Age: All Ages
Gender: Boys and Girls
Category: Audio & Cassette & CD
MSRP: $14.95



TD

monthly rating:





First Impressions
Well-known children's songs crawl at a glacial pace on this bedtime CD, which also features sound effects. Wind and thunder grace "Brahms' Lullaby," and steam rushing through a kettle whistle enlivens "I'm a Little Teapot." But does it work?

What Reviewer Thought
Cat Entertainment is dedicated specifically to creating products for getting kids to sleep, and touts the CD's ability to help children with Attention Deficit Disorder and autism. The album worked on putting me to sleep, too, though, and my 2-year-old slumbered peacefully through 11 of the 12 tracks.

What Kids Thought
We generally listen to music for fun, but "Calm the Wild Child" is music to leave on at bedtime; there are no distracting lyrics, but the added effects offer just enough intrigue to keep the CD interesting. What can I say? It did work!

Recommendation
These tunes are painfully slow, and will drive you crazy unless you're working hard to soothe a toddler to sleep.

---
Bobs & Lolo - Sea Notes by BOBOLO PRODUCTIONS


Age: 2 to 10
Gender: Boys and Girls
Category: Audio & Cassette & CD
MSRP: $15.98



TD

monthly rating:





First Impressions
What more can musicians do with the well-worn ocean theme? A lot, it turns out, as the Vancouver-based duo Bobs and Lolo celebrate dolphins, sea turtles, jellyfish, otters and Octave the Octopus with 15 energetic, toe-tapping tunes.

What Reviewer Thought
Bobs and Lolo are the real thing. Lolo (Lorraine Pond) worked at the Vancouver Aquarium and Bobs (Robyn Hardy) has a degree in education from the University of British Columbia. Their music is smart, fun and extremely listener friendly.

What Kids Thought
While older kids might find "Sea Notes" just a bit silly, toddlers will definitely enjoy the playful sensibility of these songs, especially if they're already interested in sea creatures and the aquarium.

Recommendation
This is a fun CD with plenty of variety and musical breadth, and will appeal especially to younger listeners.

---
Joe McDermott: Everybody Plays Air Guitar by TRUE BLUE MUSIC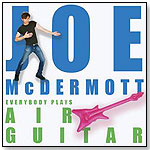 Gender: Boys and Girls
Category: Audio & Cassette & CD
MSRP: $14.99



TD

monthly rating:





First Impressions
Songs about air guitar? The idea doesn't seem that promising, but Austin-based musician Joe McDermott expands well beyond that topic with this eclectic CD's nine tracks, several of which tell entertaining stories.

What Reviewer Thought
Some of McDermott's tracks rock, while others fall flat. "Dolphins" really moves, for example, while "Momma's Gonna Have a Baby" tries too hard to convince young listeners that a sibling's imminent arrival is a pretty good thing. The songs here are polished and professional, but overall, the CD is a bit uneven.

What Kids Thought
"Our Family Car Is a Helicopter" struck a chord with my 2-year-old, who enjoyed the whimsy suggested by the title. The CD's final track, "Anything Is Possible," offers a gentle and imaginative closing that also resonated with my child.

Recommendation
Several tracks here will be instant hits, but the CD as a whole is one that grows on you over time. If you're willing to let it play a few times, you'll discover some great tracks.

---
BeBop Kidz Sing-Along CD Player from MUSIC FOR LITTLE PEOPLE/MFLP DISTRIBUTION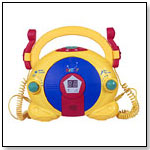 Age: 3 and Up
Gender: Boys and Girls
Category: Musical Toys
MSRP: $59.98



TD

monthly rating:





First Impressions
This colorful CD player features two microphones and a heavy plastic body to help it withstand the inevitable wear and tear in the hands of younger kids. The buttons are easy to use, and the player is light and very portable.

What Reviewer Thought
Letting kids use their own musical equipment might add to the longevity of the more expensive stereo system at home, making the CD player appealing on that level alone.

What Kids Thought
The Sing-Along CD Player is a blast for kids, who like being able to play CDs, push buttons and sing along very loudly to their favorite songs. Having two mics just doubles the fun.

Recommendation
This is an expensive player, and given the delicacy of the device's interior, parents should be wary of letting younger kids use it without careful supervision. Slightly older kids, however, will cheerfully practice becoming the next great American idol.

Writer's Bio:
Holly Willis is the Associate Director of Multimedia in the Core program at the University of Southern California's Institute for Multimedia Literacy. She writes frequently about film and video.
Read more articles by this author
THIS BANNER IS AN AD:
---
---