---
TDmonthly's Expert Mom
Send Her Your Toys … If You Dare!
Sibylla Nash, mother and author of parenting and entertainment articles, shares her views on the latest toys with TDmonthly readers, rating them with 1 to 5 TDs (for TDmonthly!); 5 is the top rating.

This month, she had fun with fashion and had a little help with shoe-tying.

Sneeks Shoe-Tying Aid by SNEEKS INTERNATIONAL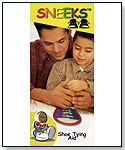 Age: 4 to 7
Gender: Boys and Girls
Category: Educational
MSRP: $9.95



TD

monthly rating:




Mom's Impression: The Sneeks Shoe-Tying Aid comes with an oversized, colorful, flat cut-out of a sneaker with big shoe laces.

Kids' Perspective: At first glance, the kids thought it looked cool and were excited to try it. The cut-out is very lightweight, however, and proved difficult for them to practice on their own. They had trouble keeping the sneaker in place while they tried to tie it. My daughter knows how to tie her shoes, so I let a 4-year-old friend of hers practice with it. He quickly became bored and frustrated because it didn't "do" anything.

Recommendation: Although it is very colorful and fun to look at, the design itself is not that innovative. Why buy this cut-out of a sneaker when your child can practice on her own sneakers? Because it is so lightweight, it has to be held down by a second person for a child to practice tying. There are other shoe tying aids that come in the form of a doll (both girl and boy) and also have buttons, snaps and zippers, offering a better value and learning experience.

---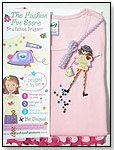 Fashion Fun Kits by FASHION FUN STORE
Age: 6 to 14
Gender: Girls
Category: Kits



TD

monthly rating:




Mom's Impression: The Fashion Fun Kit includes a plain, white T-shirt, an iron-on girl appliqué, ribbon, 16 rhinestones in various colors, fabric glue, detailed instructions and design tips.

Kid's Perspective: My 5-year-old daughter loves anything to do with gluing and fashion, so this was right up her alley. She enjoyed decorating the shirt, which is of durable quality, but the project went by very quickly.

Recommendation: This is a fun activity with relatively no mess or clean up. The iron-on appliqué takes only a few minutes. Sixteen rhinestones is not a lot, but it does keep the shirt from looking gaudy and crowded. My only minor complaint is that it is a quick project. Also, it would be nice if the company offered multicultural choices of the iron-on girl.

Writer's Bio:
Ms. Nash is a freelance writer and author of "Baby Modeling & Beyond: From the Stroller To The Red Carpet." She has a degree in journalism from the University of Southern California. She has a five-year-old daughter who has appeared in a number of commercials and print ads. They both enjoy stimulating games and toys that allow their imaginations to soar.
Read more articles by this author
THIS BANNER IS AN AD:
---
---