---
Toy Buzz: Giving Back Pays Off for Karito Kids
Dolls Celebrate Diversity and Lend a Helping Hand
"When you come to something with a passion and a mission, like we did with our dream for this company … then good things happen." — Laura Rangel, KidsGive

When Lisa Steen Proctor and Laura Rangel began planning their company, KidsGive LLC, in 2005, they knew they wanted to accomplish more than giving a toy. They also wanted to help kids celebrate diversity and learn to give to others, Laura, the company's president, told

TD

monthly Magazine.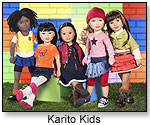 The 21" Karito Kids dolls have accomplished that, and more. Each of the five dolls is ethnically accurate, designed to represent features of African, Asian, Caucasian, Latin and Mediterranean ethnicities. They are accompanied by books with stories that take place in each girl's home country.

Additionally, a percentage of the purchase price of Karito Kids dolls and other products goes to support children's charity Plan USA, via the child registering at the KidsGive website and choosing the project of her choice.

HOLLYWOOD TAKES NOTICE

That charitable aspect caught the eye of celebrities this year, bringing even more attention to the company and its work within months of launching.

The fanfare began in July 2007 when the dolls were featured at a tea party given by Brooke Shields for her daughter. The event was covered by In Style magazine, and Oprah later gave KidsGive a plug in her own publication.

Furthermore, the upcoming "Sex and the City" movie by Newline Cinemas may include the five dolls, Laura, president of KidsGive, told

TD

monthly. The company was asked to send the dolls for the shoot and they might be shown in the bedroom of Charlotte's adopted daughter from China. Newline Cinemas had no comment at the time of publication.

A GOOD MISSION BRINGS GOOD THINGS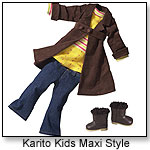 "Like everything else, it's almost surreal," Laura told

TD

monthly. "When you come to something with a passion and a mission, like we did with our dream for this company, what we wanted to do for kids, then good things happen."

Some of those good things, in addition to the celebrity status the dolls have acquired, include the team that worked on the projects: former Disney animators illustrated the books, which were written by Edgar Award-winning novelist Walter Sorrells, and renowned doll sculptor Andrea Hollis created the doll molds.

"The core people are just falling into place," Laura told

TD

monthly. "And we brought on a third partner, Dave Davis, who came from Electronic Arts."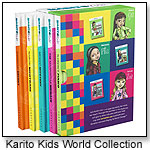 SUCCESS FROM THE START

The dolls debuted in January at the IDEX show and then at Toy Fair the next month. The official public launch was July 23, and the response since then has been overwhelming, Laura said.

She noted that since the beginning, it has seemed like the company just took off by itself. "When you do the right thing, it all seems to fall into place."

"We wanted our mission of love, charity and being good neighbors, the diversity of all and the beauty of that diversity, to be behind all of this. And it's worked," she added.

Two new dolls, as well as new accessories, outfits and books, will join the dolls at Toy Fair 2008. But the focus of celebrating diversity and helping others will remain, keeping the company grounded in the mission it began.

Here are some Karito Kids dolls and accessories:

Writer's Bio:
Terri Hughes-Lazzell is a freelance journalist based in Ossian, Ind. After spending nearly a decade as a daily newspaper reporter, she has worked as a freelance journalist for more than ten years, writing about a variety of topics. Her work appears in newspapers, magazines and specialty publications nationwide.
Read more articles by this author
THIS BANNER IS AN AD:
---
---