---
Retailer Spotlight: Silly Goose
Whimsical Flair and European Vision Draw Customers of All Ages
"We're kind of an apple tree in an orange grove." — Diane Robinson, Silly Goose

Ten years ago when Diane Robinson first saw the Essex, Mass., building that now houses Silly Goose toy store, she immediately knew the location was perfect for starting her retail bu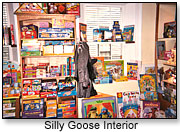 siness, she told

TD

monthly Magazine.

Built in 1739, the old building had first-floor fireplaces and wonderful natural light that allowed for a bright and airy retail environment.

BRINGING EUROPE HOME

Diane's inspiration for ownership came from her long-standing desire to have a toy store like the ones she had known in Europe, where she'd spent her childhood.

Hence, she's careful to merchandise quality products and doesn't see toys as exclusively a children's market. Silly Goose's motto is "Wondrous, Whimsy and Wordly Wares for kids of all ages," and adults are often surprised by the broad range of selection, Diane said.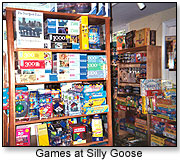 She attends numerous trade shows during the year, including stationery events and European toy shows.

KEEPING WITHIN THE GREEN

Once she finds products suitable for her store, though, it can be challenging to balance merchandise between the brick-and-mortar business and the online store. Diane's biggest mistake, she said, is a tendency to overstock.

On top of that, cash flow proves difficult, particularly during the winter months. After the holidays, "it's very quiet; [there's a] big wind-down," Diane told

TD

monthly, adding that it's a "long time between big occasions" such as Christmas and Easter — holidays that serve to bolster the marketplace.

SOMETHING BESIDES ANTIQUES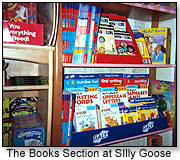 But becoming a destination store in the tourist town of Essex has proven helpful for Silly Goose. "We're kind of an apple tree in an orange grove," Diane pointed out, referring to the approximately 22 antique stores and several restaurant sites known for New England fried clams.

Essex is a popular day trip for Boston-area residents looking for a quick getaway, and customers increasingly tell her they come into town specifically to shop at Silly Goose — an accomplishment she called "bucking the tide in this town renowned for antique stores and restaurants."

SPREADING THE WORD

The best promotion one can get, Diane told

TD

monthly, is word-of-mouth. Her "orange grove" neighbors happily refer customers interested in toys to Silly Goose.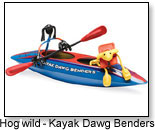 Similarly, two nearby toy stores refer their customers to Silly Goose for merchandise they do not carry, and Diane reciprocates this cooperative competition. Such collaboration adds to the small-town, friendly image that visitors expect in a small, rural town.

Diane's marketing and promotional activity includes e-mail campaigns, print mailings, ads in special newspaper sections and donations and auction work for organizations, including local churches and the Chamber of Commerce.

NOT EVERYTHING … JUST YOURSELF

Her advice to those starting out in the toy industry? "When you create your niche, you want to stay true to it. Don't try to be everything to everybody," she said.

To see some of the best-selling products that represent Silly Goose's niche market, see My Best Sellers: Silly Goose.

Writer's Bio:
A professional writer/editor since 1984, Christine has spent much of her career in business and technical writing/editing. Her technical communications expertise is complemented by work developing curriculum materials for both print and on-line use in personnel training, and by work as both a software applications trainer and a writing skills tutor/one-on-one instructor.
Read more articles by this author
THIS BANNER IS AN AD:
---
---