---
Dolls Roundtable: Press 'n Dress is Popular
Modern "Paper" Dolls Lead to Hours of Play
"It is like combining paper dolls, puppets and traditional fashion dolls." — Barbara Smith, grandmother

This month,

TD

monthly Magazine's Dolls Roundtable reviewed the Two's Company and Dinner Party sets of Press n' Dress dolls and accessories by Pockets of Learning. The 12.5" cloth dolls capture the traditional fun of paper dolls in a durable version with Velcro wardrobe attachments. For their contribution to imaginative play, colorful mix-and-match outfits and "go anywhere-" ability, the Press 'n Dress sets earned a unanimous rating of 5

TD

(for

TD

monthly!) stars.

Roundtable participants included Ruth Mandt with granddaughters Paige (6) and Brielle (10); Barbara Smith with granddaughters Sydney (7) and Savannah (6); Collette Shockley, owner of The Littlest Princess Doll Shop in Norcross, Ga.; Kim Hobbs, owner of Hobbs House of Dolls in Marietta, Ga.; and doll collector Virginia Davis.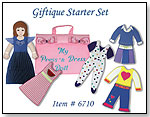 Press 'n Dress Dolls by Pockets of Learning
Age: 18 Months and Up
Gender: Girls
MSRP: $34.95 for starter set (doll, five outfits and carrying case)



TD

monthly rating:




PLAYABILITY

"I am certainly going to stock these in my shop. I think they will be a big hit," said Kim, who was impressed with the dolls' sturdiness, modest wardrobes and nice expressions. "I loved paper dolls as a child, and I think today's girls have missed out on that."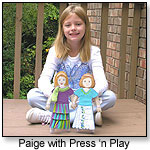 "You could take these dolls anywhere … and [children] could have fun acting out fantasies for hours," Collette told

TD

monthly, mentioning plans to carry them in her store as well.

"Paige (6) has played with these for hours, longer than I have seen her play with anything in a long time," Ruth said of her granddaughter, noting the dolls' appropriateness for travel.

Vivian, a visiting friend, commented, "I bought my granddaughter some magnetic paper dolls last Christmas, but these are so much more durable and have such a pleasant expression. They seem so wholesome, so I will buy these for her this year."

Kim appreciated the fact that the extra wardrobe and doll sets allow moms to add to the collection. "Girls can have lots of outfits, and the carrying case is so neat to keep everything together," she said.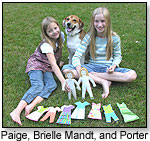 "I want to get all the extra outfits to go with them, because even London (18 months) loves them and she can even dress them," Barbara told

TD

monthly. "The dolls have loops on the back for small fingers to fit through so they can make the dolls act-out their play roles. It is like combining paper dolls, puppets and traditional fashion dolls."

"This is the cutest toy I have seen for girls in a long time," Davis said. "The fabric … is finely detailed with real satin and lace, and they even have cloth accessories. The outfits come in sets for The Weekend, Dance Recital, After-School Dinner Party and Afternoon Tea, and I love them all. If a little girl had all five dolls and the extra outfits … she would have over 30 outfits, and that would be great for a rainy day, a long trip or even for a child who is sick or in the hospital."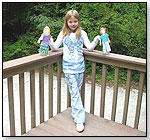 VALUE

"The price points are good," Collette said. "A doll is only $12.50 and each extra outfit may be purchased for only $9.95 each. There is a gift set that has a doll, five outfits and a carrying case for $34.95, and that is a very good price for such a high-quality toy."

IMPROVEMENTS

Virginia "would like to see a little boy line … with costumes like policemen, firemen, construction workers, doctors [and] super heroes," she said. "Young boys around 3 or 4 years old would enjoy dressing these dolls in career outfits."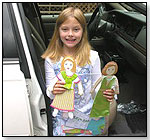 Ruth liked that the dolls come as Asian and African-American as well as Caucasian. She recommended also including ethnicities to represent other countries, such as Mexico, and perhaps developing a story line for the dolls.

"It already comes with lots of clothing packs to choose from, but I would like to see more," said Smith, who suggested an accessory pack with baby dolls, teddy bears, balls and other items that could attach to the dolls' clothing with Velcro for further imaginative play.

Writer's Bio:
Virginia Davis is a freelance writer who is considered an expert in the area of dolls and collectibles. She has written hundreds of articles on dolls and toys, as well as other subjects, for numerous publications. She lives in Georgia.
Read more articles by this author
THIS BANNER IS AN AD:
---
---