---
Cool Company: TimeOut Tot Helps Parents Raise Better Kids
New Guide Helps Caregivers Promote Good Behavior
"Social rules have to be taught like letters and numbers." — Ann Brazil, Timeout Tot

Creator Ann Brazil of TimeOut Tot literally lived the concept behind her line of teaching toys. The ideas for the program were born out of stories, songs and teaching tales she created to aid her children in character development, she told

TD

monthly Magazine.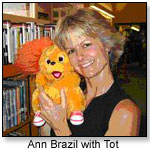 TEACHING RIGHT FROM WRONG

Behavioral techniques she learned to teach her oldest child, who is mildly mentally retarded, were adapted for her developmentally "typical" subsequent two children. Ann's goal was to achieve consistent discipline and provide clear examples of right and wrong behaviors.

She turned her own ideas into TimeOut Tot, a line of teaching toys and parenting resources featuring "Tot, The Behavior Coach," an animated squirrel who helps children learn from their mistakes.

In the category of character development toys and aids for preschoolers, TimeOut Tot stands alone. There are others, such as Big Idea's Veggie Tales (which promotes biblical values and may not reach the secular market) and the imaginary world of Winnie the Pooh. Sesame Street features real children, but it's the puppets who experience the undesirable behaviors and learn the lessons.

TimeOut Tot, however, shows real children in real-life situations displaying first an undesirable behavior, such as whining, and then choosing to behave appropriately. This method helps children see right versus wrong.

IT'S FOR PARENTS, TOO

But TimeOut Tot products are not just learning toys for children; they are also resources for parents. The DVD, for example, features six lessons for children with six parallel lessons for parents on how to deal with misbehavior and turn it into a learning opportunity for their child — helping parents better understand their children's behaviors and how to respond appropriately.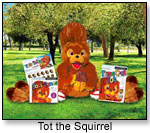 And the newest TimeOut Tot product is a guide book to teach parents how to use timeout appropriately.

"Parents need to begin thinking of timeout as a teaching moment," Ann explained. "First, it is a time for the child to settle himself, be removed from activity so he can stop and think and get a grip on himself."

Then, the parent can help the child see what he did wrong, and how to behave better next time, without misusing, abusing or overusing the technique of timeout.

In today's world, children often have many caregivers in their lives at any given time — moms, dads, grandparents, daycare providers, preschool teachers and nannies. Finding consistency from one environment to the next can be difficult, but it's important.

"Inconsistency causes confusion and the child doesn't know what to think," Ann said. "Social rules have to be taught like letters and numbers."

Thus, TimeOut Tot is a program that can be utilized by all caregivers in a child's life to achieve necessary consistency and the resulting better behavior.

USING THE WEB TO GET AHEAD

"It's every entrepreneur's dream to come up with an original idea, like TimeOut Tot, but it's rough to tread the first path to the marketplace," Ann said. TimeOut Tot spent "several years in the red before seeing black."

Her company's exposure through

TD

monthly Magazine has helped get her products into the right hands, she said.

"Those who have discovered TimeOut Tot want it immediately," Ann explained. "Our link with

TD

monthly has been a wonderful way to get our products in stores and within our customers' reach."

Several of Ann's products are featured below:







Written by Ann Brazil, creator of TimeOut Tot's teaching toys, this 5.5" x 7.7", 125-page soft-bound book is a step-by-step guide and parent resource. It shows parents not only how to use the discipline technique of timeout, but when to use it. Timeout is more effective for impulsive misbehaviors but isn't right for every misbehavior.

.

AD
---






.

AD
---






.

AD
---






These bright activity and coloring books let a child have fun while learning number, letter and writing skills. They also reinforce the behavioral skills taught in the award-winning TimeOut Tot DVD and lessons. The 36 pages keep children engaged for hours of educational fun. Launch date: April 2006.

.

AD
---






These apology note cards include two blank cards and 12 postcards that young children can use to make an apology. The kit helps children learn about apologizing, writing and sending cards through the mail. Pre-printed cards can be colored and the letters "sorry" can be traced by the child. The child gets to choose the cards that best reflect the mistake they made and then signs and addresses the postcard himself. Blank postcards can be used to create a more personalized apology letter or card. Launch Date: April 2006.

.

AD
---






A "good" behavior chart that fits in your pocket or purse so that you can take it with you — and catch your child being good anywhere, anytime in those "hard-to-sit-still" places like restaurants. Tot's Tally can go back and forth from preschool (or daycare) to home too, so that you can hear about (and applaud) all of the GOOD things that happened in your absence. Comes with two coloring charts and 36 stickers.

.

AD
---






.

AD
---






Tot likes to catch kids doing the "right" thing and when he does, Tot rewards them with an Acorn Treat filled with "goodies" – coins, candies or a sticker – AND a note (written by you, of course!) praising that behavior.

.

AD
---






Tot PlushPuppet is the perfect pal to comfort children when they have made a mistake. This is because Tot is not only soft and cuddly, but he is also a nonjudgmental friend who understands that we all make mistakes — and that's OK, as long as we learn from them. Tot sees everything (just like Santa) because he lives in the big tree down the road from children. When Tot sees them doing the right thing, Tot rewards them with his Acorn Treat. He comes with a plush acorn that has a zippered pouch that can be filled with small rewards to be handed out to good children.

.

AD
---






Tot's Tunes is a CD collection of songs from the award-wining TimeOut Tot DVD, with musical role-play games using their social skills. Tot's Acorn Treat is passed like a "hot potato," and when the music stops the person holding the acorn role-plays the "appropriate behavior" for a given situation. Learning "the rules" has never been more FUN!

.

AD
---






.

AD
---
THIS BANNER IS AN AD:
---
---