Tools:








Toy Sleuth: It's a Big, Big World
Minis and Scary Staplers Fight for the Spotlight
TD

monthly Magazine's Toy Sleuth got a yen for travel, so we scoured the globe for the latest and greatest toys, some of which are so "latest" they're still on the drawing boards.

From Germany to Japan to who-knows-where, these internationally designed doodads will reach the stores of America with a "different" way of looking at things.

So put on your armchair adventurer's hat to see some toys that "aren't from around here."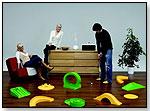 MSRP: $231.00

Age Range: 4 and up





Created by a group of Munich industrial designers (think Eero Aarnio meets kids' birthday party), this build-and-play mini-golf set is all neon-glow plastic and tough shots ― sort of the autobahn of the back nine. It includes 13 obstacles (from curves to bridges to loop-de-loops), one club, two balls and a scorecard. "We are working on a smaller version for early 2008" explained Hannes Weber, one of the designers and partners of defacto.GmbH. And it's not just for indoors, he said: "We have tried it out some million times, and it works perfectly. You can play on every even surface such as grass, concrete, tarmac, wood floor, carpet or ice. My favorite is the 'Acapulco,' and it's also the toughest one."

ToyDirectory Product ID#: 15370

(added 9/25/2007)

.

AD
---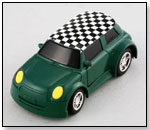 MSRP: $30.00

Age Range: 8 and up





Japan-based SolidAlliance is known for its USB oddities (such as USBSquid and USB Sushi, for example), and now they've combined the computer outlet with a Mini Cooper, made it radio-controlled and added a recharging garage to boot. Individuals can drive it right into the garage and it charges itself in less than 10 minutes. As the company's Kita Aizawa explained, "It is a very good toy. It goes fast, and I have played with it. Everyone should like it."

ToyDirectory Product ID#: 15372

(added 9/25/2007)

.

AD
---




MSRP: $24.95

Age Range: 8 and up





When is a stapler not a stapler? When it's also the Killer Stapler of Caerbannog (based on the Killer Bunny of Caerbannog from the "Monty Python and the Holy Grail" movie). Staplers are dangerous enough, but now comes the most dangerous stapler of all. Made of plastic and armed with the usual-sized staples, this is a conversation piece whether brought to school or into the office. Matt Sanders, secretary of the Holiest of Grail Movie Watching Society has ordered the stapler and had this to say: "That's the most foul, cruel and bad-tempered rodent you ever set eyes on! He's got huge, sharp – eh – he can leap about — look at the bones!"

ToyDirectory Product ID#: 15641

(added 10/8/2007)

.

AD
---
Catalog Request Form
Writer's Bio:
Mark Zaslove is an entertainment industry veteran in developing content (writing, directing and producing television and feature films) for the major studios, including Disney, Universal and Warner Bros. A two-time Emmy Award winner for writing and recipient of the Humanitas Prize (for writing uplifting human values in television and movies), Mark is also Head of Content Development for Nice Entertainment.
Read more articles by this author
THIS BANNER IS AN AD:
---
---