---
Big and Tacky Jewels Find Favor
Kids Turn to Beads, Charms and Pirate Sparkle
"Pirates are still hot. Pirate stuff still does well for me." — Joel Hardy, Magpie Toys

With additional reporting by regional correspondents Dennis Furlan and Virginia Davis

Twenty-six specialty retailers recently weighed-in on jewelry for kids, telling

TD

monthly Magazine that creative kits, fashionable diamonds and treasure for the high seas are keeping their customers in style.

What's Selling

Last year's trend of pirate booty for boys is still going strong, said 24 of 26 retailers who spoke with

TD

monthly Magazine. "Pirates are still hot. Pirate stuff still does well for me," said Joel Hardy, co-owner of Magpie Toys in Red Lodge, Mont., though other retailers have recently reported a slowdown.

Girls, in contrast, are a bit moody. "Boys like pirate jewelry, but the girls buy the mood rings," reported Owner Beth Adams of The Toy Shoppe in Lexington, Ky.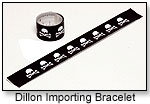 Retailers named bead and jewelry kits from Fashion Angels' The Bead Shop and Alex as some of their best-selling jewelry items. The make-your-own emphasis is no surprise, as U.S. retail sales of arts and crafts toys grew 6 percent in the first half of 2007, according to the NPD Group.

Owner Frances Finfrock of Aunt Franny's Toys in Richland, Wash., pointed out that "big, tacky diamond rings" from Dillon Importing and Toysmith are popular at her store. And Pam, the manager of Little Cottage Toys in Franklin, Tenn., said business has been brisk with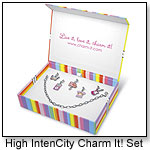 hair clips, necklaces and other accessories from wooden toy maker HABA.

Owner Eddi Miglavs of Mudpuddles Toys & Books in Sherwood, Ore., has found a hit with watches from Fantasia, selling nearly 40 a month. She also does well with High Intencity charms, she said, even though "in other parts of the country they've said it's slowed down."

WHAT'S NEW

Ideal for gift-giving, Charm Somebody Greeting Cards, which

TD

monthly spotted at the California Gift Show, couple inspirational messages with pewter charms.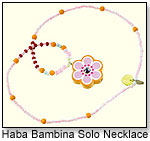 WHAT'S COMING

Gary Timmerding, manager of Johnny's Toys in Covington, Ky., said Mattel's plastic, Barbie-type jewelry sells well in his store. He may soon have a different type of Mattel jewelry to market; back in June, the company announced the creation of Barbie Rocks by Layna and Alan Friedman, a line of mid-priced to high-end pink diamonds and other gems set into pendants, rings, charms and other accessories.

WHAT TO MAKE OF IT

Pirate gear hasn't jumped ship yet, and some companies are looking to higher-quality materials, though the basic plastics, metals and faux gems still sell. So stock something for every customer who might want a glint of style or sparkle, and remember to have creative options as well.

Here are a few of the creative options you might try:







This exciting kit lets budding fashion designers create cool jewelry from scraps of felt. Instructions and materials are included to make brooches, necklaces and bracelets. Felt squares, cloth leaves, fuzzy balls, felt strips, embroidery floss, felt circles, brooch pins and a needle are included so that exciting creations can be made right out of the box. Bright colors and plenty of materials mean hours of fun and creative designs that can transform any outfit.

.

AD
---






Perfect for a first jewelry box, this large, bright red ring can accessorize a special outfit or be used just for play. A sparkling pink stone is surrounded by a pretty pink flower. It features quality wood construction and non-toxic paints.

.

AD
---






This kit comes with everything needed to make up to 12 stunning rings and 24 gorgeous bracelets. Everything is included — instructions, glass beads and metal beads — for out-of-the box designing. This kit won a 2003 Oppenheim Toy Portfolio Gold Seal Award.

.

AD
---






These acrylic rings contain real insects encased in plastic, featuring scorpions, ants and other creepy crawlies.

.

AD
---






These cool rings are completely flexible and come in a rainbow of colors and designs. Made of tiny, colorful beads, they are soft and fit comfortably on the fingers. Sturdy design allows for constant wear, even in water. Several styles are available.

.

AD
---






When kids slip on one of these classic, adjustable mood rings, the high-quality stones shift colors, depending on the wearer's state of mind. The metal rings are U.S.-made.

.

AD
---






The Hopscotch Gang is a new collection of eight 10"-tall whimsical characters with soft, low-pile fabric and fresh, distinctive, sculpted features. The collection includes a frog, elephant, moose, hound, giraffe, turtle, horse and penguin. Launch date: May 2007.

.

AD
---






.

AD
---






What fun to paint bracelets and match them with all your favorite dresses! This kit offers three wonderful Plexiglas bracelets with different fashionable designs. They are embossed to help the young creator paint with the desired colors. The paint becomes transparent when dry and gives a beautiful stained-glass effect.

.

AD
---






Disney's Princess Magical Light Up Bead Bracelets make great gifts for little princesses. The bright, multi-colored bead bracelets with blinking lights come in three styles: Tinker Bell, Cinderella and Ariel. Each bracelet features multi-colored beads and a portrait of a princess.

.

AD
---
THIS BANNER IS AN AD:
---
---