---
Fall Toy Preview Makes a Friendly Impression
TIA's Mass-Market Show Offers Sneek Peek at 2008's Hot Toys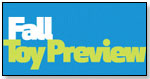 For the first time, Dallas Market Center in Dallas served as a hub for the mass-market toy biz during Toy Industry Association's Fall Toy Preview, Oct. 9-12. Previously held in New York City, the show moved to a 148,000-square-foot mall that gave buyers plenty of room to navigate through more than 280 exhibitors, exceeding last year's total by 22 percent.

A FRIENDLY MAZE


"It's a treat to be here and not in the Javits," Dee Farrell, vice president of sales for Neat-Oh! International, said to

TD

monthly Magazine, though she acknowledged a maze-like setup and reported grumblings from vendors located farther back on the floor.

Buyer Brandi Field for Calendar Club had trouble finding vendors who leased space in others' showrooms. And Gene Wisniewski, vice president of purchasing for The Bazaar Inc., commented that "it'd be much easier for a buyer if it were a little more centralized," though the green-shirted guides on each floor were helpful.

Jason Tenenbaum of Snap TV thought TIA had relocated the wrong show. "October should be in New York and the February one should be here," he suggested.

GAMES GALORE

In addition to Snap TV's Pokémon DVD game, debuting games included Pressman Toy's upcoming "The Office," which features a DVD with excerpts from the hit television show.

ESPN is a hot license for Pressman's ESPN Jeopardy and Zizzle's ESPN Sports Action Golf, Bass Fishing and Baseball electronic games. Zizzle's portable games will give consumers the satisfaction of swinging a club, rod or bat, VP of Product Development Rick Ruskin said.

Buffalo Games showcased 35 new games at the show, including the Mayan-themed Ruin, which involves changing path cards to deter other players, and inCahoots, which challenges players to record the most popular answer.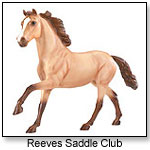 GIFTS FOR THE GIRLS

Fashion Angels will soon be releasing The Complete Hair Stylist Set, with a blond wig that girls can style on a model head or wear.

Reeves International is launching a tween collection built around "The Saddle Club" novels and Australian television series, which are "in synch with what Breyer is all about," Marketing Director Janet Simon told

TD

monthly.

Imperial Toy targets girls ages 3 to 7, with its Runway Pink line of music-themed makeup cases and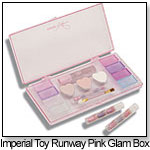 oversized lipstick and perfume canisters. The revamp "gave [former line] Petite Miss a fresh look," said President Peter Tiger.

Pink is also the theme for Dexton's Princess Fengi Playhouse, sporting dainty, white curtains and butterfly and star appliqués, all packable in a convenient storage bag.

IT'S NOT JUST ABOUT MASS

Pacific Play Tents is planning camouflage hideouts and a racecar tent with a removable floor track. Details, such as padding over steel rods, give the products a competitive edge, according to Executive Vice President Brian Jablon.

"Most of the mass looks for price, but that's not really what we're about," he said.

Harry Clayton of Wildthings Sales and Marketing, representing Poof-Slinky and others, commented that six or seven years ago, Poof-Slinky was exclusively mass, but now handles several hundred specialty accounts.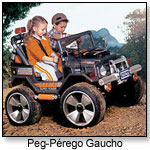 Peg-Perégo caters to both sides by letting mass market carry three of 18 items and leaving the rest for specialty, Vice President of Marketing Alex Maxwell told

TD

monthly. The company's stylish, new, 24-volt Gaucho jeep runs at three speeds, up to 7 mph, and boasts quiet EPP foam tires.

MORE FOR THE ROAD

Neat-Oh! International will introduce its own tires as new ZipBins that open into a drag strip and curved track. The company will also offer a sports-car-shaped storage backpack modeled after a Ferrari.

10VOX, becoming known for its web-interactive Kookeys plush, plans to roll out Tracksters die-cast cars in February. The vehicles will come with a code to an online world in which owners can paint, race and buy parts for their vehicles with money earned by going to school, said the company's Alex Reece.

Boys might also want to check out 4Kidz Inc.'s web-interactive, light-sensitive Test-Tube Aliens that "hatch" from a cocoon. "Boys tend to torture, not nurture," President Ken Lewis pointed out, so the alien is designed to go into panic mode when not cared for properly.

See some of these products, and many more, in

TD

monthly's ToyTV coverage of the Fall Toy Preview. And for a look back at this year's ABC Kids Expo, click here.

Writer's Bio:
Julie L. Jones has written articles for both newspapers and magazines. Before joining the staff of TDmonthly Magazine, she worked as a communications writer and provided editorial support for a market research company.
Read more articles by this author
THIS BANNER IS AN AD:
---
---