---
TDmonthly's Top 10: Lower Level
These Toys Go Beyond the Usual

You've seen games, stuffed animals, arts and crafts, hobby products and some great items for the specialty market. But what else stood out in the lower-level exhibit hall at Toy Fair? Check out

TD

monthly Magazine's list:







Beyond Chess comes with everything you need to play. The board is made of 64 high-quality, solid, plastic squares that measure 1.5"x1.5"x.25" and accommodate most chess pieces, plus two extra squares. This set includes standard Staunton-design chess pieces, a 12-page instruction booklet and a sturdy nylon backpack-style carrying bag.

ToyDirectory Product ID#: 16215

(added 11/21/2007)

.

AD
---






This dinosaur is a 32"-long, full-body glove puppet. Ceratasaur is a stealth, forest-dwelling meat eater with three boney horns and razor-like soft foam teeth. As with all Prehistoric Puppets, he is fully flexible down to his swishing tail! He comes with his own stand for play or display and is a great learning and role-playing puppet for ages 4 to extinct. The product is made of a super-soft, molded polyurethane foam, and is realistically painted.

ToyDirectory Product ID#: 16731

(added 12/21/2007)

.

AD
---




Wholesale Price: (Log in to view)

MSRP: $49.95

Age Range: 6 and upSKU or Item #: WS/26Launch Date: January 2008Gender: Boys And Girls





The Eco Dome is distinctively designed to mimic real world land-systems, living systems and to show atmospheric effects. Explore the science of global warming and weather patterns (thermals and storms) and create micro climates and link environments with other wild science nature systems. The system has been specifically designed to help children understand planet management and how to explore the fragile world in which we live. This product is a 2008 iParenting Media Award winner. Launch date: January 10, 2008.
— "One quality that sets this product apart from all others: There is no science kit like this in the world – except the world itself," Dennis Callaghan of Toyops Inc. told TDmonthly. Additionally, the product "is eco-friendly and part of a connectable world."

ToyDirectory Product ID#: 14387

(added 7/27/2007)

.

AD
---
Nuchi™ 15-Piece Circle Train Set
by
THE LITTLE LITTLE LITTLE TOY COMPANY
Other products from THE LITTLE LITTLE LITTLE TOY COMPANY
TDmonthly rating: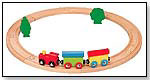 This classic wooden train set has a circular track layout that can be easily assembled into different shapes. Designed for the child new to trains, this set is simple enough to assemble right out of the box. It can easily be used with other interlocking wooden train tracks, so children can pair it with existing sets they own. The 15-piece set includes eight durable interlocking curved tracks, two trees, an engine and two loading cars. The cars are brightly painted and utilize magnets to help children assemble the set easily. The set is 18" in diameter while cars are 2" long, 1" wide and 1½" high.

ToyDirectory Product ID#: 17333

(added 1/30/2008)

.

AD
---




Age Range: 3 and upSKU or Item #: 6117Launch Date: January 2008Gender: Boys And Girls





Equipped with a solar panel on top, this wooden vehicle reinforces eco-friendly ideas through play. It features wide doors for easy placement of furniture and dolls inside, and includes space that can function as a kitchen, bedroom and living room. Launch date: Early 2008.
THIS PRODUCT IS NO LONGER AVAILABLE

ToyDirectory Product ID#: 17751

(added 2/26/2008)

.

AD
---






Kids can assemble the pieces in this rubber-wood kit and then, thanks to the toy's mechanical capabilities, watch the piano player perform.

ToyDirectory Product ID#: 17753

(added 2/26/2008)

.

AD
---







This light-blue oven features spinning knobs and a see-through door and comes with the following: a saucepan, kitchen utensils, a frying pan that holds an egg and bacon, a six-slice pizza with toppings and a tray for baking. Launch date: Early 2008.

ToyDirectory Product ID#: 17754

(added 2/26/2008)

.

AD
---

Writer's Bio:
Julie L. Jones has written articles for both newspapers and magazines. Before joining the staff of TDmonthly Magazine, she worked as a communications writer and provided editorial support for a market research company.
Read more articles by this author
THIS BANNER IS AN AD:
---
---