---
Retailer Spotlight: Where'd You Get That!?
Quirky Store Tickles Customers' Funny Bones
"We understand the importance of a humorous, intriguing store atmosphere that frequently turns into riotous fun..." — Michele and Ken Gietz

For Michele Gietz, owning a toy store with her husband Ken was the realization of a lifelong dream.

"From the time I was very young, I said someday I'd own a toy store," she told

TD

monthly Magazine.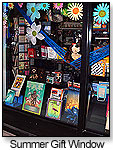 The couple has owned Where'd You Get That!? in Williamstown, Mass., for the last 17 years. But it took a while to get accustomed to small-town demographics.

"In moving to the Berkshires, we needed to find a location that could support a business that actually needed a population base of 150,000 to 250,000," they explained. "Opening in a town with a population base of 6,000 people plus 2,000 students proved challenging."

However, as the couple studied the area, they found that the numbers actually added up a bit differently.

COLLEGE CREDIT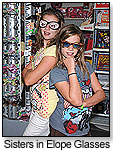 "The college drew quite a number of people as visitors, and they also put on summer conferences and programs that drew both adults and younger people," they explained. "The area has world-class cultural destinations that draw tourists from all over the world, and winter skiing close to town has been another boon. The combination of all of these brought up the numbers into the range that we needed to make the business basically viable and allow us to live in this wonderful area."

Once the store opened, though, the couple struggled with establishing manual systems and following with a POS system for inventory management and sales tracking. "This was a big job for a small store and small staff with quite a large inventory," they said.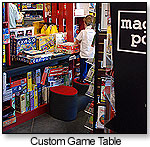 The Gietzes also underestimated how vulnerable retail is in a small New England town dependent on tourism. However, a move down the street four years ago, to a location twice the size of the first, boosted business by 35 percent overnight.

"The old location had a side entrance that was very difficult for people to find," Ken told

TD

monthly. "In the new location we had street exposure and a parking lot across the street from us."

INFECTIOUS HUMOR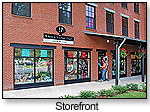 One owner is always in the store helping to meet and greet, the Gietzes pointed out.

"We run the floor of the store like an old-time Italian restaurant. The store has a very quirky sense of humor that gets customers laughing," they said. "We understand the importance of a humorous, intriguing store atmosphere that frequently turns into riotous fun for children and adults alike. We love mixing with people and hope it shows."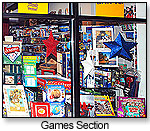 "The products get them in a good mood and a number of them tickle their funny bones," Ken added. "With enough people in the store, it becomes infectious, as everyone wants to see what's going on and why they are laughing."

The shop's tagline is "gifts for the curious," and the owners believe that everyone — from young to old — is a potential customer. They also take advantage of their location at Williams College by keeping a large game table on the floor. This way, they can introduce visitors to games they've never seen before, frequently tested by faculty and students.

BEYOND THE STORE'S BORDERS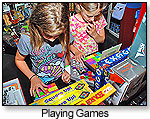 The Gietzes would advise other retailers to choose a store name that they can service mark nationally … and partner with other businesses!

"Our name speaks volumes to tourists and is still fresh 17 years later," they said.

"Team up with fellow business owners near you for downtown events, [by] sharing emails for joint marketing purposes with a downtown website. Since we're on a college campus, we started an upscale care package business a few years ago that now also includes gift certificates from restaurants, [an] art cinema and a therapeutic massage business, as well as our store," they said. "It's really enhanced the original business plan."

Writer's Bio:
Brenda Ruggiero is a freelance writer from western Maryland.
Read more articles by this author
THIS BANNER IS AN AD:
---
---