---
Even Video Games Can't Win Against Crushed Economy
Shocking Declines Hit Market Going Into the Holidays
"...Microsoft's XBox 360 continued to decline further in spite of the very sharp price decrease instituted in early September."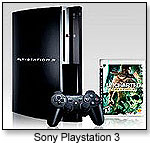 The NPD numbers that came out for the video game space in October did not make for nice reading. After a disappointing August, September recorded negative growth rates for all three main categories: software, hardware and accessories. This came as a real shock to most pundits, as it was the first decline in year-over-year numbers in two-and-a-half years.

This is how cumulative growth rates for the main consoles looked like by the end of September: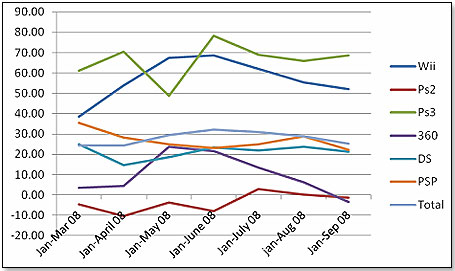 All but one of the consoles saw a decline in unit growth rates. The only exception was Sony's PS3. Astoundingly, Microsoft's XBox 360 continued to decline further in spite of the very sharp price decrease instituted in early September.

In terms of the three main categories, the growth rates in dollar terms also saw a continuation and acceleration in the adverse trend that began in June: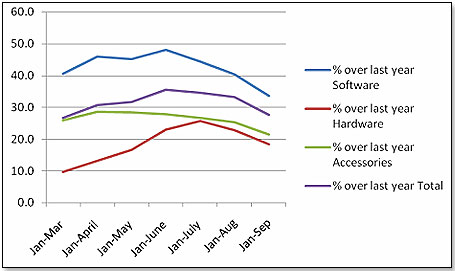 What now? Is this a trend or an aberration? Can video games continue to defy the economic drivers that characterize 2008 as the worst year since the Great Depression? I talked to the buyers and my retail panel managers to find out.

The consensus seems to be that — if things do not speedily and substantially change for the better — both toys and video games will face tough times but are not going to fall off a cliff this fourth quarter. On the negative side, the buyers point to the consumer confidence index, which, according to the Reuters/University of Michigan preliminary index of consumer sentiment issued on October 17, 2008, fell to 57.5 from 70.3 in September — the biggest decline since monthly records began in 1978. Also, my own retailer panel sell-through data show a sharp decline in toy sales and a moderate decline in video game sales during the first half of October as compared to the same period last year.

One of the major reasons for the buyers' somewhat pessimistic forecast is the anticipated effect heating bills will have on Christmas spending. They point to the sharp decline in toy sales in December 2007, which they attribute to the fact that households, for the first time that year, got sharply higher utility bills in late November or early December.

According to official estimates issued by the Energy Information Administration on October 7, 2008, here is how heating costs have affected and will affect the average household:


| | | | | |
| --- | --- | --- | --- | --- |
| Category | Winter 2006-2007 | Winter 2007-2008 | Winter 2008-2009 | Increase (%) 2009 over 2008 |
| Consumption Gallons | 580.9 | 585.7 | 614.0 | 4.8 |
| Price Per Gallon | 2.49 | 3.31 | 3.89 | 17.5 |
| Total Household Expenditure | 1445 | 1939 | 2388 | 23.2 |

In other words, the monthly cost to heat the average home went from $220 in the winter of 2006-2007 to $430 in the winter of 2007-2008 and is expected to go to $530 in 2008-2009. While not unmanageable, this increase comes on top of sharply reduced household financial resources, depleted through months of sharply rising fuel and food costs.

Even though the average consumer has not yet experienced the impact of this year's higher heating bills, NPD tells us consumers already clearly intend to spend less this Christmas:

U.S. Consumers' Spending Intentions 2008 vs. 2007


| | | |
| --- | --- | --- |
| | 2008 | 2007 |
| Plan to Spend More | 11% | 11% |
| Plan to Spend About the Same | 63% | 70% |
| Plan to Spend Less | 26% | 18% |
Source: The NPD Group, Inc./Annual Holiday Survey

Because of these factors, the buyers believe that video game sales — consoles, software and accessories — will continue to lose momentum. They forecast that growth rates will drop from the current cumulative 27.5 percent for the first nine months to a cumulative 19 percent by end of this year, despite the unprecedented number of excellent titles debuting in the fourth quarter.

This is how the resulting trend lines for each category shape up: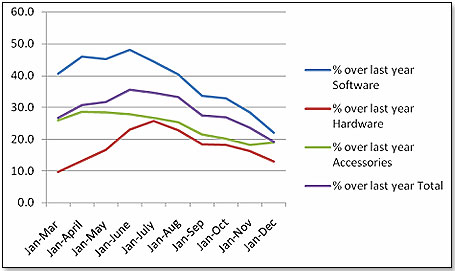 This is obviously predicated on the economic drivers staying where they are. A change for the worse could well have a dramatic effect on these numbers. Equally, a change for the better, such as a continued sharp decline in gasoline prices, could boost these numbers considerably.

Writer's Bio:
Lutz Muller is a Swiss who has lived on five continents. In the United States, he was the CEO for four manufacturing companies, including two in the toy industry. Since 2002, he has provided competitive intelligence on the toy and video game market to manufacturers and financial institutions coast-to-coast. He gets his information from his retailer panel, from big-box buyers and his many friends in the industry. If anything happens, he is usually the first to know. Read more on his website at www.klosterstrading.com.
Read more articles by this author
THIS BANNER IS AN AD:
---
---