---
TDmonthly's Psychologist Mom
She'll Put Your Toys on the Couch
While reviewing the products below,

TD

monthly Magazine's Psychologist Mom learned lessons on geography, had some fun with dentist-developed paint for teeth, and brightened up bicycling with a flashing safety component.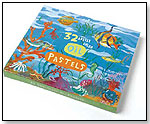 32 Artist Color Oil Pastels by eeboo
Age: 3 and Up
Gender: Boys and Girls
Category: Arts & Crafts
MSRP: $8.95



TD

monthly rating:




The Dr.'s Impressions: eeboo is a favorite among homeschool families. It is a family-owned business and the products are made with safety in mind. The box is simple and looks like it is designed by a child, which I love — a great break from the over-designed look of most children's products. The oil pastel colors are easy on the eyes and represent accurately on paper; they draw smoothly and consistently and do not break easily.

Kids' Perspective: Oil pastels are always fun to play with. My oldest boy, 12, who is the artist in the family, was impressed with the variety of shades (there are seven tints of green).

Recommendation: If you are in the market for art supplies, eeboo non-toxic oil pastels are a sure win over crayons and will certainly encourage your family artist.

---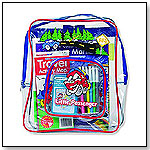 Little Passenger Backpack by Universal Map
Gender: Boys and Girls
Category: Kits; Educational
MSRP: $21.95



TD

monthly rating:




The Dr.'s Impressions: The Little Passenger Backpack is a fairly sturdy plastic backpack packed full of games, puzzles, maps, cards and even markers.

Kids' Perspective: I gave this to two little friends, ages 6 and 7. They loved it. They had a great time looking through it all and playing with the different items in the pack. They did, however, need instruction and parental involvement.

Recommendation: I highly recommend this backpack as a geography class in a bag. With the planning and help of parents, this could be an entire semester class in geography. I was impressed at the quality and quantity of information included.

---

Fan-Tastic Teeth Paint by Nudent LLC
Gender: Boys and Girls
Category: Costumes & Accessories
MSRP: $8.99



TD

monthly rating:




The Dr.'s Impressions: Fan-Tastic Teeth is a little bottle that allows you to paint your teeth and nails. It is safe, non-toxic and developed by dentists.

Kids' Perspective: My sons, 12 and 9, loved it — of course. They painted designs and even words on their teeth and nails.

Recommendation: It is a fun product. It certainly works better than the teeth crayons I am familiar with. It was not easy to remove, but did come off with a good teeth brushing.

---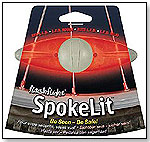 Flashflight® SpokeLit™ by Nite Ize Inc.
Age: 7 and Up
Gender: Boys and Girls
Category: Safety
MSRP: $6.99



TD

monthly rating:




The Dr.'s Impressions: The Nite Ize SpokeLit installs quickly and easily onto bike spokes and has a LED light with a flash-and-glow function. It also has an on-and-off function.

Kids' Perspective: Flashing lights on a bike wheel — what is not to love? The rider can't see the light himself, but the kids who tried this out had a great time watching each other ride up and down the street ... at night!

Recommendation: For those who ride at night, this is a fun and useful light. There is no way a bicyclist using this product wouldn't be noticed by motorists.

Writer's Bio:
Dr. Tiffany Wright doesn't just look at toys; she analyzes them. In and out of the box, she scrutinizes them for playability, appropriateness and educational value. The latter quality is especially important to this stay-at-home psychologist/mother, who also homeschools her three youngest children. Her daughter attends UCLA. Dr. Wright earned her Ph.D. in personality psychology from University of California, Riverside. She is always on the lookout for toys and games that inspire creativity and impart knowledge while bringing fun and laughter to her home.
Read more articles by this author
THIS BANNER IS AN AD:
---
---