---
LeapFrog Gains Leaps and Bounds With Turnaround
Company Trumps V.Smile in Distribution and Online Interest
"LeapFrog is a better place today than it was under Tom Kalinske."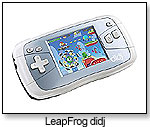 I predicted as far back as September 2007 on Klosterstrading.com that LeapFrog was stabilizing, much to the mirth of my analyst friends. When I again claimed nine months later that the turnaround was well under way and was getting real traction, my analyst friends again did not believe me.

Hate to say this, but I was right. This is how the moving annual totals shape up: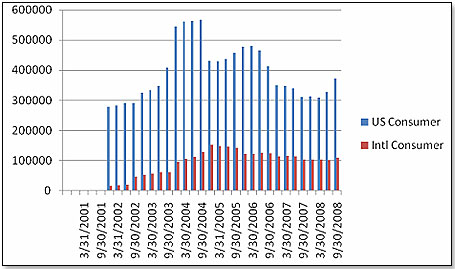 The upward trend has now been underway for more than a year, and I would expect it to continue into the fourth quarter. There could be surprises internationally because of currency, though. I did not include the school sector because it is basically business to business and outside of LeapFrog's core business.

How did this turnaround come about? Three reasons: management, new products and the Fisher-Price recall.

When Jeffrey Katz took the helm at LeapFrog two years ago, the question was not whether he would succeed or fail. The question was, more simply, just how long it would take him to fall on his nose. After all, for a company whose core competencies were toys, manufacturing and retail channels, he brought along none of the attributes you would have expected. He knew nothing of toys, he had never manufactured anything, and he could not make a sales pitch to a big-box retailer to save his life. Nevertheless, he took charge of a company that had been driven internally by competing fiefdoms, a rank and file that did not know whose instructions they should follow, and customers who were giving up on the company altogether. He sorted each out one step at a time, and there is no question that LeapFrog is a better place today than it was under Tom Kalinske.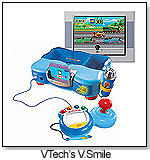 In terms of new products, the first success story was ClickStart, which was released last year and is still doing well in mass retail. It was followed by four new products this year: TAG, Didj, Leapster 2 and Crammer. All five are doing very well in the three leading retailers, and LeapFrog's overall penetration of these stores is much better than that of VTech's V.Smile.

There is no doubt that the succession of large recalls last year hurt Mattel badly and there were a number of companies ready to pick up the pieces. LeapFrog was one of them, and it had the ideal competitor in the toy range created for the preschooler by Jerry Perez (of former Fisher-Price fame). This is a passing phenomenon since Fisher-Price is coming back big time.

LeapFrog continues to have a major edge in terms of Web traffic, which will undoubtedly benefit it in terms of e-commerce sales, which right now is the only toy retail channel still growing: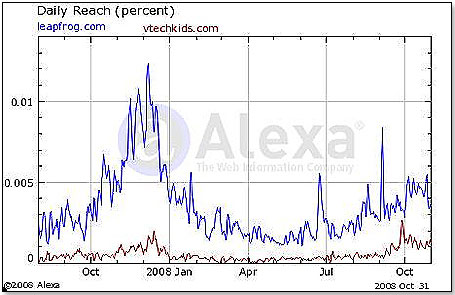 A similar but more extreme picture emerges from the Blog metrics, which denote consumer interest levels: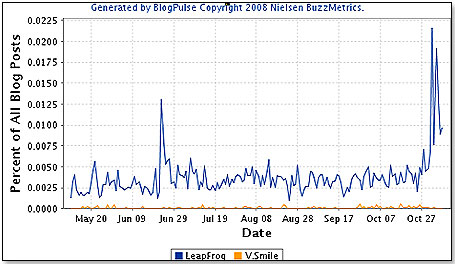 I said five months age that demographics appeared to be favoring V.Smile over LeapFrog in the consumer group, for the latter was considerably older than V.Smile and also had a smaller female percentage. This has since fundamentally changed. This is how the demographics of their respective Web traffic looked then in comparison to now:


| | | | | |
| --- | --- | --- | --- | --- |
| Category | LeapFrog | LeapFrog | V.Smile | V.Smile |
| | 6/1/2008 | 11/04/2008 | 6/1/2008 | 11/04/2008 |
| Males | 31.00% | 29.00% | 29.00% | 50.00% |
| Females | 69.00% | 71.00% | 71.00% | 50.00% |
| Age < 18 Years | 2.22% | 3.53% | 1.03% | 19.85% |
| Age 18 – 24 Years | 12.71% | 13.33% | 17.47% | 21.60% |
| Age 25 – 34 Years | 43.74% | 36.47% | 51.03% | 23.42% |
| Age 35 – 49 Years | 32.52% | 29.80% | 21.58% | 18.47% |
| Age 50 < | 8.79% | 16.86% | 8.90% | 16.90% |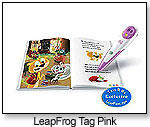 The age group in prime child bearing age then was 56.45 percent for LeapFrog and 68.5 percent for V.Smile. This has now changed to 49.8 percent for LeapFrog and 45.02 percent for V.Smile. Also, V.Smile's female proportion has undergone a major shift. Also interesting is the very high proportion of 18-and-under traffic on the V.Smile website. V.Smile continues to have a very distinct edge in the age stakes.

As a result, Leapfrog is doing very well both with big-box and specialty retailers. Here's a guide to product distribution amongst the top three retailers:


| | | | | |
| --- | --- | --- | --- | --- |
| Product Range | Target SKUs | Wal-Mart SKUs | Toys "R" Us SKUs | Total SKUs |
| LeapFrog | 180 | 123 | 141 | 444 |
| V.Smile | 85 | 45 | 35 | 165 |

I also looked at the performance of the two product ranges at Amazon, Toys "R" Us and my own retailer panel:

Amazon: LeapFrog has two products in the top 25, one between positions 51 and 75, and five between 76 and 100. In comparison, V.Smile has none in the top 25; one between 26 and 50, one between 51 and 75, and none between 76 and 100.

Toys "R" Us: LeapFrog has four products among the top 42 products. V.Smile has none.

Retailer Panel: LeapFrog has six products in the top 40, V.Smile has four. Also, as per their sell-through data in terms of dollars, LeapFrog sales are 38 percent above V.Smile sales.

There is little doubt in my mind that Leapfrog has momentum for the remainder of the year. I expect their fourth-quarter sales to be solidly ahead of the same period last year.

However, there are two concerns further out:

Product Development: The Fly technology that underpinned the TAG, the Didj and the Leapster2 will have problems adapting itself to many more significantly new and different products. VTech has none of these problems. In 2008, the company brought out 50 new products, demonstrating a depth in product development that LeapFrog will find difficult to match.

Merchandising Philosophy: They are being clobbered by VSmile in the endcap stakes. The chart below shows the development of LeapFrog's and V.Smile's endcaps in the top three over the last 18 months: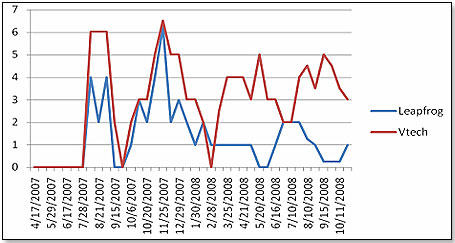 It strikes me that LeapFrog is ignoring a significant competitive disadvantage evident from this chart. This they should not do. An endcap is not only a major driver of volumes; it also reinforces consumer recall and strengthens the franchise. By leaving the field open for V.Smile, LeapFrog is ceding a major part of the marketing mix to its foremost competitor.

Writer's Bio:
Lutz Muller is a Swiss who has lived on five continents. In the United States, he was the CEO for four manufacturing companies, including two in the toy industry. Since 2002, he has provided competitive intelligence on the toy and video game market to manufacturers and financial institutions coast-to-coast. He gets his information from his retailer panel, from big-box buyers and his many friends in the industry. If anything happens, he is usually the first to know. Read more on his website at www.klosterstrading.com.
Read more articles by this author
THIS BANNER IS AN AD:
---
---