---
Toys in the News: 11-26-08
Click Here for Current News

Chinese Laborers Protest at Dongguan Toy Factory. November 26, 2008 — Eighty migrant laborers demanding more severance pay after a layoff at Kai Da toy factory in Dongguan, China, sparked a 500-protestor-strong riot outside the factory Wednesday, in which demonstrators stormed the gates and proceeded to destroy computers and other company property. Parent company Kader Holdings said its workers had received compensation under China's labor law, the Associated Press reported.

U.S. PIRG Reports on "Trouble in Toyland." November 26, 2008 — The annual "Trouble in Toyland" report released by the U.S. Public Interest Research Group Tuesday targets products that contain lead or phthalates, or may present a choking hazard to children, as well as outlining highlights of the Consumer Product Safety Improvement Act of 2008 passed in August. The following Products named in the survey for being potentially hazardous include the following: JA-RU's Pony Land Scented Pony, for very high levels of the phthalate DINP, a Halloween Skull Earring by Fashion Earrings that contains more than 600 parts per million of lead, and Hasbro's Littlest Pet Shop, for an insufficient label warning of small parts.

Parents Will Still Shop for Toys, Says Toys "R" Us CEO. November 25, 2008. Reiterating what many market and industry experts have predicted, CEO Gerald Storch of Toys "R" believes parents will not deny their children Christmas gifts, even in such a rough economy. According to BusinessWeek, Storch also indicated that low prices will overcome consumers' hesitation to shop, encouraging purchases now instead of later.

U.S. PIRG Issues Phthalate Warning. November 25, 2008 — The U.S. Public Interest Research Group claims the Consumer Product Safety Commission has given toy manufacturers a loophole by failing to apply new legislation on phthalates retroactively, and is urging consumers not to buy toys made of soft plastic this holiday season, for fear they may contain chemicals that could cause reproductive and developmental harm in children. Under the Consumer Product Safety Improvement Act of 2008, revised limits for phthalates will take effect in February, though products made with phthalates before that time can still be sold, WebMD reported.

Chinese Toy Factories Cautioned About Faulty Design. November 25, 2008 — China's Foreign Ministry instructed the country's toymakers on Tuesday to avoid taking orders for foreign products based on unsafe designs. Through an increasing number of quality checks and warnings, the Chinese government is trying to avoid recalls like the ones that hit last summer and fall, Reuters reported.

"Twilight" Opens at $70 Million. November 24, 2008 — Summit Entertainment's "Twilight," based on the vampire book series for teens by Stephenie Meyer, pulled in $70.6 million at the domestic box office over the weekend, making it the fourth-largest November debut, having tied with "The Incredibles" behind three "Harry Potter" films. It's the highest ever gross for a movie with a female director, and catered to an audience that was 75 percent female. Variety reported that more than 8 million copies of the "Twilight" books have been sold in the U.S.

Hasbro Pledges Toys for Tots Donations. November 24, 2008 — Hasbro has pledged to give one toy or game to the Marine Toys for Tots Foundation for every text donation that comes in through Dec. 21, up to 150,000 toys. The Foundation has introduced a $5 text donation — individuals simply text "TOY" to 90999 — to help bring in more resources to serve a growing number of families requesting help this holiday season.

JAKKS to Purchase Disguise. November 24, 2008 — JAKKS Pacific is now in agreements to acquire the assets of Disguise Inc., further diversifying its portfolio with an array of Halloween costumes and dress-up accessories, according to a press release.

Slinky Company Co-Founder Dies at 90. November 21, 2008 — Betty James, who, in 1945, co-founded the company that created the classic Slinky toy, passed away Thursday at age 90, the Associated Press reported. James is honored in the Toy Industry Foundation's Hall of Fame for her contributions under James Industries; she was inducted in 2001.

Learning Express Announces Top-10 Holiday Picks. November 21, 2008 — Nationwide specialty retail chain Learning Express released its hand-selected list of the top-10 holiday toys Wednesday, honoring such items as the EzyRoller, The Orb Factory's Sticky Mosaics and CCA & B's Elf on the Shelf. See TDmonthly's top-20 holiday toys on video here.

W.A.T.C.H. Releases "Worst Toys" List. November 21, 2008 — World Against Toys Causing Harm announced its annual list of the 10 worst toys on Tuesday, pointing out items it believes have the potential to harm children or have insufficient on-pack warnings. Among the products on the list are Kenscott's Giga Ball, Geoffrey's Animal Alley Purse Pets and Battat's Pucci Puppies House.

Toys "R" Us Ups Discounts for Black Friday. November 20, 2008 — Toys "R" Us will open its doors at 5 a.m. on the day after Thanksgiving for an extra hour of door-buster deals, lowering prices on more than 150 products — about 50 percent more than it did on Black Friday last year. Video games, Apple iPod accessories and Disney's High School Musical toys are among the specials, Reuters reported.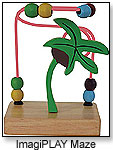 ImagiPLAY Recalls Maze Toys. November 20, 2008 — The U.S. Consumer Product Safety Commission, in cooperation with ImagiPLAY, has announced a voluntary recall of about 500 Bead Maze Toys because the trees can come off and expose a metal screw that could be dangerous for children. The product sold at toy stores nationwide from August through October 2008.

Video Games Are UnGreen. November 20, 2008 — Another reason to push for traditional play is that the video games kids love so much waste electricty and money — two vauable resources in these economically and ecologically challenging times, reported a Yahoo! Green blog. Leaving the console on continuously for a year, even when it's not in play, uses as much electricity as running two refrigerators for the same amount of time. Depending on the model, such a wasteful habit can cost a family as much as $160 per year, or $145 more than turning it off between games. So encourage your customers to switch off the console and use their savings to switch to your energy-efficient, high-value specialty toys!

Scientists Find Real "Furby" on Indonesian Island. November 19, 2008 — For the first time in more than eight decades, scientists spotted alive a tiny fur ball of a creature called the pygmy tarsier that looks amazingly similar to the big-eyed Furby toy introduced by Tiger Electronics in the late 1990s. Over a period of two months, the team led by a Texas A&M University professor captured and released three of the primates on Sulawesi, an island off of Indonesia. Many scientists thought pygmy tarsiers to be extinct until one was accidentally killed in a scientists' rat trap eight years ago, CNN reported.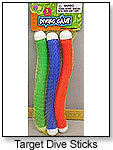 Target Recalls Dive Sticks. November 19, 2008 — The U.S. Consumer Product Safety Commission, in cooperation with Target Corp., has announced a voluntary recall of about 365,000 Dive Sticks that could pose an impalement hazard to children if they remain in an upright position. The sticks retailed at Target stores from April through August 2008.

CPSIA Legislation Retroactive for Lead, Not Phthalates, Says CPSC. November 19, 2008 — In a Nov. 17 letter to Arent Fox law firm, the U.S. Consumer Product Safety Commission's General Counsel, Cheryl A. Falvey, clarified that while lead content restrictions will apply retroactively to children's products come Feb. 10, 2008 when new regulations under the Consumer Product Safety Improvement Act take effect, there will be no retroactive standard for phthalate restrictions. Because the ruling on phthalate limits is "a consumer product safety standard under the Consumer Product Safety Act," it does not apply to inventory manufactured before a standard's effective date. Any product not in compliance with the new lead requirements, however, will become "a banned hazardous substance" under the Federal Hazardous Substances Act, barring it from sale or manufacture.

Denny's Helps Toys for Tots for the Holidays. November 19, 2008 — For the first time, a nationwide restaurant chain is partnering with the Marine Toys for Tots Foundation to bring gifts to needy children this Christmas. Until Dec. 10, each dollar donated through Denny's Ornament Holiday Program will go toward the Foundation's seasonal toy collections. Each Denny's guest that donates will receive a $1 coupon for their next visit, and an ornament will be hung on a tree in the restaurant, according to a press release.

Upcoming "X-Men" Turns to Teens. November 18, 2008 — Twentieth Century Fox's "X-Men: First Class," set to follow next summer's "X-Men Origins: Wolverine," will likely feature younger mutants — teen characters who attend the Xavier Institute for Higher Learning and debuted in previous motion pictures. Variety reported that Josh Schwartz, creator of "Gossip Girl," will write — and possibly direct — the film, though there's been no confirmation on the latter.

NPD Selects Pritchard to Lead Euro Toys Biz. November 18, 2008 — David Pritchard, former vice president of Entertainment & Communications for the NPD Group, has been chosen to head the company's European Toys business, which conducts sales tracking in nine countries, according to a press release.

Bite Into the Tween Market. November 18, 2008 — If you're looking to keep older tween girls in your toy store, think vampires. The Romeo-and-Juliet-type vamp flick "Twilight," based on the best-selling novel by Stephanie Meyer, is selling out midnight showings in advance of its official U.S. opening on November 21, according to The Hollywood Reporter. The film stars Kristin Stewart ("Into the Wild") and Robert Pattinson ("Harry Potter and the Order of the Phoenix") as a mortal and her immortal, bloodthirsty lover. Summit Entertainment is already looking into sequels, so load up on the Goth goods this Christmas season.

Nations Come Together on Toy Safety. November 18, 2008 — Representatives from the United States, the European Union and China met for the premier trilateral summit on product safety Monday in Brussels, discussing the importance of merging tracking systems so that the manufacturers of dangerous toys can quickly and easily be determined per product. The Financial Times reported that officials will meet about new national regulations and international standards in 2009.

WizKids May End Up Under Catalyst. November 18, 2008 — Catalyst, a game company that's eyeing expansion into collectible miniatures, has put up a bid for WizKids Games properties, including Star Wars PocketModel TCG and HeroClix. The majority owner of Catalyst has already met with Topps to go over a possible acquisition, ICV2.com reported.

Chinese Factories May Take Hit Early Next Year. November 17, 2008 — According to CEO Richard Ellert of the Harbour Ring Crown Ace toy factory, based in Hong Kong, toymakers may see the worst of the financial crisis in early '09 if companies cut back on orders due to overstock from an underperforming holiday season. Harbour Ring, which produces toys for Mattel and Hasbro, is operating with 900 fewer workers at its Guangdong factory than it did this time last year, and has seen an 8 percent rise in labor costs in addition to heightened minimum wage requirements this year, Reuters reported.

Upper Deck Lowers Employee Count. November 17, 2008 — No doubt feeling pressure from a decline in sales of trading cards this fall, Upper Deck recently laid off about 40 employees in its sports and entertainment divisions, ICV2.com reported.

KB Toys Announces Midnight Openings on Black Friday. November 17, 2008 — More than half of KB Toys' 460 stores will open their doors at midnight on Black Friday so that eager shoppers can get a headstart on bonuses and Doorbuster deals. The best of the specials will be offered until noon that day, according to a press release.

Retail Sales Plunge in October. November 14, 2008 — The Commerce Department announced Friday that sales in the retail and food industries declined 2.8 percent from September, seeing a sharper decline of 4.1 percent in a year-over-year comparison for October. FoxBusiness reported that the fall in sales from September to October is the greatest month-over-month decrease in 16 years. Car and auto parts sales were hit hardest, followed by home furnishings, while sales at food and health stores actually increased during those two months.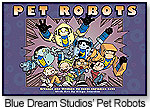 "Pet Robots" Heads to Big Screen Under Disney. November 14, 2008 — Scott Christian Sava's comedic "Pet Robots" graphic novel, published by Blue Dream Studios, is slated to become a Disney film under an adaptation penned by Colin Trevorrow, who also wrote "Tester," which was picked up by Dreamworks, and is working on "Stealing Time," according to the Hollywood Reporter.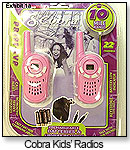 Kids' Radios Recalled for Burn Hazard. November 13, 2008 — The U.S. Consumer Product Safety Commission, in cooperation with Cobra Electronics, has announced a voluntary recall of about 8,000 Children's Two-Way Radios because the rechargeable batteries can leak electrolyte, putting consumers at risk for chemical burns. The product retailed exclusively at Toys "R" Us from August through September 2008.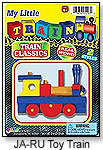 Recall Derails Toy Trains. November 13, 2008 — The U.S. Consumer Product Safety Commission, in cooperation with JA-RU, has announced a voluntary recall of about 18,000 My Little Train Classics Toy Trains because small parts can come off the toy and pose a choking hazard. The product retailed nationwide from March 2007 through October 2008.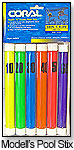 Modell's Recalls Dive Sticks. November 13, 2008 — The U.S. Consumer Product Safety Commission, in cooperation with Modell's Sporting Goods, has announced a voluntary recall of about 130 CORAL Swim 'N Score Pool Stix that could cause impalement injuries if children fall on them in shallow water. The CPSC outlawed certain kinds of dive sticks in 2001. The CORAL Stix retailed at Modell's stores from August 1999 to October 2008.

Electronic Arts Targets Women's Fitness. November 13, 2008 — Though it has largely catered to men through video games centered on traditional sports, Electronic Arts is expanding its line into an EA Sports Active series for the Nintendo Wii. The games, beginning with "Kickstart Fitness" set to debut in March, will offer exercise routines and focus on activities such as running and lunges, as well as sports simulation, according to the Associated Press. EA Sports Active is intended to complement the Wii Fit titles out of Japan, offering a more "Western approach" to exercise.

Kids Act for Charity in Lisa LeLeu Theater. November 12, 2008 — Children can post videos of their performances in Lisa LeLeu Studios' Super Star Theater on the company's website to help raise money for charities this holiday season. Once a video is added, it is sent out to a parent- or kid-specified email list requesting fundraising help on a cause selected by the child. According to a press release, money has already been raised for Unicef, Make a Wish Foundation and Big Brothers Big Sisters.

Officials Warn of Unsafe Toys in Shaky Economy. November 12, 2008 — Amid concern that frugal shoppers might end up with lead-tainted or other dangerous toys in exchange for discounts, Chair Nancy Nord of the U.S. Consumer Product Safety Commission is asking parents to research toys they buy from secondhand sellers, as previously recalled products may still be out on the market. Public Policy Directory Alan Korn of Safe Kids Worldwide suggests purchasing "from reputable retailers," including independent toy stores, the Associated Press reported.

Toy-Related Accidents Caused 18 Child Deaths in '07. November 12, 2008 – Reports from the U.S. Consumer Product Safety Commission show that 18 children under 15 years of age died due to incidents involving toys in 2007. Tricycle-related accidents, including drowning in a pool after falling in while riding the toy, were responsible for five of the deaths. Several other children choked on balloons and rubber balls, and a 6-month-old suffocated when he fell off a bed and landed on a plush toy, according to the Associated Press.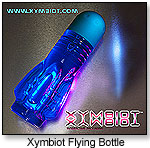 Company Launches New Kind of Bottle Rocket. November 12, 2008 — Kids will be able to put their drink bottles to flight with a new aerodynamic PET bottle from the Xymbiot Interactive Packaging division of ThinkAtomic. The patent-pending bottle that doubles as a toy is designed to fly as far as 100 feet once empty, according to a press release. The company is currently seeking a partner for the beverage itself.

Global Toy Market to Hit $122.2 Billion Within 4 Years. November 12, 2008 — A report from Global Industry Analysts Inc. projects the toy and game market worldwide will grow to a $122.2 billion industry by 2012, largely fueled by video gaming and its support from Latin America and Asia-Pacific, as well as its increasing appeal to women and to older players. Licensed toys, "intelligent" toys and wireless/mobile games are expected to see significant growth, according to a press release. The NPD Group reported in September that global toy sales came in at $71.96 billion in 2007 and should surpass $86.3 billion in 2010.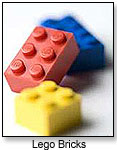 LEGO Expected to Appeal Trademark Ruling. November 12, 2008 — The European Union's Court of First Instance ruled Wednesday that competitors of Lego can keep selling their similar toy bricks in the EU. Lego's 1999 trademark for its blocks was canceled in 2004 following an appeal by Mega Brands. A spokesperson for Lego said the ruling will likely be appealed to the highest court in the EU, the Associated Press reported.

Pieces Come Together for "Monopoly" Film. November 12, 2008 — Ridley Scott will lead "Monopoly" as director of the Hasbro-Universal film based on the decades-old real-estate board game. Pamela Pettler, who wrote Tim Burton's "Corpse Bride," among other films, has been tapped to write the screenplay, and Giannina Facio and Brian Goldner of Hasbro will also serve as producers, according to the Hollywood Reporter.

Turkish Mayor Sues Warner Bros. Over Batman. November 11, 2008 — Huseyin Kalkan, the mayor of a town called Batman in southeastern Turkey, is filing suit against Warner Bros. and Christopher Nolan to gain royalties from "The Dark Knight." This is the first report of the city's legal action over the name "Batman," despite the fact that the DC Comics superhero debuted in 1939, Variety reported.

Sales are Looking Up for Online Vendors. November 11, 2008 — Despite a grim 2.2 percent retail sales increase predicted for November and December, online sales are expected to rise 12 percent to hit $44 billion, Time reported. Bargain prices, quick comparisons and social networking sites are just a few of the reasons the Web anticipates such a boom in business. One holiday study conducted by Shopzilla showed that more than 40 percent of online merchants have enhanced their search function, more than 40 percent have improved their videos or are now including them, and more than 30 percent have put customer reviews on their sites. Shoppers can find videos, reviews and quick links to e-commerce sites in TDmonthly's Specialty Toys Report, which hosts more than 200 quality toys, games and gifts.

Webkinz Least Favorite Holiday Toy on eBay Survey. November 11, 2008 — Monopoly came in at No. 1 among favorite holiday toys in an eBay poll of more than 3,000 adults ages 18 and up, who ranked Ganz's Webkinz and Monchhichis at the bottom of the barrel. Other favorites included Mattel's Barbie, checkers, video game systems, Pooh Bear, LeapFrog Tag Reading System, Etch a Sketch. LEGO, Ty Beanie Babies and Jakks Pacific Care Bears, according to a press release.

New Firms Outdo Bankruptcies in Guangdong. November 11, 2008 — Although Guangdong, China has seen an astonishing 50,000 bankrupt enterprises — including toy factories — this year due to increasing oil prices and financial crises, more than 90,000 new companies have been registered in the same time period, China Daily reported.

Consumers Will Eat Out Less But Still Buy Toys. November 11, 2008 — An October survey conducted by the NPD Group revealed that 57 percent of consumers expect to spend less on eating out, while only 39 percent plan to cut back on toys. Next to dining out, apparel and entertainment are the most likely to see decreases, with 54 percent and 50 percent of respondents, respectively, saying they will curb spending in these areas, according to a press release.

AstroBoy Tied Tight With Tie-Ins . November 10, 2008 — Imagi Studios announced that it has signed worldwide licensing agreements with American Greetings, Penguin Group (USA) Inc., Jazwares Inc., D3Publisher and IDW Publishing for Astro Boy, its upcoming CG-animated film based on the adventures of the superhero icon. Astro Boy, slated for domestic release on October 23, 2009, is being distributed worldwide by Summit Entertainment except for Imagi's reserved territories of Japan, Hong Kong and China. "The suite of promotions that has formed in support of the worldwide roll out of this wonderful family film is extraordinary," said Nancy Kirkpatrick, President of Worldwide Marketing for Summit Entertainment. American Greetings will create items such as greeting cards, stationery, gift wrap and party goods inspired by Imagi properties. The innovative children's toy and activity company Jazwares will be the master toy licensee for Astro Boy. Penguin will introduce a full range of Astro Boy publications. In addition, IDW Publishing will support Astro Boy with comic book and graphic novel titles inspired by the film. Imagi has also partnered with interactive entertainment software leader D3Publisher to publish and distribute Astro Boy game software.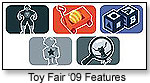 Toy Fair to Host Five New Feature Sections. November 10, 2008 — The Toy Industry Association has announced that Toy Fair 2009 will welcome five new Feature Sections by product category: Action Figures; Educational Toys & Games, Science and Discovery Kits; Infant & Preschool Toys and Accessories; Outdoor Toys, Play Equipment, Ride-Ons and Sporting Goods; and Youth Electronics, Tech Toys, Interactive Gaming and Robotics.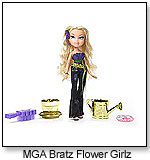 The Barbie-Bratz Brawl Continues. November 10, 2008 — Mattel is stepping back into the courtroom in Riverside, Calif., today to request an injunction forcing MGA Entertainment to cease production of the Bratz dolls for good. In August, a jury awarded $100 million in damages to Mattel in the copyright infringement case that involved original drawings of the Bratz by Mattel-then-MGA employee Carter Bryant. MGA's argument that the infringement ruling applied only to first generation Bratz dolls will have to be revisited, according to Bloomberg. Reuters reported that U.S. District Judge Stephen Larson will announce his ruling within two weeks, but any court order will not be effective until after the New Year.

Toy Value Crucial Against Weakest Holiday Sales Growth in Six Years. November 10, 2008 — The National Retail Federation predicts a mere 2.2 percent increase in retail sales this holiday season, the lowest rise since 2002 when growth hit only 1.3 percent. Value bundles, add-on sets and low prices will be key in pulling consumers toward more purchases, USA Today reported.

Japanese Toy Companies Feel Economic Crunch. November 10, 2008 — Namco Bandai Holdings Inc. and Tomy Co. Ltd. have both lowered their sales projections for fiscal 2008, expecting a decrease in consumer spending over the holiday season, which typically comprises 40 percent of annual domestic sales. Namco Bandai dropped its projections by 6.4 percent and is also cutting back on marketing and advertising, the Mainichi Daily News reported.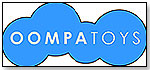 Oompa.com Expands to Brick and Mortar. November 7, 2008 — Online retailer Oompa, which specializes in European toy brands and specialty décor for children, is opening a store in Middleton, Wis., Saturday, Nov. 8. According to a press release, in addition to a broad assortment of toys, the store will feature toy-testing play tables, modern furnishings and even strollers and baby bags for parents.

Fat Brain Toys Announces Consumer-Picked Award Winners. November 7, 2008 — Online retailer and specialty toy manufacturer Fat Brain Toys has announced the 28 winners of its 2008 Fat Brain Toy Awards, which were selected solely by consumer vote on the company's website, according to a press release. Winners include Ultra Stomp Rockets from D&L Co., GeoToys' GeoPuzzle Europe, Automoblox Minis and Karito Kids dolls by KidsGive.

National Toy Hall of Fame Welcomes ... the Stick? November 6, 2008 — That's right. The stick, along with the baby doll and the skateboard, has just been inducted into the National Toy Hall of Fame at Strong National Museum of Play in New York, bringing the total number of toys in the collection to 41. The most basic of these latest selections would no doubt please 7-year-old singing sensation Connie Talbot, who spent time in Jamaica drawing in the sand with a stick, as well as countless others who may've once used the stick as a light saber, sculpture piece or magic wand.

Mattel Cuts Global Workforce By 1,000. November 6, 2008 — Mattel announced Thursday it is making 1,000 job cuts worldwide — from layoffs, retirement and attrition — to counter rising expenses and increase productivity in the economic crisis. The Associated Press reported that the cuts will take about 70 employees from the company's Fisher-Price base in Illinois and will decrease its management and professional workforce by 8 percent.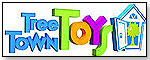 Specialty Store Tree Town Toys Announces Second Location. November 6, 2008 — The Ann Arbor, Mich., Tree Town Toys, co-owned by Hans and Tricia Masing, plans to open a second store in a 3,000-sq.-ft. space in Briarwood Mall Friday, Nov. 7. Tree Town is taking over a space from bankrupt Wilson Leather and expects strong interest based on the increased demand for their products this year, the Ann Arbor Business Review reported.

KB Toys Mimics Mega Retailers With Seasonal Price Cuts. November 6, 2008 — Joining Wal-Mart and other retail giants in a race to cut prices for early sales this holiday season, KB Toys has slashed prices on more than 400 toys for a special savings event that will run through Nov. 12. The company is also offering $10 Bonus Bucks toward a future purchase with any purchase of $30 or more, according to a press release.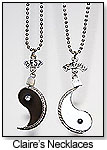 Claire's Recalls Children's Leaded Necklaces. November 5, 2008 — The U.S. Consumer Product Safety Commission, in cooperation with Claire's Boutiques Inc., announced a voluntary recall of about 67,000 Best Friends Yin Yang Necklace Sets that contain high levels of lead. The necklaces retailed at Claire's stores from April 2007 through August 2008.

President-Elect Obama Captured in Etch A Sketch Masterpiece. November 5, 2008 — Mr. Etch A Sketch Tim George released on election night one of his latest pieces of artwork — a portrait of President-elect Barack Obama created on the classic toy from The Ohio Art Company that will join the artist's 43 other presidential renderings in a display at the Ohio Statehouse, according to a press release. See photo here.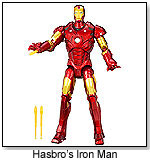 Iron Man's Success May Bring Marvel a Less-Happy New Year. November 5, 2008 — Unexpected profits from "Iron Man" brought more money to Marvel earlier than expected, according to The Hollywood Reporter. While revenue for 2008 was expected to come in at $480 million, it's now predicted to go as high as $670 million, but 2009 projections have been downgraded from $610 million to $460 million. Marvel has no new film releases planned for next year and the early income from "Iron Man" accounts for most of the money they'd expected to gather from the film and its related licensed products. The company also expressed concern about whether manufacturers and distributors of its toys and games would be able to obtain the credit needed to keep the products flowing in the new year. Despite the mix of news, the price of Marvel stock shares rose 1.9 percent on election day.

China Struggles to Maintain Toy Market. November 5, 2008 — Migrant workers are leaving China's Guangdong province, where one-fifth of Dongguan's small factories shut down this year. More than 3,000 fewer toy companies in Guangdong were exporting at the end of September, compared to 2007; and Shengda Clothes and Toy Corp. hasn't gotten new orders for Christmas since August, in a season that generally runs through October, Xinhua reported. However, exports of toys to select countries increased through the third quarter of this year, compared to last, climbing 90 percent and 43 percent to Brazil and India, respectively.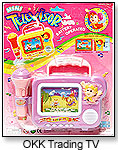 Toy TVs Recalled for Lead. November 4, 2008 — The U.S. Consumer Product Safety Commission, in cooperation with King Import Warehouse, has announced a voluntary recall of about 2,100 "Mini-Televisor" Toys due to surface paint that may contain excessive levels of lead. The product was sold at www.okktoys.com from July through September 2008.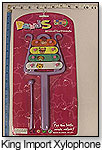 Toy Xylophones Recalled for Lead. November 4, 2008 — The U.S. Consumer Product Safety Commission, in cooperation with King Import Warehouse, has announced a voluntary recall of about 144 toy xylophones that retailed at dollar and 99 cent stores in Texas from December 2007 through February 2008 because the surface paint contains excessive levels of lead.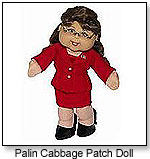 Palin Takes First in eBay Auction of Cabbage Patch Candidates. November 4, 2008 — The results are in! The Marine Toys for Tots Foundation will take in a $36,950 donation thanks to Jakks Pacific's eBay auction of its one-of-a-kind presidential and vice-presidential candidate Cabbage Patch Kids dolls that ended Tuesday morning. The doll fashioned after Gov. Sarah Palin pulled in the highest bid at $19,000; the others followed at $8,400 (Sen. Barack Obama), $6,000 (Sen. John McCain) and $3,550.01 (Sen. Joe Biden).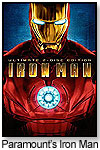 DVDs Can't Keep Up With Box Office. November 4, 2008 — Sales of DVDs were down in October, as much as 30 percent during one week-over-week comparison with 2007. Although this year's "Indiana Jones: Kingdom of the Crystal Skull" and "Iron Man" performed about as well as "Transformers" did at the box office last year, DVD sales of those two releases didn't match up, according to ICV2.com.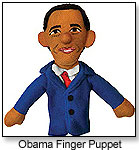 Obama Beats McCain in Toy Sales. November 4, 2008 — PhilosophersGuild.com reports that toys and novelties fashioned after Barack Obama have outsold those related to John McCain over the last few months. Obama items have seen greater demand, according to a press release, following an overall trend toward toys with a Democratic theme.

Europe Expects Annual Gain in Toy Sales. November 4, 2008 — Despite the credit crunch and fears of limited holiday spending, Chairman Bryan Ellis of Toy Industries Europe said he anticipates 1 to 2 percent growth for the toy industry in Europe this year. Europe is seeing an increase in toy manufacturing due to factory closures in China, and Ellis noted that consumers should have more confidence in their shopping since there have been fewer toy recalls than in 2007, Reuters reported.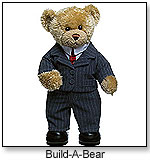 Build-a-Bear Lets Go of COO. November 3, 2008 — Build-A-Bear Workshop has not provided a reason for recently firing its president and chief operating officer. Scott Seay, who had been with the company since 2002, was let go Oct. 31 without severance pay, Reuters reported.

Little "TinTin" May Go Big Time. November 3, 2008 — French-comic character TinTin and his little dog Snowy are being pushed toward the big screen by no less than Steven Spielberg and Peter Jackson, who are in the midst of a search for financial backing. TinTin-related giftware is already a good seller in some specialty toy stores. Spielberg is in the midst of directing the first TinTin film, according to The Hollywood Reporter, and Jackson is slated to direct the second. The filmmakers are in talks with Sony.

Drugged-Up Kids Signal More Trouble With Obesity. November 3, 2008 — The number of children who take medication for type-2 diabetes doubled from 2002 to 2005, reported USA Today. Physicians point to the increase in obesity as the underlying cause for the upward shift. There were also dramatic increases in prescriptions for high cholesterol, asthma, attention deficit disorder and hyperactivity. Smaller increases were seen for prescriptions related to depression and high blood pressure.



High School Musical 3 Weathers Recession. November 3, 2008 — If you're considering licensed goods this holiday season, "High School Musical 3" paraphernalia might be your best bet. For the second week in a row, "High School Musical 3: Senior Year" topped the box-office lists, pulling in $15 million over the weekendm, for a total of $61.8 million since its debut, said The Hollywood Reporter. "Beverly Hills Chihuahua" remained at #4 for weekly totals, was edged out of the top 5 this weekend, coming in at #6.

YoYo Joe's Toy Store Celebrates Grand Opening. November 3, 2008 — Specialty store YoYo Joe's Toys & Fun, owned by Joe Mitchell Jr. and his wife, Emily, celebrates its grand opening today in Wilmington, Del. It was Mitchell's grandparents who opened Mitchell's Trains, Toys & Hobbies in the town 55 years ago. The toy and hobby emporium recently closed its doors, but memories of the store live on in photos along a back hallway at YoYo Joe's, the News Journal reported.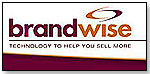 Ganz Signs With Brandwise to Optimize Sales. October 31, 2008 — Ganz announced it is now contracting with Brandwise to use its SalesOptimizer program, which will allow the maker of Webkinz to access key sales data, including purchasing trends on a Google map, via Web-based applications at any time. The program includes features for senior management and sales reps alike, and is designed to foster more efficient relationships and better service with retailer clients, according to a press release.

Doll Gets Pinned, Not Banned, in France. October 30, 2008 — A voodoo doll resembling French President Nicolas Sarkozy has gained cult status since the politician tried to have it banned after it went on sale October 9. A French court threw out a lawsuit filed by the politician, reported the New York Times. Sarkozy's attempt to appeal that decision drew ridicule from his critics. The lawsuit and subsequent press coverage have only boosted the doll's sales and popularity.
THIS BANNER IS AN AD:
---
---