---
TDmonthly's Book Expert
One Educated Bookworm's Opinion
If you want to know which books to sell in your toy store, find out what kids have to say about them. Each month, literary agent Sheri Williams reads new titles to children, gives her educated opinion on positioning and sales to

TD

monthly Magazine readers, and rates them with 1 to 5

TD

s (for

TD

monthly!), with "5" as the highest rating.

Recently, she celebrated Christmas with the beloved Three Little Pigs, marveled over a worthwhile telling of Johnny Appleseed's story, and prompted third-graders to discuss their own "green" initiatives.



Title: The Three Little Pigs' Christmas
Author/Illustrator: Larry Carney
Publisher: PC Treasures
Gender: Boys and Girls
Age: 3 to 8
MSRP: $6.95



TD

monthly rating:




What It Is: Wow! This is an amazingly cute story set in the tone of the traditional "Night Before Christmas." I always wondered what that Big Bad Wolf was up to, and now I know — he's still after those pigs! Thankfully, Santa comes to the rescue and there's a Merry Christmas after all.

Why You Should Carry It: This exciting, rhyming story is one in a series of "The Night Before" books. The illustrations are delightfully entertaining to the point of telling the story all on their own. The books include a CD with the read-along and tons of Christmas songs. The series is excellent for home collections and daycare centers, not to mention library story time. When teachers were asked about the use of the CD as a learning tool, one responded, "I would like to see this as part of our Accelerated Reader program." Parents feel confident that their children are doing something fun, yet constructive, when utilizing the interactive CD. Additional titles in the series, equally as delightful, include "The Little Mermaid's Christmas," "The Three Bears' Christmas" and "The Gingerbread Man's Christmas."

What Kids Think: "The Three Little Pigs' Christmas" was definitely a hit. In settings with children aged 3 to 8, reading the story once was just not enough. In each group, I was asked to "read it again!" The kids liked the book by itself more than with the read-along, but the songs were also popular. When asked if they would like to hear more stories like this, the answer was a unanimous "Yeah!" We ended up spending the afternoon reading the series, listening to the CDs, and enjoying the magic of books.

---

Title: Johnny Appleseed
Author/Illustrator: Jane Yolen/Jim Burke
Publisher: HarperCollins
Age: 6 to 9
Gender: Boys and Girls
MSRP: $16.99



TD

monthly rating:




What It Is: Most school-age children have heard of Johnny Appleseed, but making the story interesting for young readers has always been difficult — until now. The illustrations in this book are amazing, and the content is rife with facts that keep the attention of readers from age 6 and beyond.

Why You Should Carry It: Jane Yolen has succeeded in taking a timeless story and adding her own flair, which indicates that "Johnny Appleseed" will be read repeatedly both at home and in the classroom. The book is excellent for educators who want to teach about legends and for parents who simply want their children to read interesting and educational stories.

What Kids Think: Kids, from age 6 to 8, gathered in an informal setting. I read the book aloud, receiving tons of comments and questions afterward. "I bet he was cool!" "Johnny Appleseed was a real man?" Four children wanted to know where they could buy the book!

---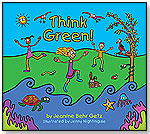 Title: Think Green!
Author/Illustrator: Jeanine Behr Getz/Jenny Nightingale
Publisher: Kids Think Big
Age: 4 to 10
Gender: Boys and Girls
MSRP: $14.95



TD

monthly rating:




What It Is: Millicent, the central character, is determined to make the world a better place. Her friends, on various missions to save electricity, conserve water, reduce waste and pollution, and participate in a number of other "green" projects, join her. Millicent's main objective is to show kids that anyone can "think green" and make a difference.

Why You Should Carry It: The text and illustrations enhance one another, but moreover, the book is truly informative. It entertains but also educates. Best of all, kids won't know they are being "taught." This story is an ideal fit for home or school and provides examples of how kids can be responsible to the earth no matter their age. I recommend this book for public service agencies, as the content fits with most national environmental programs.

What Kids Think: In a third-grade class of about 20 students, the story brought excitement. Kids shared their personal "green" experiences; one child even suggested that schools give out the book at the start of the year as a "rule book" for how to keep things neat at school.

---

Title: Bitty Fish
Author/Illustrator: Barbara deRubertis/Eva Vagreti Cockrille
Publisher: Kane Press
Age: 3 to 7
Gender: Boys and Girls
MSRP: $5.95



TD

monthly rating:




What It Is: At first, I thought I was reading a modernized knock-off of a Dr. Seuss book! But the more I read, the more I enjoyed the cutesy rhyme. The story introduces us to Bitty Fish. Bitty wants a bigger dish in which to swim and swish, but her owner, Kim, has other plans — a big dish for two fish!

Why You Should Carry It: Bitty Fish is a classic rhyme-and-learn type of story that kids and educators love. It is part of a series of titles that engage children to learn about vowel sounds and combinations. Best of all, the books are perfect for home and school and include suggested activities for additional learning.

What Kids Think: In a small class of first-graders, the story was "liked" but not necessarily one of their favorite picks. When reading the story to a group of 3- to 4-year-olds, outside of class, the interest levels picked up. Overall, I believe kids like the story, but the thought of it being a "learning tool" was a turn-off.

Writer's Bio:
Sheri Williams has been in publishing for more than 19 years. As a literary agent, she has reviewed and pitched hundreds of juvenile titles. She is also a published author, freelance writer and editor. In addition to her roles as agent, writer and editor, she has a background in Criminal Justice with interest in juvenile studies.
Read more articles by this author
THIS BANNER IS AN AD:
---
---