---
Strategic Word Play Game Earns Reviewers' Praise
Tweens and Teens Challenge Themselves and Others With Jumbulaya
"When the children ask to play a game daily, we know it's a winner." — Teresa Wilson

TD

monthly Magazine's Tweens & Teens Roundtable took word play to a higher level with Jumbulaya, the ever-changing word play game … and had so much fun they wanted to play again and again.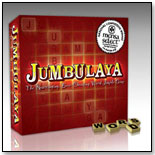 JUMBULAYA: The Rearranging, Ever-Changing Word Jumble Game by PLATYPUS GAMES LLC
Age: 10 and Up
Category: Board Games
MSRP: $29.95



TD

monthly rating: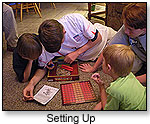 What It Is: At first glance a simple spelling game, Jumbulaya is actually a strategy-based game in which players can rearrange words and thus thwart each other from round to round. They can build upon an existing word by adding, removing, or rearranging tiles to build new words and thus claim the line, as determined by line markers. A "Jumbulaya" is a 7+ tile word that can be seen vertically on the game board amid the nine horizontal levels.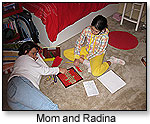 What the Moms Thought: "I like that it encourages a different way of thinking about how the letters can be rearranged to form new words," Christensen said. Jenkins agreed, noting that the opportunity to rearrange words made it "more of a challenge than Scrabble." Between turns, players can still search for a Jumbulaya, added Christensen, so "there's no real 'down time' in this game."

Lilova liked the materials used for the pieces, and she and Wilson appreciated the drawstring letter bag. Wilson was glad to see game play accommodate up to four players, and she noted that the indented game board "prevented the letter tiles from sliding out of place."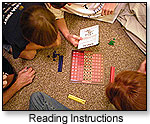 "It is simple enough in premise that 9-year-old Joe could play as well as (age omitted) Dad, so it crosses generations for those reading age and up," Ledford explained. "The challenge wasn't just to spell a word, but to thwart other players in the process," she continued.

What the Kids Thought: "You can be thinking and strategizing while others are taking their turns," said Mac (15). Josh (11) enjoyed the ever-changing words and figuring out his next play. Christensen observed "lots of giggling and laughing, and saw brows furrowed in concentration" when her four boys played Jumbulaya.

Radina (11) enjoyed learning new words. Lilova commented, "The rules were very easy to follow, so we didn't constantly have to refer to the instructions." Like Jenkins, Timothy (16) and Victoria (13) found Jumbulaya more challenging than Scrabble, and although younger than the recommended age of 10, Elise (9), Joe (9) and Steven (8) were able not only to play, but to enjoy it immensely. "This is great!" exclaimed Elise (9), and Steven (8) asked, "Can we play it again?"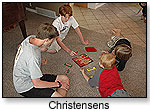 The Wilsons and the Ledfords opted not to keep score as they found keeping score tedious; the Wilsons based winning on "the player who claims all the lines or the first to spot a Jumbulaya."

Victoria (13) and Joe (9) "enjoyed challenging other players' words at times, especially if the player in question was mom," Ledford said wryly. They tended to focus their play upon lines other players had marked, rather than just using the simplest play possible.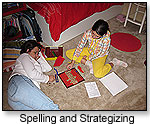 What the Kids Learned from this Toy: "While the younger ones [were] thrilled at discovering suffixes and prefixes to add to the board, the older boys enjoyed the challenge of altering one another's words (such as changing 'destroyer' into 'restrooms')," noted Wilson.

Radina (11) expanded her vocabulary and learned the importance of a dictionary. Jumbulaya "employs word play, spelling, vocabulary [and] definitions (we had to look up a few words that were challenged during play), as well as strategy," observed Ledford. "As a home-school parent, I like games that are educational and fun," she added. "This one is especially fun."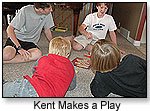 How to Improve It: Mac (15) would like to be able to play with more than four players. Lilova would like to see a larger game board. "Josh (11) thought there should be some kind of rule to prevent players from repeatedly making the same change to a word," Christensen reported. The Ledfords also faced this dilemma when 'bound' was changed to 'wound' and back several times.

Ledford recommended that "the board be elevated somewhat on a base that allows the board to swivel to face each player," and Christensen agreed.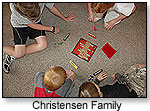 Would You Want Another Toy Like This? Wilson called Jumbulaya "a good learning/exercise tool for [the children] to engage in." She added, "When the children ask to play a game daily, we know it's a winner."

Roundtable participants are homeschool parent Sue Christensen with Mac (15), Kent (13), Joshua (11) and Ben (7); office assistant Charlene Jenkins with Taylor (17), Terence (13), Tabitha (11) and Timothy (9), Tori (7) and Titus (5); Susan Ledford, editor of the "Homeschool Resources Directory for SC," with Victoria (13), Joe (9) and Griffin (3); research scientist Kostadinka Lilova with Radina (11); and Teresa Wilson, editor of "HOMES Newsletter," with Timothy (16), Andrew (12), Elise (9) and Steven (8).

Writer's Bio:
Susan Ledford is the writer, editor and publisher of the "Homeschool Resources Directory for S.C." She has been evaluating toys and games for
TDmonthly
's Roundtable reviews since 2005. She also is a homeschool veteran of seven years.
Read more articles by this author
THIS BANNER IS AN AD:
---
---