---
Six Predictions For the Toy Industry for 2008 … Revisited
Costs Rose, Demand Took a Dive, and "Green" Reigned Supreme
"This best-case scenario would still make it the worst performance in recent history."

November 18, 2008 — On Jan. 1, 2008, I made certain predictions for the toy market in the United States. Now, 10 months later, is probably as good a moment as any to revisit my predictions to determine to what extent these came true and to speculate what the last two months of this year will bring.

1. Costs Will Rise

This has been proven to be undoubtedly true and is likely to continue into 2009 if Bob Eckert's comments at Mattel's Q3 Earnings Call on October 20 are any guide: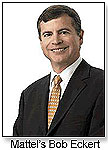 "The benefit of this year's mid- to high-single-digit price increase and a lower recall related costs were not enough to offset cost pressures from commodities, Chinese labor rates, the appreciating Chinese currency and incremental product testing costs. Given the continuing cost pressures, it's likely we'll raise prices for 2009."

However, with the dollar rattling up and oil rattling down, I think we shall see an easing of cost pressures on American toy manufacturers in the coming year.

2. Demand Will Decrease

There is no doubt that this has happened and continues to happen. My own retailer panel sell-through data tells us that with the exception of one month so far, declines were continuous: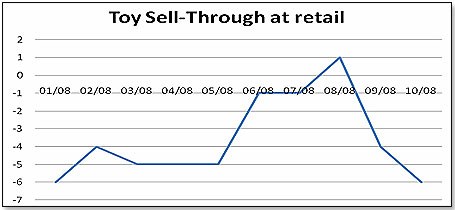 The outlook for the remainder of the year is no better as per the most recent consumer survey carried out by Change Wave Research a few days ago: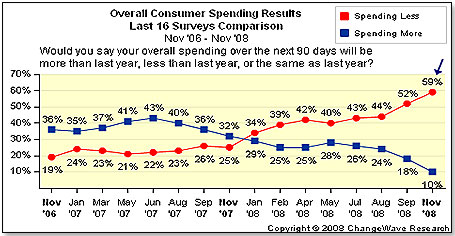 In fact, at this point, the buyers at the large retailers expect as a best-case scenario a decline in the U.S. toy market of minus 5 percent in dollar terms in the fourth quarter. This best-case scenario would still make it the worst performance in recent history.

3. Consolidation in Channel Market Shares Will Continue

We had seen last year an increase in market share by the big-box retailers at the expense of other mass retailers. We also saw specialty retailers defend their market share and the Internet expand market share, again at the expense of other mass retailers. My prediction was that these trends would continue into 2008.

This is what David Hargreaves, the COO of Hasbro, had to say on the subject during the company's Fall 2008 Analyst Meeting on Nov. 12: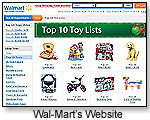 "The customer consolidation clearly there has been an ongoing trend in the United States where Wal-Mart, Target and Toys "R" Us are taking an increasing part of the overall market share of the toy industry. I suspect that that will continue as we go forward."

As for the Internet, Forrester Research predicted on Nov. 6, 2008, that toy sales over the Internet would increase by 12 percent this year.

It is still too early to say whether Specialty did indeed defend its market share. Anecdotal evidence suggests that this is not the case and that particularly the small stores are being badly hurt by a double whammy — declining store traffic and increasing price disadvantage versus big-box retailers.

Looking toward the last two months of this year, the ongoing ferocious price war between the three majors — Wal-Mart, Target and Toys "R" Us — is likely to further drive market share to the big stores and away from the small ones. It is also likely to result in fairly significant reductions in the number of small- to medium-sized retailers. The fate of Boscov's and Linens N Things is likely to be repeated several times over.

4. Innovation in Materials Will Accelerate

I predicted that two things would happen in 2008: Green toys would emerge and eco-friendly packaging would be mandated by the big-box retailers.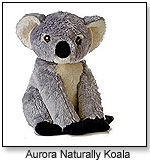 The first is now in its early stages as per CNBC, which reported on Nov. 14 about the success of Mattel's "green" Barbie at Toys "R" Us and the impact other eco-friendly products are making — Aurora with its eco-plush organic products, Hape with its bamboo Rapelli game, USAopoly's Planet Earth toy range and Toys "R" Us' own Natural range.

The second prediction – eco-friendly packaging – has so far not materialized to any significant extent.

5. Consolidation of Manufacturers Will Accelerate

This has occurred big-time. Three toy entities went out of business and a whole bunch of others sold out:

Hoop Holdings LLC – went bankrupt
Valley Toy Distributor – went bankrupt
Sababa Toys – went bankrupt
James Galt & Co – acquired by Elmers
Gund – bought by Enesco
Thinkativity – bought by Step2
Cranium – bought by Hasbro
International Playthings – bought by Epoch Co. Ltd.
Tollytots – bought by Jakks Pacific
Kids Only – bought by Jakks Pacific
Publications International – acquired by RC2 (but fell through because of credit issues)

There are several more companies widely expected to be seeking a white knight before long, including Mega Bloks, Rokenbok and Brio, among others. Also, Publications International is expected to seek and find another acquirer within the next couple of months.

6. Product Innovation Will Languish at Big Retailers

I said this because I felt that cost and price pressures on one side, and continued consolidation in favor of the big-box retailers on the other, would stifle innovation.

The only significant new technology to emerge this year is, in my opinion, LeapFrog's FLY-based new electronic learning range — didj, TAG and Leapster 2 — and the VTech motion-based product range. These represented a mere two out of the 20 products identified by the buyers as potential top sellers for Christmas. All the other products were rehashes.

Writer's Bio:
Lutz Muller is a Swiss who has lived on five continents. In the United States, he was the CEO for four manufacturing companies, including two in the toy industry. Since 2002, he has provided competitive intelligence on the toy and video game market to manufacturers and financial institutions coast-to-coast. He gets his information from his retailer panel, from big-box buyers and his many friends in the industry. If anything happens, he is usually the first to know. Read more on his website at www.klosterstrading.com.
Read more articles by this author
THIS BANNER IS AN AD:
---
---