---
TDmonthly's Music Expert
She'll Tell You Which Albums Hit the Right Notes
If you want to know which children's CDs may be worth carrying in your store, see what

TD

monthly's Music Expert has to say. Each month, she listens to music from various publishers and rates each album with from 1 to 5

TD

(for

TD

monthly!) stars — 5 is the highest rating. With the following albums, she enjoyed a strong variety of musical styles and experienced how songs can put both minds and bodies in motion.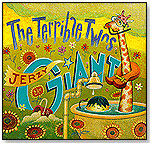 The Terrible Twos: Jerzy The Giant by Poquito Records
Gender: Boys and Girls



TD

monthly rating:




My Impressions: This is a great album with creative lyrics that appeal to kids of all ages. It features an upbeat pop-rock style, a clever sense of humor, short songs suitable for kids' attention spans (the longest is 2:25), educational components, such as an explanation of music notes via lyrics in "Amelia Minor" and consonant lists in the song "Consonants," and an invitation for movement: "Jump Jump Jump" encourages kids to jump and flap their arms to the music.

Kids Perspective: The first thing my 2-year-old daughter said when she heard this collection of songs was "I like CD!" It kept her interest for the entire length of the album. She was dancing, singing and jumping the whole time! I think she would definitely recommend it to her friends.

Recommendation: I appreciate the creativity and musicianship displayed by the artists, and the overall appeal that the album has for the whole family. It's obviously written with kids in mind, but is easy for adults to enjoy as well!

---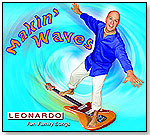 Makin Waves by Leonardo Music
Gender: Boys and Girls
MSRP: $12.99



TD

monthly rating:




My Impressions: This is a cool CD with a retro-style, pop-rock sound. From a musician's perspective the instrumental music is well done and is a pleasure to listen to. The lyrics have a "water" theme; I think it would make for fun listening while at the beach or pool. The songs have a good overall message. The third track, "Making Waves," is about standing up for what is right in the midst of opposition. "One Person" is about making a difference for the environment. As a side note, Leonardo sets a good example by using all green materials in the making of the CD case — very cool!

Kid's Perspective: My 2-year-old daughter especially liked the song "Buried Treasure" and listened very thoughtfully to the entire CD. She even tried to sing along and made sure to tell me that she liked it.

Recommendation: This is a special CD with a distinctive message, and it's fun for the whole family! Also, I wouldn't be telling the whole story of this album if I did not mention that Leonardo is an advocate for those with Down's syndrome and autism. He performs for special-needs kids at camps and fundraisers and has dedicated quite a few of his songs to kids with special needs. This CD even features a group of kids who have Down's syndrome.

---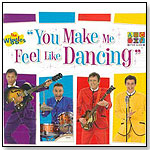 The Wiggles: "You Make Me Feel Like Dancing" by Koch Entertainment
Gender: Boys and Girls
MSRP: $18.00



TD

monthly rating:




My Impressions: Music and musicians from around the world — what a treat! This album features several languages and multiple musical styles, all of which are convincing in their execution. The musicians are top-notch and it was nice to hear some instruments not often heard on kids' albums —piccolo, trumpet, accordion, flugel horn, viola, cello, and Mexican-style guitar. My husband and I were laughing aloud at the "turkey" sounds that were incorporated into the song "Turkey in the Straw." Overall, it was well done and I appreciated being able to clearly understand the lyrics, which made it even more hilarious. "Tales of the Vienna Woods" is a pretty, instrumental arrangement of a traditional Strauss tune. It's authentic in style and brings a nice classical element to the album.

Kid's Perspective: My 2-year-old daughter definitely enjoyed dancing to this one, and I'm sure many other kids will as well!

Recommendation: The musicians are very versatile, shown by their ability to play a variety of musical styles extremely well. The songs are fun and refreshing.

---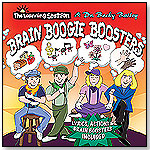 Brain Boogie Boosters by The Learning Station
Age: 3 to 8
Gender: Boys and Girls
MSRP: $15.00



TD

monthly rating:




My Impressions: This compilation of brain-boosting songs was created with a distinct purpose — to involve kids physically in ways that positively stimulate the brain. I'm no scientist, so I cannot verify the facts from the CD jacket about what each song is supposed to accomplish for kids, but it seems the creators of this album did their homework. [Editor's Note: Lauri Monopoli of The Learning Station explained to TDmonthly, "the brain concepts work and are actually being applied into school systems all over the world by Dr. Becky Bailey and her team at Conscious Discipline."]

The songs have simple melodies and basic beats, making it easier to focus on doing the motions. As a side note, I appreciate that with the popular wave of brain-improvement games, vitamins and puzzles, there's now a brain exercise for kids that involves fun music, too.

Kid's Perspective: My 2-year-old daughter was definitely interested and wanted to listen to it right from the beginning. However, it was the most fun for her when dad started doing the motions described in the songs, so it was easier to follow along. I think this would be true for any age child, because even I found it challenging to keep up with what the songs were telling me to do. I can see this being a good classroom activity in which kids follow a teacher who is familiar with the motions. Otherwise, I think most kids would have an easier time engaging in these brain boosters if they were presented instead on a DVD. I also noticed at least one time when a song mentions involving a friend, so this is not a CD for children to enjoy by themselves — it really needs other kids and probably an adult leader to make it work well.

Recommendation: I would highly recommend this CD to any teacher or parent looking for fun ways to keep children's brains engaged, while giving them a break from sitting still. My personal opinion is that it will work best in a group setting.

Writer's Bio:
Anna Bendorf received her Bachelor of Music in Piano Performance in 2004 from the University of Oregon, where she gained extensive experience as an accompanist and solo performer. While studying music, she won several piano competitions and sang in the University audition choir and the Symphony Chorus. She has been teaching piano for the past 14 years, and she and her husband, Adam, run Alberti Publishing, a music publishing company. They co-authored a book for piano teachers called "The Right Notes" (November 2008). Adam and Anna have two daughters.
Read more articles by this author
THIS BANNER IS AN AD:
---
---