---
Adding On: Generating Revenue Beyond Toy Sales
Books, Services and Consulting Can Boost the Bottom Line
"If there is something in your neighborhood that people want and no one has, you can definitely bring in other products for children." — Lauren Obenour, Green Frog Toys

The right complementary products and services can generate extra revenue for a store and keep customers returning regularly. Here are tips from stores

TD

monthly Magazine has interviewed on bringing in additional income for their businesses:


1. Cater to More Ages and Demographics. While Izilla Toys in Seattle stays primarily focused on specialty toys for children, an expansion into a larger space and different community allowed the store to bring in comic books and collectibles for older kids and adults. "It all fits together," said Co-owner Jude Larene, who noted that once people started seeing the new products, word spread "like wildfire."

2. Invest in New Departments. In 2008, Janet Gregory, owner of Over the Rainbow Toys in Anchorage, Alaska, opened a large book room with products ranging from board books for babies to novels for young adults. "There's nowhere on this end of town to buy books, and a good selection of kids' books isn't easy to find anyway," she told

TD

monthly.

Lauren Obenour, manager of Green Frog Toys in Portland, Ore., agreed that picking up product not offered elsewhere is a great way to expand. "If there is something in your neighborhood that people want and no one has, you can definitely bring in other products for children."

3. Become a Consultant. "I help a lot of new toy inventors get an opinion," said Christine Osborne, owner of two Wonder Works stores in South Carolina. Charging by the hour allows her to step away from her primary business duties and spend dedicated time with people who come to her for advice. She provides focused critique and brainstorming on their product or idea based on nearly 20 years of running her own business.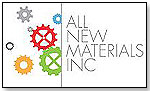 4. Become a Distributor. All New Materials is the distributor for the Deglingos and Our Children's Gorilla lines of toys. Ryan Hamilton, founder and vice president, started the business to diversify his Ohio toy store. "It's helped a lot as a distributor to know how I wanted to be treated as a retailer," he told

TD

monthly.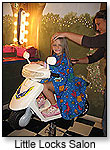 5. Incorporate Other Activities. In a 2007 article spotlighting On The Park of Kingwood, Texas, Owner Fred Rosenberg described to

TD

monthly his plans for opening a café inside his store. It gained popularity with moms and dads even before construction was complete that November.

6. Offer New Services. Little Locks Children's Salon and Toy Boutique in La Jolla, Calif., started as a hairdresser for kids, with toys that parents purchased as a reward. Since then, the toy store section has expanded, and Owner Lesley Webb told TDmonthly in 2007 that kids shopping as they waited for their haircuts really boosted toy sales.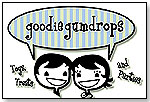 7. Host Children's Events. "We do on-site birthday parties, which is huge," said Colleen Nelson, owner of Goodie Gumdrops in Burien, Wash. Nelson also donates her popular birthday party service to charities and school auctions, generating business when families later plan their parties and invite friends.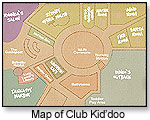 8. Go Beyond. The Australian-themed Club Kid'doo, still under construction in Montclair, N.J., is a veritable education and amusement park that combines a toy store, salon, café, aquarium, indoor and outdoor play space, wide array of classes from science to digital photography, and more. "The great thing about the retail space is that everyone who visits the Club will have to walk through it," said All New Materials' Hamilton, also buyer and retail director for the Club. "Also, while most of the Club is members only, the toy store (YakkaToy Harbor) is open to everyone."

For Jude Larene, the expansion into comics was "something we just always wanted to do." Christine Osborne said she values the opportunity to use her experience to contribute to the future of specialty toys in the market. Whatever the motivation, offering a full spectrum of products, services and opportunities can generate new revenue, boost sales of core merchandise, and build a business into a well-known destination.

Writer's Bio:
Marie Raven has a long history with the specialty toy industry as a family business. In addition to freelancing for TDmonthly Magazine, she writes creative and technical material for various other businesses.
Read more articles by this author
THIS BANNER IS AN AD:
---
---