---
Retailer Spotlight: Moon Rabbit Toys
Store Thrives on Open-Toy Policy and American-Made Options
"Read the fine print, because those contracts they have you sign are very tricky." — Shana Hack, Moon Rabbit Toys

For Shana Hack, owner of Moon Rabbit Toys in Santa Fe, N.M., the desire to open a toy store came slowly.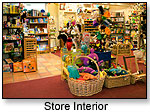 "I had been working in various toy stores for over 10 years," she told TDmonthly Magazine. "One day, I decided I wanted my own toys. I had learned so much about the toy industry, and I truly love toys, so I figured I could do this myself."

Shana opened her store on Sept. 16, 2005, with the philosophy that toys aren't only for little ones. Believing that toys should be for all ages, she vowed to provide a wide variety of "games and puzzles and gizmos and just plain fun stuff for everyone."

PLAYING WITH CAPITALISM

However, she admitted she was a bit worried when she first started, since she knew nothing about "that Capitalism thing" of owning a business.

"I recommend to anyone who has questions about business to contact SCORE," she said. "I don't think I could have done this without all their advice."

That advice, she told TDmonthly, included everything from choosing a location and making sense of a lease to negotiating with banks and keeping employees happy.



Next, it became important to get word out that the store existed. Although it was located in the center of a mall near the Santa Fe Plaza, no one could see it from the outside.

"For the first few months, we only had customers who had wandered into the mall to look around," Shana said. "Eventually, with a lot of advertising and also word of mouth, people started to find us."

Shana began by placing ads in the free local paper and in the special sections of the New Mexican, spending roughly $500 per month on advertising and boosting the number of ads for fourth quarter. She has increased advertising by about 40 percent each year, however, and "continue[s] to look for new outlets to advertise in," recognizing that Moon Rabbit Toys gains nearly one-third of its customers that way.

BATTLING SERVICE COMPANIES

One of Shana's biggest mistakes involved "those stupid credit card machines," she said, since she lost money in fees from trying to get a better plan.

"We all have to have credit card machines, and the companies which provide the services are out there to get as much money as possible," she told TDmonthly. "Read the fine print, because those contracts they have you sign are very tricky," and may include hidden and processing bank fees.

"Debit pin-pad machines ... are the true rip-offs," she warned. "One only saves money when running a debit card if the charge is over $40. Otherwise, it has to be run as a credit card. ... I am stuck with a pin-pad machine for another four years ... [and] have to pay $25 every month for a machine that I rarely use. So, don't commit to pin-pad machines unless the majority of your sales are over $40."

Shana previously worked with a company through her bank that demanded nearly 4 percent on charges, as well as providers Wholesale Market Processing and Prodigy Payment Systems. She has recently switched to National Processing Solutions but is unsure of whether that company will make the cut.

Still on the lookout for the perfect credit card machine provider, Shana recommends asking some of the following questions prior to signing: "Is debit going to cost more than credit? What is the fee for each transaction? Will there be an extra fee for plugging in the numbers if the card doesn't swipe? Lease or buy equipment?"

BUYING AMERICAN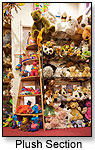 One of her aspirations is to provide toys that are manufactured in America, or made elsewhere under fair labor conditions.

"Not all of our toys fit under this category, but we do what we can," she said. "We truly believe in 'buying American,' so we offer that option to our customers, and they really appreciate this. Many people buy our toys because they care under what conditions the toys were made."

Shana noted that she relies on her reps for advice and information, and if her customers suggest a toy for the store, she tries to find it.

OPENING UP FOR BUSINESS

Another secret to Moon Rabbit Toys' success is that one of nearly every toy in the store is open, allowing kids and adults to sit on the floor and try out the products before buying. The store also has a game lending library, so customers can borrow games for a few days to make sure they really want to purchase them.

"The fact that we all love toys and want to play, too, really helps," Shana said about her staff. Her advice to other toy-store owners is that the venture should be about loving toys, not just wanting to own a business.

"The heart of a toy store is the owner's and employees' love of play," she told TDmonthly. "Without that, the store is just another store. Make your store special and love what you carry."

Writer's Bio:
Brenda Ruggiero is a freelance writer from western Maryland.
Read more articles by this author
THIS BANNER IS AN AD:
---
---