---
TDmonthly Goes Inside … Three Cheeky Monkeys, Los Angeles
Hands-on Play Brings Big Rewards
Wallace Harvey bought Three Cheeky Monkeys in Los Angeles from the original owner seven years ago, after having worked as an employee in the store, he told TDmonthly Magazine. Without much planning, the store was divided into various play areas that allow kids to interact with toys and books before they buy. In addition to a truck room and a doll space, the store features a living room and library, where moms can lounge while kids read or play with Plan toys.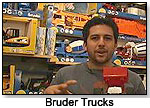 A truck fan himself, Wallace arranges monthly excursions to the park for local kids. He brings with him dozens of sturdy Bruder trucks that can withstand serious outdoor play. These events help bring customers into the store and allow children who might not otherwise have the chance, to play with high-quality specialty toys.

Four months ago, Wallace moved to a new location, twice the size of the original store, in the same mall. Despite the relocation, customers have found their way back to him.

He researches new toys by a combination of sales reps, trade shows, clients and online sources, such as TDmonthly.

Watch the video below to learn more about Wallace and his Three Cheeky Monkeys.
Get the Flash Player to see this video.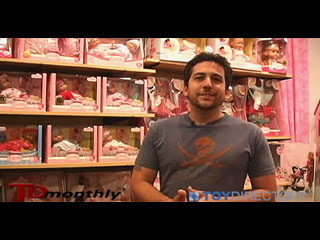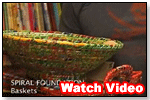 See the video at left to learn about how he both sells and uses products from The Spiral Foundation, and then scroll down to watch videos of some of his best sellers.







Made of plastic and lined with pretty floral fabric, this lightweight yet sturdy infant carrier - complete with seatbelt - is ideal for little Moms on the go and their baby dolls.

.

AD
---






.

AD
---






Soft and light, Minireves Bright is an adorable snuggly that will delight the very young. 6", machine-washable Minireves Bright also jingles softly when you shake her.

.

AD
---






Beautifully sewn and finished, Corolle's accessory fashions for the 14" baby dolls reflect the meticulous attention to detail that is a company hallmark.

.

AD
---






Now little kids can mimic big sis and bro with their own designer backpack. Made of lighweight vinyl, it's perfect for toting around favorite toys and stuffed animals.

.

AD
---






This sturdy backpack will help kids get their stuff from point A to point B.

.

AD
---






.

AD
---






Shimmery fabrics and exceptional detailing make this mermaid glisten. An easily removable tail reveals a snazzy skirt and legs to take Macy from sea to shore in no time.

.

AD
---






Groovy Girls can travel in style with their own plush horse.

.

AD
---






.

AD
---






.

AD
---






Kids who dream of cuddling with dinosaurs can get their wish. Even the horny plates on this Stegosaurus are soft and lovable.

.

AD
---






Artist Yomiko has created another realistic forest dweller for Russ Berrie. This cuddly deer makes a great room decoration or a cuddly pal to keep company with at night.

.

AD
---






Just like the "real thing", goods on this Mack DHL container truck can also be loaded and unloaded through the rear swing doors. Another great playing option this toy has to offer is the vehicle's swap trailer, which detaches automatically from the vehicle when the support legs are pulled out and set up to allow the lorry to move out from underneath the trailer. Separately available swap trailers allow you to realistically imitate a freight forwarding business. Another special characteristic is that you can use swap trailers as a construction kit and combine certain components with several swap trailers to form, for example, a vehicle garage. It measures 59.5 x 26.5 x 18.5 cm.

.

AD
---






The tipping driver's cab of the MAN cement mixer provides a view of the engine block. The mirrors of the driver's cab fold out and the water tank can be filled. The drum with integrated mixing spiral can be turned by operating a crank and the cement chute can be folded out. A bucket is included and tread tyres round off the image. To add to the fun of playing, the MAN cement mixer can be equipped with the Light and Sound Module [art. no.: 02801] (not included). It measures 46.5 x 26.5 x 17.5 cm.

.

AD
---






The front end loader from the ROADMAX series is a sturdy toy with a design suitable for small children with many realistic functions for playing fun. The transparent driver's cab that opens from above can be equipped with a play figure. Front and back end loader are fully functional and can be locked in position. The front shovel and the rear shovel can also be tilted or moved by operating the respective lever. Fold-out support legs ensure stability and soft tires complete the picture.

.

AD
---






This 10" dump truck includes two figures. The bed of the truck actually dumps.

.

AD
---






From the Under the Sea Collection, this sturdy lunch box will keep kids' midday meals safe from the sharks and other hungry predators.

.

AD
---






.

AD
---






Maurice Sendak's magical story has continued to delight generation after generation. This 24" soft and cuddly Bernard is based on Maurice Sendak's classic book.

.

AD
---






Maurice Sendak's magical story has continued to delight generation after generation. This 7" soft and cuddly Max is based on Maurice Sendak's classic book. Other sizes may also be available.

.

AD
---






.

AD
---






Kids can learn about healthy food choices by running their own market stall filled with wooden fruits and vegetables. Produce sold separately.

.

AD
---






The Parking Garage has three floors of parking space, a working elevator tower, attendant's booth and helipad. The set also includes a figure, car, gas station and car wash. It measures 19.3" x 13.8" x 13".

.

AD
---
THIS BANNER IS AN AD:
---
---