"… the kids couldn't stop making these designs." — Veronica Flamenco, mom

TDmonthly Magazine's Tweens Roundtable tried their hands at painting with sand with ArtiSands' Geometric Kit. Fifteen children from five families created geometric designs using the kit's precut adhesive templates and non-toxic colored sand. The simple kit, which contains only sand and adhesive templates, won over the reviewers— moms and kids alike.

Name: ArtiSands Geometric Kit
Company: ARTISANDS
MSRP: $14.95
Age: 8 and Up
Gender: Boys and Girls
Category: Arts & Crafts
TDmonthly rating: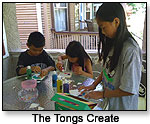 What It Is: ArtiSands Geometric Kit contains 18 precut adhesive designs and five shakers with non-toxic colored sand, and is packaged in a sturdy cardboard case for storage and portability.
What the Moms Thought: "For a parent, it was a complete art project and with no preparation requirement (complete with all necessary supplies) and little mess," raved Tong. Zuidema appreciated that the adhesive geometric templates made getting started so easy for Alyssa (9).
Flamenco loved the ease of set up and clean up, as well as the simple instructions. All of the moms were pleased with the minimal packaging. "The packaging was compact with little space wasted," said Ledford. "The sturdy cardboard box with a handle serves well as storage for the kit components between uses."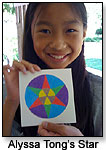 Having used glitter and glue to create designs in the past, Ledford found the sand kit provided similar finished works of art without a mess that lasts for weeks (as in Christmas glitter in July). Tong took the kit on the road to a baseball game for her children not playing on the team, and was soon joined by a crowd of kids. "Portability is key," she enthused.
Wilson pointed out that the flip-top spout on top of each bottle kept mess to a minimum.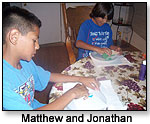 What the Kids Thought: "Oh, Mom, this is so cool," Tong heard from her children. "They liked the flexibility and choices of colors and mixing colors and choosing patterns of how they wanted the colors laid out," she noted. Elise (10) and Steven (9) "were pleased that the outcome for each project is endless as each child could determine which colors and patterns to use," commented Wilson.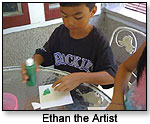 Alyssa (9) and a friend enjoyed the kit together and then traded their creations when their playtime was over. Matthew (13), Jonathan (11), Emilio (9) and Brandon (7) liked the variety of colors in the kit and the ability to mix different colors of sand together to create unique hues.
"There's not a lot of mess when you work with it!" Jonathan (11) exclaimed. Emilio (9) was intrigued by the difference between this sand and 'regular' sand, and Brandon (7) found satisfaction in his completed designs.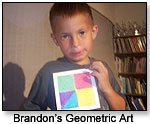 "The sand was easy to work with and mistakes were simple to fix," said Joe (9). Wilson's teenage sons (14 and 16) were very interested in the advanced kits offered by ArtiSands (specifically the Medieval and Masterpiece kits), and several of the participants found that the kit and the process of sand painting crossed age recommendations from younger (as in age 3) to older (as in teens).
What the Kids Learned from this Toy: Joe (9) and Alyssa (9) planned their color designs carefully to achieve desired results. "Being able to plan for finished geometric patterns strengthens spatial thinking skills," Ledford said. Wilson concurred, and Zuidema listed color combinations as an educational aspect of the kit for Alyssa (9). Flamenco noticed that her sons learned to follow the instructions properly to avoid undesired effects.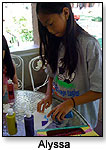 Tong likened the geometric designs her children made to mosaics, which her children have been studying. "The texture was also key because it was something they could touch and feel," she noted.
How to Improve It: Alyssa (9) would like to see more of the adhesive templates included, since once the 18 templates included were used, there was colored sand left over. Matthew (13), Jonathan (11), Emilio (9) and Brandon (7) thought larger templates (such as 5" x 7") would make neat decorations for their rooms.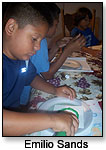 Zuidema and Flamenco agreed that colorful pictures of sample finished designs on the packaging would be more eye-catching. To avoid clumps in the sand, Elise (10) and Steven (9) suggested the instructions note to shake each bottle before use.
Flamenco thought including a small pan and a brush would make the kit complete. Tong's only suggestion was "some kind of glitter or sparkle to the sand to make it shimmery." Timothy (16) and Andrew (14) would enjoy a kit that incorporates fluorescent sand in a design relating to rock music to appeal to teens.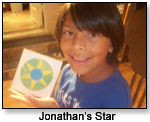 Ledford would like to see a sand painting kit featuring the alphabet. "This would help preschool and kindergarten-age children learn their alphabet in a hands-on way, which would especially benefit the kinesthetic child who learns more quickly if he has a tactile manipulative," she explained.
Would You Want Another Toy Like This? "This was a good product; the kids couldn't stop making these designs," Flamenco summed up. At the Wilson household, Elise (10) and Steven (9) both agreed that ArtiSands deserves a rating of 100.
Roundtable participants were substitute teacher Veronica Flamenco with Matthew (13), Jonathan (11), Emilio (9) and Brandon (7); and Susan Ledford, editor of the "Homeschool Resources Directory for SC," with Joe (9) and Griff (3); stay-at-home parent Mildred Tong with Alyssa (10), Ethan (8), Lexi (6) and Eric (3); Teresa Wilson, editor of "HOMES Newsletter," with Timothy (16), Andrew (14), Elise (10) and Steven (9); and homeschool parent Jill Zuidema with Alyssa (9).