---
TDmonthly Goes Inside ... Sideshow Collectibles
Authenticity Takes Time
Unlike other manufacturers who rely exclusively on laser scans and digital-wax outputs to create character likenesses, Sideshow Collectibles still hires artists to individually sculpt 90 percent of the faces and bodies for its action figures and collectibles. Scott Klauder, production manager for Sideshow, explained the production process to TDmonthly Magazine. In the nearly two years that pass from inception to release, it requires everything from using actors and staff to model poses, to obtaining authentic clothing and props to ensure absolute likenesses.



Get the Flash Player to see this video.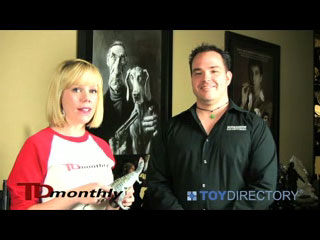 History of Sideshow

Scott also shared some of the unique solutions Sideshow's staff has devised for problems such as breakage during shipping, and told why polystone is the ideal material to use for dioramas and larger figures.

Watch TDmonthly's interviews with Scott to hear more about how Sideshow works, from the inside out. Then, scroll down to watch videos of the company's most recent collectibles.



Get the Flash Player to see this video.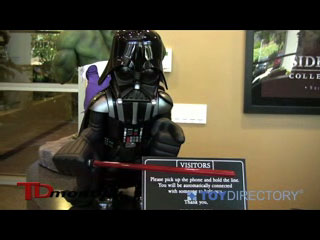 Sideshow Staff
| | |
| --- | --- |
| | |
| Production Process | Studio Partnerships |
| | |
| Release Schedule | Buyer Demographics |
| | |
| Mimizing Breakage | Typical Dealer |


Here are some of the latest releases from Sideshow Collectibles:

Products demonstrated by Cecily Gambrell and Scott Klauder. Dinosaur "microphone holder" provided by Safari Ltd. Videography by Alison Marek. Editing, graphics and effects by Trevin Matcek.







The Darth Vader 12" Figure features a fully articulated all-new unique male body with 30+ points of articulation; shin, shoulder, mantle and groin armor; breastplate with chest box, outer cape with chain clasp, interchangeable hands and a 12" Figure Display Base with Star Wars logo.

.

AD
---






Sideshow is pleased to announce that Medicom Toy Corporation has granted 1,000 pcs of the 12" RAH Clone Trooper figure for the US market. The figure is highly authentic and film accurate, and ready to take life on your shelf in any dynamic pose that you desire. Medicom Toy's RAH body is one of the most articulated 12" figure bodies available, capable of nearly any pose that the human (or superhero) body can achieve.Each Clone Trooper figure includes interchangeable hands and a display base, and comes packaged in a beautiful window display box.

.

AD
---






This second-chance release of the Indiana Jones - Raiders of the Lost Ark 12" figure features a 12" male body with 30+ points of articulation, authentic likeness of Harrison Ford as Indiana Jones, an alternate head with hat permanently attached, hat with fabric lining, coiled bullwhip, articulated bullwhip, sandbag, satchel, idol, two sets of interchangeable gloved hands, two sets of interchangeable bare hands, and a display base with the Indiana Jones logo. This is a limited edition of 7,500 pieces.

.

AD
---






Sideshow is pleased to announce that Lucasfilm Ltd. And Medicom Toy Corporation have granted Sideshow Collectibles the ability to import the 12" RAH Indiana Jones figures. These outstanding 1:6 scale figures are of the highest quality and detail, ready to take life on a shelf in any dynamic pose that is desired. Medicom Toys RAH body is one of the most articulated 12-inch figure bodies available, capable of nearly any pose that the human body can achieve.

.

AD
---






.

AD
---






.

AD
---






This snowy rubble environment provides a detailed backdrop for 12" figure display. Each piece is cast in heavyweight polystone, then handpainted and hand-finished to Sideshow's exacting standards. Timber features a snow-patch display stand designed to lend him a little extra support, and each set is complete with a COBRA case accessory. Snake Eyes and Cobra Trooper figures sold separately. Limited edition 750. Launch date: 4Q 2009.

.

AD
---






.

AD
---






.

AD
---






Instinct and survival, the final moments play out...Sideshow Collectibles is proud to bring you the premier piece in the Sideshow's Dinosauria collectible line, the Tyrannosaurus Rex VS Triceratops Diorama. This dynamic diorama captures the primordial duel as these ancient animals of the Cretaceous Period clash, hunter and prey. Designed with the insight of renowned paleoartists, each diorama is cast in high-quality polystone, hand finished and hand painted to exacting standards. The Tyrannosaurus Rex VS Triceratops Diorama is an impressive museum quality piece, an outstanding addition to any display. Product measures 12" H (304.8mm) x 8" W (203.2mm) x 12" L (304.8mm) and weighs 8 pounds.

.

AD
---






Sideshow Collectibles is proud to announce the latest addition to the series of The Lord of the Rings collectibles, the 'Shades of Mordor' - Ringwraith Diorama. This detailed diorama captures five thralls of Sauron as they eagerly draw closer to the One Ring of power. Each piece is cast in high quality polystone, hand-finished and hand-painted to exacting standards. Magnetic features hold the Ringwraiths in place atop an imbedded metal plate within the base that allows for customized placement of each shrouded figure.

.

AD
---






Sideshow Collectibles proudly presents the Boromir Legendary Scale Bust, a fantastic new addition to The Lord of the Rings series. With sword drawn, the Son of Denethorn sounds the Horn or Gondor signaling the armies of his people to aid in the War of the Ring. Each piece is individually hand painted and finished to exacting standards, each with its own unique quality and detail that is the trademark of a handcrafted Sideshow Collectibles product. Launch date: 4Q 2009.

.

AD
---






.

AD
---






Sideshow Collectibles is proud to join the John Wayne Estate to bring you the finest, most detailed John Wayne collectible figures available today. The Duke is costumed as an iconic military aviator, clothed in detailed and well-tailored fabric garments. The figure is hand cast in high quality polystone, and each piece is hand painted to exacting standards. It measures 20" H (508mm) x 9" W (228.6mm) x 6" D (152.4mm).

.

AD
---






The T-800 Premium Format figure is a stunning 1:4 scale museum quality piece. Grenade launcher in hand, the Terminator stands 22 inches tall atop the display base. Each piece is cast in high-quality polystone, then hand-painted and hand-finished. The figure is dressed in an amazing miniature replica of the costume constructed of real fabrics, and the base is individually hand-numbered in a limited edition of 750 for authenticity. The T-800 measures 22" H (558.8mm) x 9.5" W (241.3mm) x 9.5" D (241.3mm) and weighs 12 lbs.

.

AD
---






The latest to join Sideshow's line of Marvel collectibles is the Planet Hulk: Green Scar VS Silver Savage Diorama. This dynamic scene is inspired by the cover of Incredible Hulk #95, drawn by Ladronn, with the two gladiators captured in the heat of battle. The Planet Hulk: Green Scar VS Silver Savage Diorama is cast in heavy-weight, high-quality polystone, then hand-finished and hand-painted to exacting standards. Each piece is individually hand-numbered, then packaged in a durable foam shipping interior and beautiful full color box.

.

AD
---






Sideshow Collectibles and Marvel Comics are proud to present the Ghost Rider on Throne Comiquette! Straight from the cover of the Ghost Rider Finale #94, this expertly sculpted Comiquette depicts Ghost Rider as the ruler of the Nether Realm. Cast in high-quality polystone, hand finished and hand painted to exacting standards, the Ghost Rider on Throne Comiquette is a museum quality piece, ready to take a place of honor in your own hall of heroes. It's a limited edition of 750 pieces. It measures 15" H (381mm) x 13" W (330.2mm) x 8" D (203.2mm) and weighs 10 lbs.

.

AD
---






Sideshow Collectibles is proud to present the Iron Spider-Man Comiquette, the latest addition to our Marvel Collectibles line. This stunning figure includes a meticulously detailed base featuring intricate stonework mixed into the rubble. The Iron Spider-Man Comiquette is cast in high quality polystone, hand painted and hand finished to exacting standards.It is released in a ilmited edition of 1,250. It measures 24" H (609.6mm) x 14" W (355.6mm) x 17" D (431.8mm) and weighs 26 lbs.

.

AD
---






.

AD
---
THIS BANNER IS AN AD:
---
---