---
Liv and Moxie Girlz Gang Up on Barbie
Competition in the Doll Space Didn't Stop With Bratz
"We now have a Girls Team based in our Los Angeles office whose skill and expertise made it possible for us to bring something really strong to the marketplace." — Anton Rabie, president and CEO, Spin Master

Monday, Aug. 17 – For decades, Mattel's Barbie reigned supreme in the fashion doll world, until the saucy upstart Bratz from MGA Entertainment made its appearance in 2001 and challenged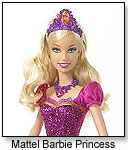 the queen. For a while, it looked as if the brand was succeeding in unseating Barbie, but then Mattel decided to follow the old adage, "If you can't beat them, go and sue them." They did, they won, and Bratz is going to become part of the Mattel empire. Undoubtedly, CEO Bob Eckert of Mattel thought for a moment that his problems were over and that Barbie could return to being the comfy money-spinner of old. He was wrong.

A couple of weeks ago, two new groups burst into the fashion doll scene: four ladies from Spin Master Toy's Liv line and four ladies from MGA's Moxie Girlz line. Both lines have the potential to give Barbie a real run for her money. Moxie Girlz is a major threat because it's a creation of MGA, of Bratz fame, and it is difficult to find anybody more motivated to take Barbie down a peg or two than MGA CEO Isaac Larian. Yet, the greater threat is likely to be Liv. Spin Master is not only one of the most successful toy manufacturers in the world; it is also a company that is greatly respected by both the buyers of the big toy retailers as well as by its competitors. And, the company has one commodity that some toy industry insiders suspect to be in short supply at MGA — cash, and lots of it.

The most recent history of doll market shares in the United States, as per my retailer panel, shows that Moxie Girlz and Liv are entering a field that is totally dominated by one brand, Barbie.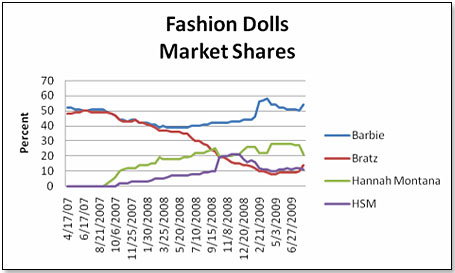 Today, Mattel has just one competitor in the United States — Hannah Montana of Jakks Pacific — and controls an overwhelming majority of the market. Internationally, Mattel went one better, selling Hannah Montana as well as Barbie in foreign markets.

Mattel's new competitors are the four Liv dolls, Daniella, Katie, Sophie and Alexis, which are 11" tall with 14 points of articulation [ankles, knees, thighs, shoulders, elbows, wrists, neck, midriff] and an access code to the Liv World website.

The four Moxie Girlz, Lexa, Sophia, Avery and Sasha, are 10" tall with five points of articulation (legs, arms and neck) and an access code to the Moxie Girlz website.

This is how the traffic of the two websites shaped up by end of July: Moxie Girlz clearly wins at this stage, but the green dot at the top right corner suggests this success could be of short duration:




The picture is looking very different in terms of blog intensity metrics, which typically reflect consumer interest levels: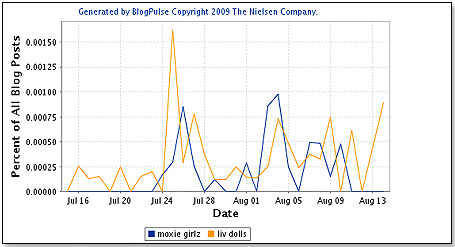 In terms of retail, the only store where all the fashion doll players are assembled is Target. Shelf-space allocation on Aug. 11, 2009, was as follows: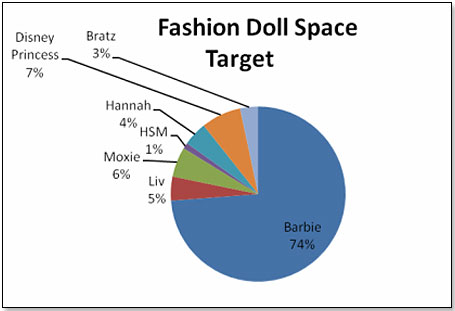 Moxie Girlz has a slight edge in Target, in that one doll, Lexa, has a presence on an endcap shared with Disney's Wizards dolls, iCarly and No Ordinary Girls. Also, it appears that Moxie Girlz outsell Liv dolls at Target at the rate of 2:1.

However, neither brand makes the Target best-seller list, and, as per my sell-through numbers, the fashion doll market at Target is essentially shared by four brands:


Barbie

50%
Bratz

11%
High School Musical
13%
Hannah Montana
17%
Others [Alexander,
Fancy Nancy, Ni Hao
Kai Lan, Dora, Moxie,
Liv, etc.]

9%


The two brands are also at Wal-Mart online. There, Liv clearly wins, as the four dolls occupy the top four spots. However, this is not as overwhelming as it would at first glance appear because Moxie Girlz have many more products in the top 82 and also have some on the shelf, whereas Liv is currently only online [however, I understand that Wal-Mart will presently put Liv on its shelves as well]. This is how the detail looks as of Friday, Aug. 14:

Wal-Mart's Top-82 Fashion Dolls:


Position
Description
Price
Online
On shelf
1
Liv Sophie
$19.97
Yes
No
2
Liv Katie
$19.97
Yes
No
3
Liv Alexis
$19.97
Yes
No
4
Liv Daniella
$19.97
Yes
No
31
Moxie Best Friends
Avery/Lexa
$24.97
Yes

Yes
56
Moxie Art-Titude Doll
Avery
$19.97
Yes
No
57
Moxie Art-Titude Doll
Sasha
$19.97
Yes
Yes
58
Moxie Jammaz Doll
Sasha
$16.97
Yes
Yes
59
Moxie Magic Hair
Sophina
$29.97
Yes
No
60
Moxie Magic Hair
Avery
$29.97
Yes
No
69
Moxie Art-Titude Doll
Sophina
$19.97
Yes
No
73
Moxie Art-titude Doll
Lexa
$19.97
Yes
No
75
Moxie Jammaz Doll
Lexa
$17.97
Yes
No
76
Moxie Jammaz Doll
Avery
$17.97
Yes
No
77
Moxie Jammaz Doll
Sophina
$17.97
Yes
No

In summary, the two brands have come out of the gate pretty much even in the two places where a comparison can be made. Based on comments from the shop floor brigade, Spin Master's product seems to be seen as considerably more functional — in fact, the most functional doll except for certain much-higher-priced dolls from Alexander Doll Co. As we can see from the Moxie line-up above, its $9.99 price-point advantage does not seem to have made much of a difference in that the Moxie products that sell are $16 and up, which is identical to the Spin Master product.

The question is, where will they go from here? I asked management at both MGA Entertainment and Spin Master to give me the benefit of their views. MGA did not reply. However, Anton Rabie, president and CEO of Spin Master, and Donna MacNeil, senior director of communications, did speak with me. I also spoke to buyers at the large toy retailers to get their take on the chances of success or failure of the two brands.

SPIN MASTER ANALYSIS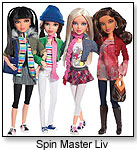 I first asked Rabie about a statement made in his company's press releases that Spin Master is North America's third-largest toy company. This would put it behind Hasbro and Mattel and in front of Jakks. Rabie said this was based on NPD sell-through data. Assuming these are accurate and there are no major retail inventory variants, this would put Spin Master's North American business ahead of Jakks', which last year was in the $650 million range. Spin Master is hence considerably larger than MGA, whose sales in North America are estimated somewhere below $300 million.

When asked why Spin Master had decided to break into this very competitive and litigious space, Rabie said, "We wanted to break into the girls category for all the classic business reasons. This is a large category, and we wanted to take advantage of the business window that exists around the legal struggles of the key players in this space. We want to diversify, and as the company expands, we want to break in and succeed in large categories like girls, preschool and games. Critical, too, is that we have the right people in place. We now have a Girls Team based in our Los Angeles office whose skill and expertise made it possible for us to bring something really strong to the marketplace."

He also stressed the fact that Spin Master had prepared for this launch very thoroughly and for a long time, including shooting several commercials, and that the company was prepared to back this venture to the hilt. He likened it to "going to war" and stressed that the company was doing well and could afford to go the distance.

He also said the four individual dolls will be developed totally separately from each other — each built into a distinct brand of its own. This is a very interesting approach and very unlike the philosophy followed by any of the other current contenders who promote the brand family, e.g. Barbie as opposed to Barbie Mariposa versus Barbie Fairytopia, etc. Each of the four dolls will be allowed to develop its own persona, fostered through commercials tailored to this, and backed by very heavy and non-stop media exposure.

According to Rabie, the remainder of 2009 will be devoted to establishing the brand[s] and ensuring a high degree of consumer acceptance by applying inordinately strong marketing efforts and investments upfront. The year 2010 is when the quest for market share will go into high gear.

MGA ENTERTAINMENT ANALYSIS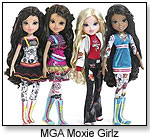 Turning to MGA, sources close to the company were available to provide some color. According to them, Moxie Girlz development began when it became fairly clear that Mattel was going to win the court case against MGA and would hence either walk away with the Bratz brand or make its future commercial use impossible. The brand characteristics of this new doll presented MGA management with a number of difficult choices. They could not just produce a Bratz copy lest Mattel hammer them again, but equally they did not want to lose totally what had made Bratz successful in the first place — giving the consumer a clear and interesting alternative to a very predictable and somewhat dull Barbie.

At the same time, MGA wanted to avoid the negative aspects of Bratz that had turned off a significant percentage of mothers who thought the doll was a bad influence on their daughters. And thirdly, their objective was to continue to appeal to the young girls who had deserted Barbie in droves because they thought Bratz more exciting. Thus, Moxie was born — still somewhat edgy but definitely less provocative than its predecessor.

In all this, MGA had no idea that Spin Master was in the process of entering the same space at virtually the same moment, and this must have come as a rather nasty surprise to Larian, who had thought Mattel was the only competitor to face. It would not have changed things, however, because MGA's commitment to the Moxie brand is as real as it can get. MGA knows that the success or failure of Moxie Girlz could determine MGA's survival as a company.

This is also clear to the buyers who will watch Moxie like a hawk. There is no question in their mind that Spin Master will succeed because, after all, Spin Master has succeeded in virtually everything it has tackled and has the resources to last the distance. What particularly impressed the buyers was that Spin Master, even in the midst of failure, came up smelling roses, as evidenced by its handling of the Aqua Dots recall. They really impressed retailers with the rapid and disciplined manner in which they coped with that disaster two years ago.

If the buyers have no doubts about Spin Master, however, they have plenty about MGA. The first one is whether MGA has the resources to create a new brand from scratch in one of the most fiercely contested toy categories. They point to the $100 million court verdict against MGA as a result of the Mattel vs. MGA case over Bratz. They also point to Marvel's allegation that MGA did not pay them royalties to the tune of more than $100 million and to the MGA countersuit against Marvel for $100 million alleging harassment.

In short, they do not know that MGA has the resources to go the distance after it has paid all penalties and litigation costs. The second doubt is about Moxie itself. They appreciate that Mr. Larian had to square the circle by making Moxie different from Bratz but not too different, but they really do not know whether he succeeded. And lastly, if MGA is committed to tripping up Barbie, what about Mattel's commitment to stop MGA? Mattel has shown time and time again that it can play rough, and has never been more motivated to finish a competitor.

Writer's Bio:
Lutz Muller is a Swiss who has lived on five continents. In the United States, he was the CEO for four manufacturing companies, including two in the toy industry. Since 2002, he has provided competitive intelligence on the toy and video game market to manufacturers and financial institutions coast-to-coast. He gets his information from his retailer panel, from big-box buyers and his many friends in the industry. If anything happens, he is usually the first to know. Read more on his website at www.klosterstrading.com.
Read more articles by this author
THIS BANNER IS AN AD:
---
---