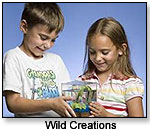 There's been a bit of a frenzy over Wild Creations' Eco-Aquariums kits that house African dwarf frogs since their big introduction to the specialty toy world in February at Toy Fair 2009. Independent toy stores have reported selling as many as 70 aquariums per month, but do the frogs score the same high grade with customers? Find out in TDmonthly Magazine's September issue, when five sets of moms and kids share their experiences with the low-maintenance pets.
Read "Families Flip Over Wild Creations Frogs" to find out why our kid and parent reviewers gave the Eco-Aquarium 4.5 out of 5 TD stars.

Writer's Bio:
Susan Ledford is the writer, editor and publisher of the "Homeschool Resources Directory for S.C." She has been evaluating toys and games for
TDmonthly
's Roundtable reviews since 2005. She also is a homeschool veteran of seven years.
Read more articles by this author