---
My Funniest Toy Store Stories
Tales From the Front Line, Told by You
Do you have an even funnier or more touching story you'd like to share with TDmonthly Magazine? Email us … or just add your comments to the bottom of the page!

Here are this month's toy store stories, told by retailers just like you: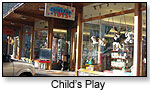 Don't Let Me Out!
By Patricia Fiedler, owner of Child's Play/Green Frog Toys, Portland, Ore.

While driving in the town's parade one year, you can imagine our embarrassment when we were stopped by one of the parade officials. He informed us that an 11-year-old boy was locked in our toy store. The boy had wandered into our store unnoticed while we were blowing up balloons and preparing our parade entry.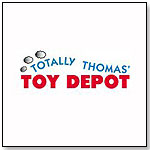 Switching Tracks
By Jennifer Wyatt, marketing coordinator of Totally Thomas Toy Depot, San Diego, Calif.

One little boy came in, super happy and excited because he was going to buy some Thomas trains. But the next second, he burst into tears because he only had enough money for one, and couldn't decide because he liked them all! It was an instant personality change! Classic.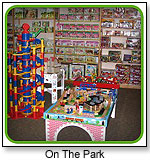 Committed
By Fred Rosenberg, owner of On the Park, Kingwood, Texas

It's often difficult to get kids to leave our store. One day, a little 3-year-old girl refused to leave the store. Her grandmother said, "I can't get her out!" Then she had an idea. She went over to the area where the little girl was playing and said, "I'm going across the street to get some ice cream!" The little girl looked up at her and said, "Let me know when you get back."

Almost every day, something like that happens.

High Expectations
By Patricia Fiedler, owner of Child's Play/Green Frog Toys, Portland, Ore.

A customer returned a star-shaped bubble wand because she couldn't make star-shaped bubbles; she could only make round bubbles.


Add your stories in the comments below … or email them to us. If we choose your story, we'll publish a link to your store's website, too!

Writer's Bio:
ALISON MAREK is an award-winning writer, director and cartoonist whose work has been published by Fairchild Publications and DC Comics (Piranha Press), broadcast on Showtime and other cable networks, and viewed worldwide in film festivals. See her short films and print work on www.alisonmarek.com. Watch her nefarious villains in the web series www.MuggsMovers.com. Get inspired by her cartoons "Daily ARFFirmations to Unleash Your Inner Fido" at www.ARFFirmations.com. Phew! And then ...
Read more articles by this author
THIS BANNER IS AN AD:
---
---