Neopets Get Into The Cards
Wizards of the Coast (ToyDirectory) is releasing the first expansion for the Neopets Trading Card Game: Battle for Meridell, which will introduce a new species of pets and a total of 140 new cards with exclusive artwork created by Neopets´ artists. The Battle for Meridell expansion consists of 9-card booster packs ($3.49) that include a Virtual Prize Code card and two 50-card theme decks ($9.99), which include an advanced rulebook.

Wizards of the Coast Brings Duel Masters to U.S.
After topping the charts in Japan, Duel Masters is heading to the U.S. Wizards of the Coast is releasing the Duel Masters Trading Card Game for English speaking markets. A broad scope of Duel Masters toys and games will also be launched soon, as well as a comic book series, TV show and other consumer products.

Premium Looney Tunes Trading Cards from Inkworks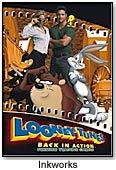 Inkworks (ToyShow) announces the release of the new "Looney Tunes: Back in Action" Premium Trading Cards based on the live-action adventure comedy from Warner Bros. Pictures. The cards consist of a 72-case base set that is packed with subsets, including Movie Story cards and Character cards. In cooperation with Electronic Arts, three cards in the base set include "cheat codes" that unlock hidden features in the upcoming Looney Tunes: Back in Action video game for the PlayStation® 2 computer entertainment system and Nintendo GameCube™. Each pack of "Looney Tunes: Back in Action" Premium Trading Cards contains six cards.