Collectible card games (CCGs) based on anime, a form of Japanese animation, have been growing in popularity since January 1999, when Wizards of the Coast (ToyDirectory) launched the Pokémon trading card game in North America. Since Pokémon reached billion dollar success, soon followed by Yu-Gi-Oh!, every CCG publisher has been turning his or her eyes to anime licenses, looking for an equally winning hand.
"The CCG market is leaning very heavily toward licensed products, especially anime," says Scott Thorne of Castle Perilous Games, the biggest hobby shop in the Illinois-Missouri-Kentucky tri-state area. Operating a store that regularly sees 20 to 40 kids signing up for Yu-Gi-Oh! tournaments, Thorne has observed a popular format in anime CCG marketing — that the collectible card game tends to follow manga (Japanese graphic novels) and video games in licensing order, and usually heralds the release of new films.
This year, many new titles are hitting store shelves. While not all are destined to join the ranks of Pokémon and Yu-Gi-Oh!, a few titles stand out as possible contenders.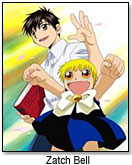 Candidate #1: Zatch Bell ($9.99 starter deck, $3.99 booster pack, $3.99 spell book, ages 6 and up) by Bandai America Inc.
The series premiere of "Zatch Bell" – the latest anime sensation on Cartoon Network – was watched by more than one million viewers. The second episode that aired two weeks later drew an audience of 2.5 million.
In addition to the series' overwhelming surge in popularity, the game has a unique feature: it uses a spell book to hold players´ cards and count their life points. Players lose when they flip to the last page in the spell book.
"The spell book system is a never before seen mechanic in CCG," remarks Daniel Satyapan, marketing manager of Bandai America. "It's actually part of the game, not just the cardholder."
The game has a believer in Burl Zorn, assistant manager and game buyer for The Source, the premier game store in Minnesota's Twin Cities. "I think it is going to do well, now that I've seen it and how it is played."
Bandai is planning an exclusive hobby launch for the Zatch Bell CCG. It will be available to game retailers in May 2005, three months prior to the mass market chains.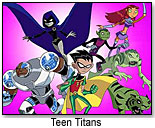 Candidate #2: Teen Titans ($9.99 starter deck, $3.59 booster, ages 8 and up) by Bandai America Inc.
This makes two good shots for Bandai. The Teen Titans CCG is based on the top-rated show with the same name on Kids' WB and the Cartoon Network. Players battle opponents in locations across the world and universe by unleashing Characters, Skillz, and Storyline cards.
"We hit all the top properties," says Satyapan. "[Teen Titans] is one of the top action properties right now. The characters lend themselves to CCG. We took the humor in the show and brought them to the game."
Candidate #3: Fullmetal Alchemist by JoyRide Entertainment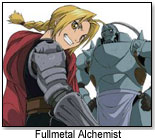 A FUNmation license, Fullmetal Alchemist chronicles the (mis)adventures of two brother alchemists, Alphonse and Edward Elric. What may sound like a Harry Potter clone took a weird turn when Alphonse lost his body in a freak accident and had his soul melded to a piece of armor by Edward, who himself lost an arm and a leg. So began their quest for restoration to normalcy.
"From our first brainstorming session, we're designing this game to bring the world of Fullmetal Alchemist to life," says Edward Bolme, brand manager for JoyRide Entertainment. "We're creating all-new game play concepts to ensure a rich experience."
Created by award-winning game designer Ian Ryan, the game will focus on teams of heroes looking for the fabled Philosopher's Stone, which is reputed to boost the power of alchemists to awesome levels.
This is a hot pick of Keny Bailey, sales representative for Blackhawk Hobby Distributors. "Fullmetal Alchemist is one of those anime titles about to take off," he says.
Not hard to see why, as it has already sold over 13 million manga in Japan.
Candidate #4: Dragonball Z ($10.99 starter deck, $3.29 booster pack, ages 10 and up) by Score Entertainment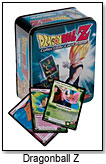 The trading card game has been around since 2001, but it's receiving a complete design overhaul for a July relaunch. The revival of the Dragonball Z franchise will be supported with tournament support on both the local and national level; an expanded product line featuring deck boxes, sleeves and other accessories; and will be compatible with the existing DBZ and Dragon Ball GT Trading Card Game product lines.
The new set of rules are a simplified version of the old one, but by no means less intense. "The game engine focused on flowing well," says David Eckhard of the DBZ design staff. "[The previous game] was too complex. We also complemented the simplicity with improved art-typing."
Among the new features is that only one personality card of any level – not three – is needed to play. Allies are easier to use. Also, there is just one type of damage, but two ways of taking it – from players´ power stages or life cards.
Candidate #5: Robotech by Hero Factory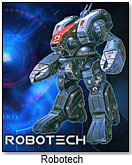 Since the 1985 debut in U.S. syndication, "Robotech" has retained a vast, solid fan base devoted to its saga of giant fighting robots. It has a storyline spanning multiple generations and is filet mignon to "The Transformers"´ Big Mac in sophistication. Hero Factory recently entered an agreement with Harmony Gold, USA, owner of the Robotech trademark, to produce a collectible card game for the cult classic series. Beta-set cards may appear as soon as July, 2005.
Says Erick Reyes, vice president of Hero Factory, "Our company is very excited about working with Harmony Gold to create a unique gaming experience for the fans of Robotech."