Click here to find out about more candy toy trends.

Some retailers have been taking notice of a trend among novelty candy manufacturers to address consumer desires for healthier sweet treats. Although diet/healthy candy sales represent only 3 percent of total candy sales in the United States, the segment has grown by 90 percent in a single year.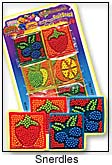 Rose Downey, marketing manager at Au'some Candies, a successful novelty candy manufacturer of the Sweet Spin Yo-Yo and a variety of licensed toy candy products, says her company is not overlooking that trend. Au'some Candies introduced Snerdles last year, a healthier candy with real fruit bites and Vitamin C.

This year, their new product with all natural ingredients, all natural color and 65% fruit juice is hitting the stores, creating what Downey considers a new category: toy fruit snacks. Called Florida´s Natural Fruit Snacks, the food has no preservatives, 100% vitamin C, eight vitamins & minerals, and is Kosher, fat free and gelatin free. While Downey agrees that shelf space in stores for candy is shrinking, she attributes this to consumers choosing healthier lifestyles.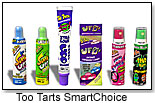 A top driver in the candy segment and Winner of the Confectioner's Silver Circle Award, 7-Eleven now carries Too Tarts SmartChoice from Innovative Candy Concepts. The Too Tarts products are packaged in bottles for kids to suck out, tubes that squirt goo and spray bottles. The Too Tarts SmartChoice has no refined sugar, 50 to 60 percent fewer calories than regular Too Tarts products and is sweetened with fruit juice concentrate.

Writer's Bio:
Pennie, a graduate of Indiana University School of Journalism, is a freelance writer and lives with her husband and three children in Visalia, Calif.
Read more articles by this author