"Plugging your kids into something for hours in the car isn't the best use of the time." — Brian Beihl, Family on Board
Parents are always looking for something fun, attention grabbing and "not too loud" to entertain kids (and themselves) on long trips.

TD

monthly Magazine

spoke with manufacturers and retailers to find out which products are moving the fastest. Card and trivia games are faring well, they said, as well as small, colorful electronic handhelds.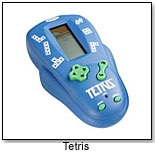 Patti Saitow, vice president of Global Marketing Services, which represents Radica, said the company's electronic question game 20Q still sells well after being on the market for a couple of years. Other top selling games for Radica are Tetris, Solitaire and Poker. "They are all classic game play in a portable format," Saitow told TDmonthly.
Cyndee Dalton, product manager for games at International Playthings Inc., believes parents want more than just a way to quiet the kids for a while. With so many family vehicles equipped with DVD players and headphones, families want to take a break from that and make some valuable use of the time to connect. "For young children, a common feature is to create travel games that they can share/participate in with parents/siblings, such as trivia games."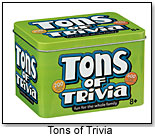 Along those lines, International Playthings's Tons of Trivia game can be played alone or with others in the car. Dalton said, "It's a fun and educational way to pass time during the trip while bonding as a family."
Brian Beihl, president of online travel goods retailer Family on Board, agrees that electronic travel games are a trend. But it's not one of his favorites. "Plugging your kids into something for hours in the car isn't the best use of the time. They miss out on looking out the window, seeing the landscape and helping with navigating," he said. "It's a great opportunity for parents to interact with their kids."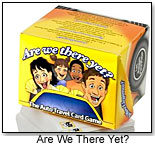 Beihl stocks his store instead with open-ended games that have a longer play value. His best seller is Travel Bingo by Regal Games.
Laura Miller, owner of Imagination Village in Concord, N.H., and Eric Masoncup, owner of Geppettos Toy Box in N.Y.C., both say card games are still their most frequent travel purchase. Masoncup says his best selling card games are Are We There Yet from Family Games and Set from Set Enterprises. Although Miller says cards are still popular, she believes her number one selling travel game is Rush Hour by ThinkFun (ToyShow).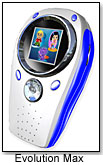 Both Masoncup and Jordan Walden, manager of Finnegans Toys and Gifts in Portland, Ore., say Travel Blokus from Educational Insights (ToyDirectory) is a fast moving travel game. Walden said they are also selling a lot of the new Scrabble Portfolio Edition by Hasbro and anything sudoku-related.

Kidz Delight International president Don Light believes that electronic toys are getting smaller and increasingly featuring color screens. The company's Mini Max addresses both electronic and family interaction needs by including infrared messaging and allowing for multiple players to compete simultaneously. The Princess Max includes five "girls only" features such as virtual pets, mood sensors and a friend compatibility test, aiming at filling a void in girl-targeted electronic toys.

Light noted that U.S. retailers will have something to look forward to down the road: The Princess Max is still catching on in the United States, but it is on fire elsewhere with 90 percent of the production currently being shipped to the United Kingdom. And, in summer 2006, the Evolution Max will arrive on the retail scene, loaded with 29 features and a color screen.

The following is more information on travel products that move quickly off store shelves.

.

AD

.

AD

In the 2006 line of Tiger Games is the return of virtual pets. Kids adopt a Giga Pet and might even get attached to it as they train it, feed it, play with it and watch it grow. If you were studying, it would be a constant interruption, but if you are traveling and your pet needs to "go outside" or be "played with," it is a welcome interruption.

.

AD

.

AD

National Parks Trivia is a game for your car stereo or portable CD player that tests you on your knowledge about America's national parks. Three choices are given for each answer, but players get extra points for answering before hearing all of the choices. All the trivia questions have a music background for a pleasant listening experience. Kids can play it by themselves, at a party or on the next long family outing. The manufacturer said that this product fits well into the specialty market because the CDs can be modified to reflect region. They can add feature sections to our trivia games with an additional trivia track of 8 to 10 questions that are specific to the location of the retailer. For example, feature sections can be added to the existing National Parks CD to help market some of the smaller national parks. The cover of the jewel case would highlight the feature section in that game. Also available are College Football Hall of Fame, Civil War, Travel the USA, US History and educational versions K-5.

.

AD

.

AD

Olympic backstroke champion John Naber, one of the four Olympic swimming champions featured on the new "Swimming Champions" Scramble Squares® puzzle from b. dazzle, inc., says, "These Scramble Squares are so challenging, they provide hours of challenge. It's a gold medal puzzle!" This puzzle received Dr. Toy's 10 Best Socially Responsible Products Award for 2006 and was a Best Product Award Winner for Dr. Toy's Summer 2007 Resource Program.

.

AD

This unique card game pack contains 110 cards that can be played in three fun-filled ways. Detailed instructions are included in the pack. The cards have unique designs on the back, as the company, based in Mumbai, India, is a division of a very old and reputed textiles company.

.

AD