Despite an industry category decline, International Playthings (ToyDirectory) reports a growing Infant/Preschool category, including more than 30 introductions of new items in each set.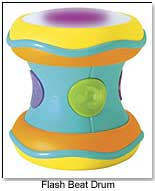 For preschoolers, the Flash Beat Drum ($19.95; 12 months and up) by International Playthings is enjoying great success. According to Susan Tice, product manager & public relations director, "What is very special about this drum is that it plays music as it is rolled on the floor. Pre-walkers can be rewarded for pushing the toy by hearing the music and seeing the lights flash."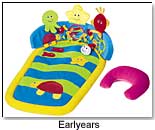 For Infants, the Earlyears® line ($39.95; newborns and up), also from International Playthings has a developmental focus and has been repackaged to offer play tips for parents. "Many occupational therapists are seeing an increase in young children coming to them with flat heads and lack of strength since many parents are afraid to lay the child on her belly."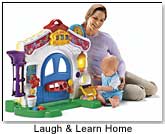 For both infants and preschoolers, the Laugh & Learn Home ($59.99; 6-36 months), from Fisher Price is an interactive playhouse full of discoveries for baby. The learning mode includes letters of the alphabet and numbers taking the play experience through the preschool years while the music mode includes fun sound effects and songs.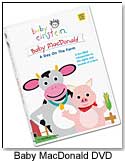 Baby Einstein (ToyDirectory), famous for classical music and videos for babies, introduced "Baby MacDonald - A Day on the Farm" (DVD $19.99; VHS $15.99). This video entertains with real life images from life on a farm combined with traditional nursery rhymes, puppet shows and visuals of happy children. Retailers can start looking for add on items for this product such as The Pig Bath Puppet ($9.99).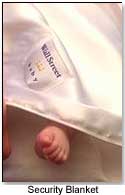 Wall Street Baby offers a line of clothing and gifts centered around the world of finance including a securities blanket ($24-42) with a pocket for gift money, bonds, or stocks for the lucky newborn. Each product is embroidered with a stock market-related graphic.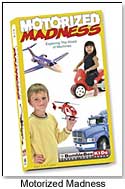 Another company that grew in 2003 was Baby Bumblebee (ToyShow) with its newest success, "Motorized Madness" ($14.95). Retailers can expect several releases in their storybook video vocabulary building series later this year.