Babies equal serious business – a multi-billion dollar business to be exact. The Baby Einstein Company (ToyShow) continues to expand its product line and keep its loyal customers – mommies – satisfied. Whether calming a colicky baby or trying to introduce colors to your child, today's mothers emphatically assert that Baby Einstein is as essential as diapers and formula when it comes to newborns and toddlers. Like those worn blankies and chewed pacifiers, Baby Einstein products have climbed to the top of parents' "never-leave-home-without-them" list.
It's not often that consumers are so inspired by a product they recommend it to all of their friends. However, Julie Aigner-Clark, a new mom and former art and literature teacher, discovered the secret to this kind of unique business success with the creation of her homemade films, " Baby Einstein Language Nursery," " Baby Mozart ," and " Baby Bach ." The Baby Einstein Company was born out of Clark's determination to fill a gap in the toy industry by creating a developmental tool for her own newborn, targeting the large audience of infants and toddlers that had never before been tapped. Combining classical music and colorful images, Clark bypassed complicated storylines and focused on simple, stimulating pictures that would appeal to the youngest of audiences. Word spread quickly amongst playgroups, baby showers, and PTA meetings, encouraging Clark to expand the company's original video line and branch into new directions.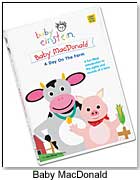 In November 2001, Walt Disney Company bought Baby Einstein and used its global resources to broaden the company's products to include books, CDs, and discovery cards, making The Baby Einstein Company a leader in media products for infant development. Recently, Baby Einstein expanded its line of films to include " Baby MacDonald: A Day On the Farm ," introducing children not only to farm animals and sounds, but also to where every day milk and vegetables come from. Other March releases include " Lullaby Classics: A Concert For Little Ears " CD and " Sweet Dreams Mimi and See How I Feel " board books.
The company can now boast of a wide range of interactive products geared specifically to children from the time of birth. Reaching far beyond the video aisle, The Baby Einstein Company launched additional juvenile products and toy lines in 2003. Additionally, at the 2004 American International Toy Fair in New York City, the company announced its plan to collaborate with Graco, Hallmark, and Hamco to create baby gear, bibs, bath toys, and party supplies. Not only will this move enable Baby Einstein to capitalize on the US market, but also to expand into more than 20 countries abroad by the end of the year.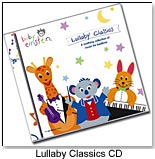 "The concepts of exposure, discovery, and interaction are relevant to every part of a baby's world and we are creating a complete collection of products for infants and toddlers that touch all aspects of their day. By teaming up with Graco, Hallmark, and Hamco, we are creating products unlike anything else in the marketplace," said Russell Hampton, Senior Vice President and General Manager.
Responding to countless requests from enthusiastic parents, the company is working to create baby products. New Baby Einstein bibs will feature detachable finger puppets, musical buttons, and will have pictures and words written upside down so that infants can see them when looking down at their bellies. Manufactured by Graco, a leading baby gear manufacturer, parents will appreciate the Baby Einstein Entertainer, designed to introduce children to colors, shapes, animals, language, nature and music and will facilitate parent-child interaction.
Having tripled in size within the past two years, Baby Einstein has become the top seller of videos and DVDs for babies and toddlers, boasting the sale of nine out of every ten infant development videos sold in the US (November 2003 Nielsen). Just one of many impressive statistics, Baby Einstein is proving to be a powerhouse in the infant/toddler toy and film industry.
"Despite all the talk about kids getting older younger, the fastest growing segment of the toy industry has been products for babies and preschoolers," said Sean McGowen, industry analyst. "The leaders in this segment are companies that truly understand the intricacies of how babies, toddlers and preschools learn, how they form attachments to their world and how to satisfy the adults that are making the purchase."
Later this fall, the company will release its multi-language DVDs featuring English, Spanish, and French, says Rashmi Turner, director of communication and video production. Looking even further into the future, The Baby Einstein Company graduates to the preschool market with a 2005 global launch of its Little Einstein brand, geared toward children between the ages of 3 and 6.