Parents love them because their prices are easy on the pocket. Kids love them because they wiggle, ooze, bounce, twirl, or make faces pucker. Retailers love them because they help build profit margins. Impulse and novelty toys, if merchandised correctly, can help retailers claim a share of the more than $1 billion worth in sales that these toys can generate annually.
Normally found near the registers in most of the larger retail toy stores, smaller retailers can increase sales by strategically placing the latest and hottest impulse and novelty toys in high-traffic aisles, leading to frequently purchased items.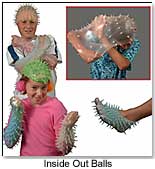 Play Visions, Inc. has introduced a new line of stretchy products manufactured out of their new material, Hyper-flex, which is super-elastic and always returns to its original dimension and shape no matter how much kids pull and stretch it. Available in 10 different versions, Play Visions' Inside Out Ball ($2.50-$5.00) looks like a soft round ball but flips inside out with one quick move to change into a soft spiky ball. The Neon Urchin Ball ($4.50-$5.99) is made of the same material as the Inside Out Ball but has longer tentacles. The newest version comes with a light-up flashing ball that fits inside the ball. The Hyper-Flex Flyer ($2.50-$4.99) is a 5" flying disc that can stretch out to over 3 feet and fly up to 100 feet but can be folded up and carried in kids' pockets. Introduced in 2003, Blobz ($1.50) is seeing continued success. With flexible skins and sticky surfaces, Blobz spreads out flat when thrown against a surface, then reforms to its original shape in a few seconds.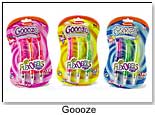 Not to be outdone in the sticky, oozy market, JAKKS Pacific introduced new assortments of the Nickelodeon-branded Goooze in spring 2004, including characters such as SpongeBob SquarePants and Fairly OddParents. Goooze Spladders ($9.99) come in gross stretchy containers that look like eyeballs, cooked eggs and more. Goooze Putty ($4.99) can be pulled, stretched and molded into cool shapes and characters using the five molds built into the back of the container lids.

Bandai Creation, a division of Bandai America, released two new Power Rangers toy/candy products modeled after their DinoThunder series and Action Megazords. The DinoThunder Power Pops candy ($1.99) have helmets that slide back to reveal the lollipop, while the DinoThunder Mega-Pop Megazords candy ($3.99) reveals its lollipop when a button is pushed on the chest of the Megazord.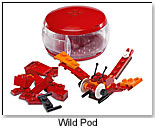 LEGO Wild Pod ($3.49), part of their X-Pod Creatures toy line, lets kids quickly build seven different tiny creatures. After a creature is built, kids can pop it back in its case and carry it around in their backpacks or pockets. Another impulse item by Lego is Clikits Cool Starry Jewels kit ($6.99), which contains fluorescent yellow elements that glow under UV light. Striped pieces and new neon colors let little girls make necklaces, bracelets and hair bands. The newest edition to LEGO's BIONICLE action figure line is Toa Vakama ($7.99). The figure includes a disk launcher and Kanoka disk.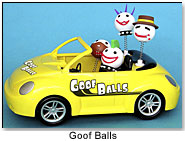 Maria Losch is the creator of stylish and irresistable Goof Balls (ToyDirectory) ($3.99). With so many varieties to choose from, there is perhaps a Goof Ball to suit everyone's wildest inclinations. Inspired by elements such as music, pop-culture, and fashion trends, there's a Punk Ball, Smokin' Ball, Canni-Ball (Inspired by the movie character Hannibal Lechter), as well as a Goth Ball, Devil Ball, Skinhead Ball, and, yes, there are even plans for launching the highly anticipated Mullet Ball. The Glorious Goof Balls can be stuck onto car antennas, pens, or whatever else may inspire one´s imagination. They have already been featured on various television news programs, as well as in the Los Angeles Times. Current well-known Goof Ball owners are Rob Zombie, Kelly Osborne, as well as some of the band members from The Offspring and Kiss.